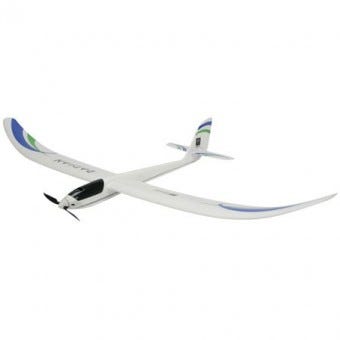 Keen to get started with
RC gliders
? These models are great to fly and, as any pilot can attest, seeing your glider soar with the wind is an amazing sight. In this blog post, we will be comparing the best RC gliders for beginners in order to help you find the right one for your needs.
What to Look For in a Beginner's RC Glider
There are several points to consider when looking for your first RC glider.  As mentioned, some models come with motors to assist with launch and climb.  These remote control gliders would be ideal for beginners; allowing you to get into the air quickly and easily. The material of the glider should also be taken into account.  Durable material (such as foam) is easy to repair, should you encounter any trouble during your first few flights.  Finally, the RC glider should be easy to control. We would recommend that beginner pilots choose a model that has relatively basic controls (such as rudder, elevator and throttle) before moving on to more complex aircraft with, for example, ailerons and flaps.
RC Glider Review and Comparison
In this section, we will be looking at four of the best RC gliders for beginners: the Graupner Elektro Junior, the ParkZone Radian, ParkZone Radian Pro and ParkZone Schleicher KA-8. Let's start with the Elektro Junior glider.
Graupner Elektro Junior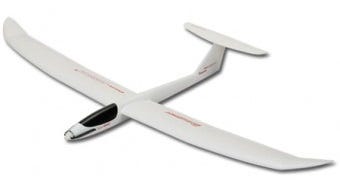 The
Graupner Elektro Junior
is a great choice for beginners. It is made from Graupner's signature SolidPor foam, giving it both a light weight (950g approximately) and durability. This remote control glider comes with a T-tail configuration and a folding propeller set with spinner and blades included. Because this is a Plug-N-Play (PNP) model, you will need to supply your own transmitter and battery. Once you have these items, you are ready to go! The Elektro Junior is a great way to start your gliding adventure.
ParkZone Radian

Next up in our RC glider reviews is the
ParkZone Radian
. This is a feature-rich model. It comes with a 480-size brushless outrunner motor with 960Kv of power. When coupled with the included Pro 40A brushless ESC from E-Flite, you will have an RC glider that delivers maximum performance. The Radian is constructed from easily-repairable Z-Foam and comes with a 3-channel throttle, ruddler and elevator configuration. There are two versions of the Radian EP available from Modelflight. The first is the
Parkzone Radian PNP
model, similar to the Elektro Junior in that you will be required to supply your own battery and radio. The other version is the
ready-to-fly (RTF) Radian
. As the name suggests, this version of the Radian comes with the battery and radio included. In this instance, ParkZone have included a Spektrum DX5e transmitter and a 1300mAh 15C LiPo battery. The Radian EP has everything a beginner could ask for in a remote control glider.
ParkZone Radian Pro
As you may have assumed, the
ParkZone Radian Pro
is similar to the original Radian, but the key difference is that it offers five-channel control instead of three, with the addition of ailerons and flaps.  This allows you to take your gliding experience to a new level; capitalising on sailplane mixing functions such as reflex, camber and crow.  What's great about the Radian Pro is that it maintains the features that make the original Radian an excellent model.  A 480-size motor, E-Flite Pro ESC and Z-Foam construction all come as standard with this remote control glider. Another similarity between these models is that there is a
Radian Pro PNP
version available, where you will need to supply your own battery and transmitter. The Radian Pro does not come in an RTF configuration but there is, however, a
Bind-N-Fly (BNF) Radian Pro
which only requires a transmitter for completion.  Irrespective of your choice, you will find that the Radian Pro offers all the features beginner pilots need, with the additional channels providing a richer gliding experience.
ParkZone Schleicher KA-8 
Not only is the
ParkZone Schleicher KA-8
a great remote control glider for beginners, it is also an excellent scale model. Replicating the iconic German aircraft of the same name, the Schleicher comes with four-channel elevator, aileron, rudder and spoiler control. You also have the option of adding a 5th channel with the addition of the E-Flite servoless payload release (sold separately) for aerotowing.  Similar to the Radian models, the KA-8 is constructed from durable Z-Foam. Additionally, there are
Plug-N-Play KA-8
and
Bind-N-Fly KA-8
versions available. One important difference between the Schleicher and the other gliders we have discussed is that, as a sailplane, it does not come with a motor. In order to launch this glider, we would recommend using
E-Flite's Hi-Start Launch system
or aerotow the model with the
E-Flite Servoless Payload release
(both sold separately). On
Modelflight's YouTube channel
, Matt unboxes the Schleicher and shows you how to assemble one: If you are looking for a beginner's RC glider, but you also appreciate scale detail, the ParkZone Schleicher KA-8 is an excellent choice.
RC Glider Comparison
In order to compare the RC gliders we have reviewed, we have complied the below table which details the key features of each model:
Graupner

Elektro Junior

ParkZone

Radian

ParkZone

Radian Pro

ParkZone Schleicher KA-8

Wingspan (mm)

1900

2000

2000

2250

Weight (g)

800

830

980

785

Motor Size

345

480

480

No Motor

Assembly Time

2 hours

Less than 1 hour

Less than 1 hour

Less than 1 hour

Number of Channels

4

3

5

4 or 5

Price (AU$)

189.99

199.99 (PNP),

319.99 (RTF)

229.99 (PNP),

299.99 (BNF)

209.99 (PNP),

249.99 (BNF)

Completion Level/s

PNP

PNP and RTF

PNP and BNF

PNP and BNF
Modelflight's Recommendation
In our opinion, the RTF ParkZone Radian Glider is the best RC glider for beginners. This ready-to-fly completion level, in and of itself, makes it a great choice for the first-time glider pilot; allowing you to get into the air quickly and easily. Its 3-channel operation makes it easy to master and with a 480-size motor, launching and climbing will be relatively straightforward. Because it is constructed from Z-Foam, the Radian is not only lightweight, but very durable. It is the ideal remote control glider for beginners.
Click here
to order the ParkZone Radian RC Glider, RTF We hope that these reviews of beginner RC gliders have helped you find the one that is best for you. We would highly recommend remote control gliding. It is a fun hobby that will provide hours of enjoyment. With the beautiful weather that will be coming over the spring and summer months, now is the perfect time to buy your first RC glider, so make sure you place your order while stocks last. Modelflight supports all our remote control gliders, so if you have any questions or you are looking for spare parts, do not hesitate to
contact us
and we will be glad to assist.  In the meantime, stay tuned to this blog as we continue to review RC gliders and other models.  Until next time, happy flying!