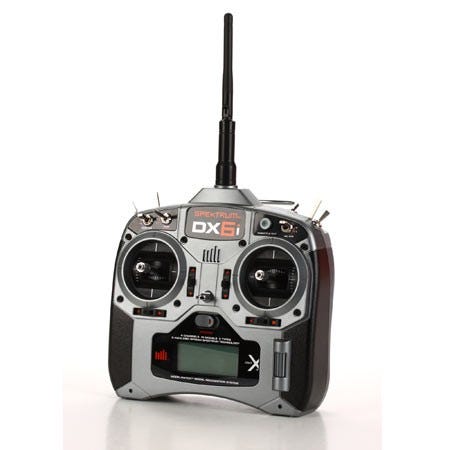 Have you got the hang of a trainer RC model and feel like you are ready to step up to a more intermediate-level model? Congratulations, this is a great milestone in your journey as an RC pilot. Bear in mind, though, you are going to need a good radio to go with your next model. That's where we want to help. In this blog post, we will be reviewing and comparing some of the best radios for intermediate-level models to help you find the one that is right for you.
What To Look For In Your First RC Radio
There are several things you may want to consider when buying your first radio. Firstly, check to see that the radio you are looking at is compatible with the model you want to fly. Different remote control models come with different receivers, so make sure that the radio you are looking at works with the model in question. Secondly, think about whether you want a mode 1 or mode 2 transmitter. We wrote a blog post on the
differences between mode 1 and mode 2 transmitters
. There is also a video that explains the differences on Modelflight's YouTube channel. Check out the film below: A third thing to consider is the number of channels the radio has. Again, you will need to look at the RC model you are thinking of flying to ensure that your radio has the appropriate number of channels available. In this blog post, we will be looking at 6- and 7-channel radios which, generally speaking, should be suitable for most intermediate-level models. Finally, if you are a member of a flying club (or thinking about joining one) a great idea would be to see what radios other club members are using. By purchasing a similar radio, these members will be able to assist you as you learn the ropes.
RC Radios for Intermediate Models
Let's have a look at some of the radios we would recommend for intermediate-level models, beginning with the JR XG6.
JR XG6
On appearance alone, the JR XG6 excels. It has a really sleek look and the operation is just as smooth. The 6-channel XG6 uses JR's DMSS 2.4GHz protocol and offers 20-model memory. This JR radio comes with integrated telemetry, but does not feature voice output. Although, it does feature sophisticated programming features such as throttle curve and pitch curve mixing, allowing for a smooth curve to be set with more points. The XG6 is a great radio and will really help you in your transition to intermediate-level RC models.
Graupner MX-12
Graupner are known for their quality RC products and the 
MX-12
 is no exception. This 6-channel radio utilises their HoTT radio system, which is easy-to-use and very reliable. What's more, the MX-12 gives you real-time telemetry voice output, which you can listen to through a headphone jack incorporated in the radio. Unlike the XG6, the MX-12 comes only comes with a 10-model memory. It also features a USB connector for firmware updates. It's a really practical transmitter.
Spektrum DX6i
The DX6i is an excellent transmitter from Spektrum. Similar to the aforementioned radios, it comes with 6-channels. Just like the MX-12, it also features 10-model memory. This transmitter utilises Spektrum's 2.4GHz DSMX protocol and comes with the popular Spektrum AR6210 receiver. As other pilots have told us, the DX6i is very easy-to-use. It should be noted though that, unlike the other transmitters we have discussed, the DX6i does not come with built-in telemetry. It does, however, serve as a great entry point from which you can advance to the higher-level Spektrum radios (which do come with telemetry), such as the DX8, DX9 or DX18 as your skills progress. Speaking of which, let's check out the Spektrum DX7S.
Spektrum DX7S
As you may have guessed, the DX7S is the next level up from the DX6i in Spektrum's range of air radios. In terms of functionality, it is very similar to the DX6i, with a wide range of programs for RC planes and helicopters. What separates these two radios is that the DX7S does include in-built telemetry. Additionally, the 7S is similar to the XG6, with a 20-model memory. Unlike the other radios we have discussed, though, the DX7S features 7 channels instead of 6. Despite these more advanced features, we still consider this transmitter to be appropriate for intermediate-level models, given its ease-of-use and programming options. If you are thinking about flying RC models in the long-term, the DX7S is a great investment.
RC Radio Comparison Table
In order to summarise the key features of each radio discussed in this blog post, we have put together the below comparison table:
JR

XG6

Graupner

MX-12

Spektrum

DX6i

Spektrum DX7S

Model Memory

20

10

10

20

Receiver Included

JR RG631B

Graupner HoTT

GR-12

Spektrum AR6210

Spektrum AR8000

Frequency

2.4GHz

2.4GHz

2.4GHz

2.4GHz

Modulation

DMSS

HoTT

DSM2/DSMX

DSM2/DSMX

Model Software

Plane, Glider and Helicopter

Plane, Glider and Helicopter

Plane, Glider and Helicopter

Plane, Glider and Helicopter

Telemetry

Yes

Yes

No

Yes

Modes available

1 and 2

1-4

1 and 2

1 and 2
Modelflight's Recommendation
Out of the four radios we have reviewed, our recommendation for intermediate-level models is the Spektrum DX6i. The key advantage the DX6i has over the other radios is its compatibility with "Bind-N-Fly" (BNF) models. As the name suggests, all you need to get these models into the air is to bind them to your transmitter. The DX6i's DSM2/DSMX modulation is compatible with many intermediate-level BNF models; more so than the other radios we have mentioned in this post. Irrespective of whether you want to fly a plane, glider, helicopter or quadcopter, you will be able to use your DX6i with a wide range of BNF models. Some of the other reasons we recommend the DX6i is that is it is a very user-friendly transmitter, so you will find that it makes the transition to an intermediate-level model easier. As discussed previously, it also serves as a good foundation for you to move up to higher-level Spektrum transmitters, such as the DX8 or DX9. While the DX6i does not come with telemetry, we think that the overall advantages of this radio outweigh this disadvantage. Of course, if you are keen to get a telemetry radio, the DX7S would offer you this great feature, along with high quality features similar to the DX6i (not to mention the additional model memory). But if you are looking for an all-round quality radio to help you make the move from a trainer to intermediate-level model, the DX6i is an excellent choice.
Click here
to order the Spektrum DX6i. We hope this blog post helps you find your first RC radio. If you have any questions, please feel free to leave a comment below, or you can visit our website to
contact Modelflight
. Best of luck as you continue your flying adventure.