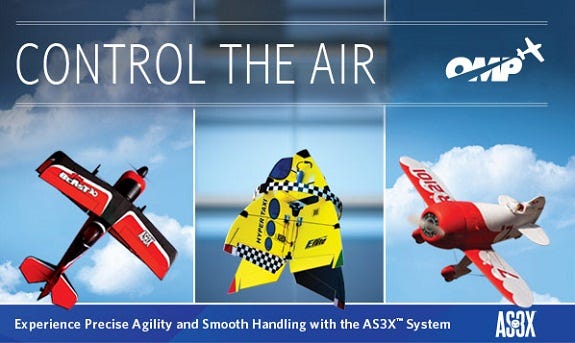 Our friends at Horizon Hobby have recently announced a new system that will deliver breakthrough performance for UMX Airplanes, check out this video for more information:
AS3X System Equipped UMX Airplanes Deliver the Ultimate RC Pilot Experience
The AS3X™ System delivers breakthrough performance for
UMX airplanes
and the freedom a pilot can use to experience RC flight that's more enjoyable than ever dreamed possible. The AS3X System for airplanes is an exclusive electronic and setup enhancement that makes it possible for you to experience super-smooth flight performance, yet still have full control authority for the kind of flying you want to perform. The advantage of AS3X to the RC pilot is a dream come true. An industry-first, AS3X technology in
UMX airplanes
is exciting because it helps the pilot focus more on the thrill of being the pilot of an expertly tuned airplane, than work load required to stay in smooth control. No longer will you have to deal intensely with flight complications such as turbulence, torque and tip stalls. All you feel is ultra-smooth control even outdoors in moderate wind so that you're allowed to experience exhilarating aircraft agility that feels natural and allows you to quickly build skills as an RC pilot.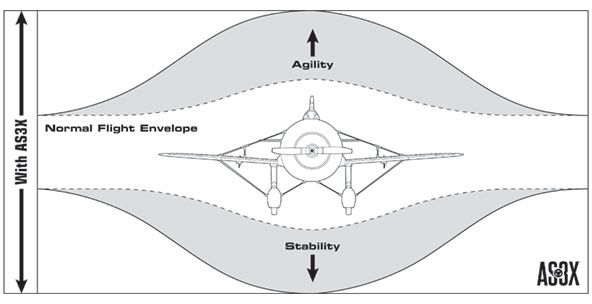 AS3X Gives You More Control
It's all about control. Before AS3X, stability and agility were typically limited to a narrow control range any attempt to gain more stability meant a sacrifice of agility or vice versa. With AS3X, there is no compromise. You get dramatically more control, plus more stability and agility than ever dreamed possible. Whether you're an airplane or helicopter pilot, the comprehensive control AS3X offers feels very natural, even in moderate winds, so you always get the best flying experience possible. AS3X equipped aircraft will change the way you'll want to fly now and in the future. There's nothing special you need to do to take advantage of the invigorating control an AS3X System equipped airplane will offer you. Every airplane equipped with the AS3X System is painstakingly tuned so that you enjoy the locked-in feel and control authority that will help show off your RC pilot skills. Click a plane below for more details.