Axial SCX10 III Jeep JLU Wrangler RC Crawler, RTR, Gray, AXI03003T1
The scale crawling playing field has changed now that the SCX10 III Jeep JL Wrangler RTR from Axial has arrived. Upgraded from the superb SCX10 platform this features scale transmission and a front-mounted motor to get you up, over, and, through your favourite crawling obstacles.
Looking for spare parts or upgrades?
Transfer case cover and transmission housing protect the replica V8 engine and improve scale appearance
Enhanced battery capacity that accepts full-size NiMH or LiPo's with side rail space to run smaller pack sizes
Lock the rear axle from your transmitter with the DIG function which enables a tighter turning circle from front-wheel drive
High and low speed transmission options
Reduced torque twist and increased ground clearance achieved with portal axles
Choose the size of your chassis with an adjustable wheelbase
Floor sides and inner fenders reduce visibility of internal components from the side
Remove and replace tyres with no glue and achieve an awesome scale look using the licensed KMC Machete 3-piece beadlock wheels.
Increased ground grip and clearance with taller officially licensed Nitto Trail Grappler tyres
Shock system is fully rebuildable and have clear anodized, threaded shock bodies on the oil-filled shocks, coil-over springs, and, emulsion style screw cap to make rebuilding easier
2.4GHz DX3 DSMR Spektrum radio provides an advanced response, interference resistance, and, range, and is fully compatible with Spektrum Smart technology
Firma Smart 40A Spektrum ESC/Receiver that is also Smart technology-enabled giving your telemetry capabilities an innovative boost
15kg, high torque metal geared waterproof servo allows you to drive confidently when the weather and conditions aren't ideal
Fully detailed interior on the scale Jeep Wrangler Unlimited body
Jeep JL Wrangler replica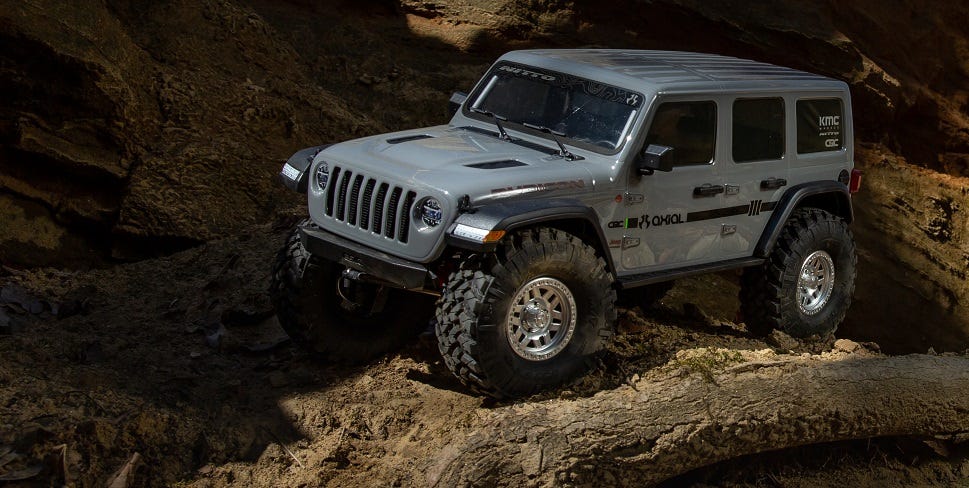 Off-road scale action has taken a big leap forward with the release of the 1/10th scale Axial SCX10 III Jeep JL Wrangler 4WD RTR. The success of the SCX10 platform makes the starting point pretty good already with Axial making improvements that will take your RC crawling to the next level. The chassis realism on the Axial SCX10 III Jeep JL Wrangler 4WD RTR gives you a replica V8 engine housing where the brushless motor is installed. This is paired with a scale detailed transfer case and transmission housing like its full-scale counterpart. The RTR version gives you the advantages of Spektrum Smart technology as it comes with a 2.4GHz DX3 3-channel DSMR transmitter and the 40A Firma ESC/Receiver combo as the standard radio system. To enhance your Smart Technology experience you can install a Smart LiPo battery that allows you to view the charge capacity you have left on the voltage level indicator on the DX3 transmitter. You can go all out and fit-out your DX3 with the Spektrum BT2000 Bluetooth module (sold separately), download the Spektrum Dashboard free app and you can start using real-time telemetry without the need for modules or sensors on board.
The third channel DIG function on the Axial SCX10 III Jeep JL Wrangler 4WD RTR allows you to lock the rear axle giving you front-wheel drive and a tighter turning circle. An alternative to that is giving yourself high or low-speed selections by setting up the two-speed transmission. By adding another servo and another radio channel you can have both the DIG function and two-speed transmission.
Raising the bar in rock crawling realism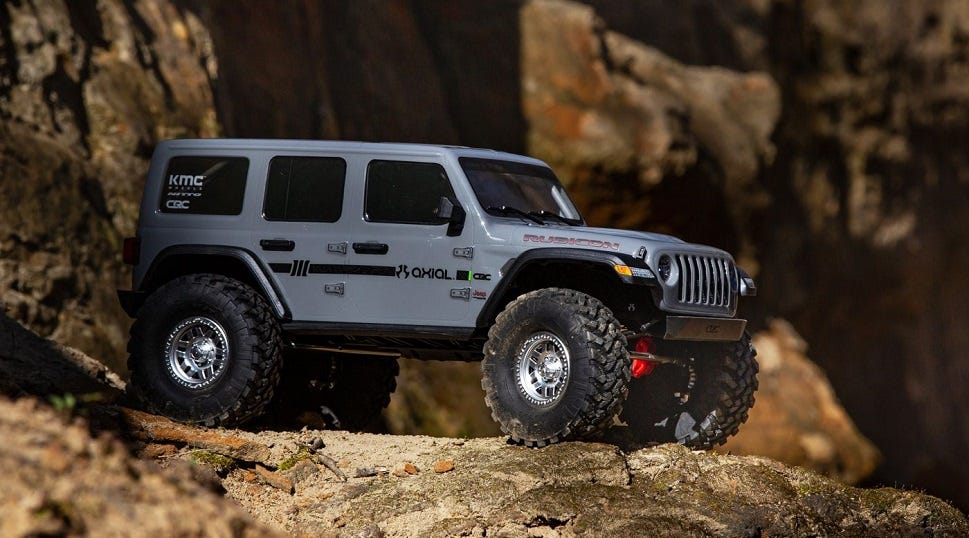 The portal axles on your Axial SCX10 III Jeep JL Wrangler 4WD give you the same increased ground clearance and reduction in torque twist that they provide in full-scale off-roaders. The slightly refined suspension geometry is based on the SCX10 II but now allows for a new chassis layout. The rear 4-link has been designed to reduce torque twist while the front suspension has been enhanced to offer a reduction in bump steer. The battery tray on this RC crawler gives you options when it comes to battery choice. You can use full-size/standard NiMH or LiPo options (sold separately), or, run with smaller packs on the side rail spaces. The normally visible internal components are hidden with floor sides and inner fenders give a more clean/scale look.
The four-door body of the Jeep Wrangler Unlimited sits atop the chassis and includes windscreen wipers, mirrors, roll cage, front hood vents and cowl, detailed interior, LED lighting plus other moulded-in scale details. Adding additional scale realism and giving you a higher clearance and more grip when it matters, are the officially licensed KMC XD Machete Wheels, and, Nitto Trail Grappler 3-piece beadlock tyres.
Vehicle Battery (accepts standard and shorty packs)
Compatible charger
Body

Polycarbonate

Track

Front and Rear, 8.9 in (226mm)

Tire Diameter

4.7 in (119mm)

Charger

Sold separately

Differential

Locked

Wheel Hex Size

12mm

Length

19.125 in (485mm)

Technology

Smart Technology

Tire Tread

Nitto Trail Grappler M/T

Ball Bearings

Full set

Motor Size

540

Ground Clearance

3" (76.2mm)

Tire Compound

R35

Chassis

Adjustable steel C-channel

Spur Gear

40T

Motor Type

Brushed, Brushless

Wheel Type

3-pc beadlock, injection molded

Approximate Assembly Time

Less than 1 Hour

Width

9.25 in (234mm)

Gear Pitch

32-Pitch

Servos

Metal gear, 15kg high torque waterproof steering servo

Vehicle Type

Crawler, Scale 4x4 Crawler

Drivetrain

4WD

Suspension

Multi-link solid axle

Wheel Width

1 in (25.4mm)

Wheelbase

12.3 in (312mm)

Bushing Material

Metal

Shock Type

Oil-filled coil over

Completion Level

Ready-To-Run

Pinion

14T

Radio

2.4GHz Spektrum DX3 with DSMR technology

Weight

6.5 lbs (2.9kg)

Height

9.5" (241mm)

Speed Control

Spektrum Smart 40A Brushed ESC/RX

Water-Resistant

Yes

Batteries

Sold separately

Brakes

Integral with ESC

Scale

1/10
All product manuals are provided by the manufacturer, If you don't find the manual or information you are looking for, contact our experts for help.