Arrma Kraton EXB 8S 1/5 Speed Monster Truck RTR, Black, ARA5808V2T1
Experience the epitome of bashing performance with the Arrma Kraton 1/5 EXtreme Bash EXB 8S RTR Speed Monster Truck. This new ready-to-run version comes fully equipped with a new colour scheme, an 8S LiPo-compatible power system and EXtreme Bash parts, ensuring unrivalled durability for your action-packed adventures.
Looking for spare parts or upgrades?
EXtreme Bash 7075-T6 aluminium parts for virtually unstoppable strength
Upgraded Spektrum brushless power system is 8S LiPo compatible
10% more torque with the Spektrum Firma 1100Kv brushless motor
47% more torque with the waterproof Spektrum S6510 steel gear servo
Spektrum DX3 3-channel DSMR radio and a Spektrum SR6200A DSMR receiver
Spektrum Firma 160A V2 Smart ESC has been updated for a better driving feel
Exclusive Active Vehicle Control technology
EXB 7075 T6 laser-etched chassis plate in 5mm thick CNC aluminium
EXB front brace mount in red anodised CNC aluminium
New bold matte/gloss EXB black and red colour scheme
Multi-structured centre brace system including composite chassis side pods and centre body support and brace
Durable wheel hubs and steel driveshafts
Strong and durable drivetrain
Gearbox internals and diff outdrives are all-metal
High traction dBoots Copperhead 2 tyres
Impact-absorbing EXB front bumper
Efficient 3-bolt sliding motor mount design for quick removal
Convenient front and rear diff module design
Easily accessible waterproof electronics module
Larger, more durable linkages, shocks, turnbuckles and more
Wheelie bar included
CNC machined aluminium 24mm wheel wrench included
Limited 2-year warranty
Loaded with EXtreme Bash parts, the Arrma Kraton 1/5 Extreme Bash 8S RTR Speed Brushless Monster Truck takes bashing to new heights with its impressive durability and unbeatable performance. This ready-to-run version is equipped with a powerful 8S LiPo-compatible Spektrum brushless system that propels the Kraton to incredible speeds, making it a dream come true for large-scale bashers.
Unrivalled power and performance from the Spektrum brushless power system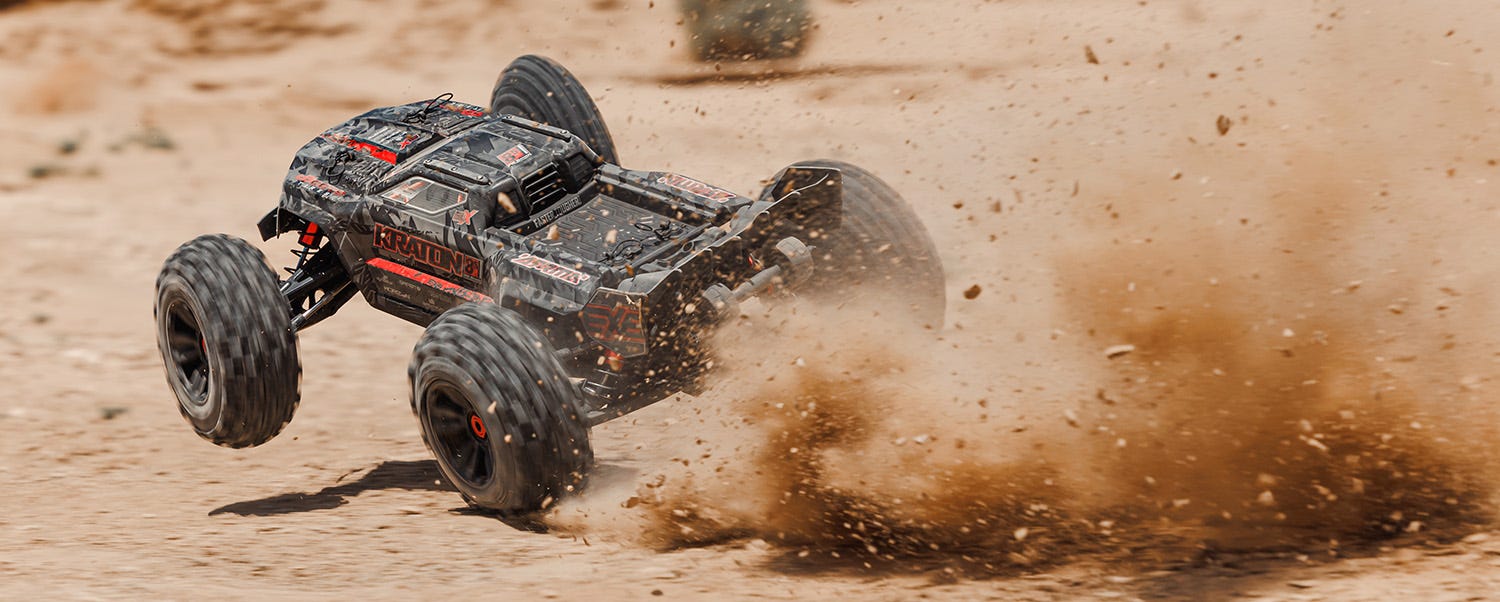 Prepare to be blown away by the new Spektrum 8S-capable brushless power system that delivers unparalleled power and performance. At its core lies the 5687 Firma 1100Kv brushless motor, boasting a staggering 56mm diameter and 10% more torque than its predecessor. Coupled with the Spektrum S6510 steel gear servo, which delivers an impressive 820 oz-in of torque at 8.4V (nearly 50% more than before), you can rest assured that this RC truck is ready to conquer any challenge. The new RTR Extreme Bash Kraton Speed Monster Truck also includes a Spektrum Firma 160A V2 Smart ESC and a Spektrum DX3 3-channel 2.4GHz DSMR radio system with built-in Spektrum AVC (Active Vehicle Control) technology that ensures you harness this massive power with ease. With the free Spektrum Dashboard App that you can download, you can unlock the full potential of the innovative telemetry capabilities and monitor real-time data such as motor RPM, receiver voltage, drive pack voltage, ESC temperature and more!
EXtreme Bash equals unstoppable strength
The Arrma Kraton 1/5 8S EXtreme Bash Speed Monster Truck is a force to be reckoned with, featuring numerous EXB-hardened parts and options that provide unrivalled strength straight out of the box. A 5mm thick EXB 7075 T6 CNC aluminium laser-etched chassis plate, impact-absorbing EXB front bumper and EXB red-anodized CNC aluminium front brace mount are just a few of the components that make this truck virtually unstoppable. The imposing monster truck body boasts an aggressive new EXB colour scheme that sets it apart from any other vehicle on the market. Say goodbye to mundane "Candy Crush" designs – the Kraton 1/5 8S EXtreme Bash Speed Monster Truck is as purposeful as it is impressive.

Uncompromising performance across all terrain
The Kraton 1/5 8S EXB Speed Monster Truck RTR is an all-terrain powerhouse, charging over dirt, asphalt, and grass with ease. Mounted on ultra-thick composite front and rear towers, the adjustable, oil-filled, 20mm bore shocks with 6mm thick shock shafts effortlessly soak up bumps on any surface. Complementing the EXB matte and gloss effect finished truck body are the dBoots Copperhead 2 big block tyres on multi-spoke wheels with durable hubs. Not only do they look the part, but the robust design contributes to the responsive handling and confident control even at the impressive speeds of this RC truck.
Engineered to withstand the most extreme off-road bashing, the Arrma Kraton 1/5 8S EXB RTR features heavy-duty components. 8mm thick steel rear turnbuckles, 7mm thick steel steering turnbuckles, centre body support, aluminium centre braces, and composite chassis side pods all contribute to its incredible strength. With all-metal diff outdrives, gearbox internals, and durable steel driveshafts, the drivetrain is robust and reliable, capable of handling high-speed bashing with ease.

Effortless maintenance, maximum monster truck fun
Arrma understands the value of your time, and with its efficient, easy-access modular design, the Kraton 1/5 8S EXB ensures minimal maintenance downtime. The waterproof receiver box, servo mount, and ESC tray housed in the moulded electronics module are easily accessible, safeguarding your electronics from dirt and moisture.
The ultimate ready-to-run basher
The Kraton 1/5 8S EXtreme Bash Speed Monster Truck is not just another beast - it's a testament to unmatched power, convenience, and value. Whether you're a seasoned basher or a newcomer to the world of RC trucks, the Arrma Kraton 1/5 8S EXB Speed Monster Truck RTR promises an adrenaline-fueled experience like no other. Embrace the thrill of off-road domination with one of Arrma's biggest and best ready-to-run bashers!
What's in the box?
(1) ARRMA® KRATON® 1/5 8S EXtreme Bash Speed Monster Truck 4WD RTR

(1) Spektrum™ DX3 3-channel 2.4GHz DSMR radio

(1) Spektrum™ SR6200A DSMR receiver with AVC

(1) Spektrum™ S6510 steel gear waterproof servo with 820 oz-in of torque at 8.4v

(1) Spektrum™ FIRMA™ 1100Kv brushless motor

(1) Spektrum™ FIRMA™ 160A V2 Smart ESC

(1) CNC machined aluminium 24mm wheel wrench

(1) Product Manual
(2) 3S or (2) 4S LiPo Batteries with EC5™ or IC5™ connector
(1) Compatible Battery Charger
(4) AA batteries for Transmitter
Tyre Tread

dBoots COPPERHEAD 2 BIG BLOCK

Vehicle Type

Monster Truck

Water-Resistant

Yes

Ball Bearings

Complete

Chassis

5mm Plate, 7075-T6 Aluminum

Completion Level

Ready-To-Run

Drivetrain

4WD

Drive Type

Forward/Brake/Reverse

Product Height

11.1" (282 mm)

Top Speed

80+ km/h

Wheel Hex Size

24mm

Battery

Sold Separately

Connector Type

IC5

Gear Ratio

9.06

Ground Clearance

2.56 in (65mm)

Motor Size

5687-1100Kv 4 Pole

Product Length

30.35" (771 mm)

Suspension

Independent

Body

Painted, decalled and trimmed

Brakes

Integral with ESC

Scale

1/5

Power System

8S

Product Width

23.7" (602 mm)

Radio

Included

Technology

AVC and SMART

Charger

Sold Separately

Differential

3 Gear Diffs

Receiver

Included

Shock Type

Oil-Filled, Coil-Over Springs

Power Type

Electric

Gear Pitch

1.0 MOD

Servos

Included

Motor Type

Brushless

Speed Control

Included

Wheelbase

19.33" (491 mm)
All product manuals are provided by the manufacturer, If you don't find the manual or information you are looking for, contact our experts for help.