Arrma Infraction Street Bash, RTR, No Longer Available
Street bashers don't come much tougher and faster than this. With a low riding muscle car feel ARRMA have also equipped the INFRACTION 6S BLX 4WD with enough power to hit 130+ kmh with 6S power AND given it 4WD capability.
Looking for spare parts or upgrades?
The first resto-mod street basher truck with the versatility to run on and offroad.
Capable of 130+ km/h speeds with 6S power and the included speed pinion.
4X4 traction — can be run on asphalt, gravel, smooth dirt, or short grass.
DESIGNED FAST and DESIGNED TOUGH.
Classic truck body comes screen printed, trimmed and decaled
Customizable wing allows you to tune downforce just how you want it
Fullwidth front splitter balances front vs. rear distribution of downforce
Rear diffuser helps generate downforce
3mm plate, 6061T6 anodized aluminum chassis
Center chassis brace for maximum durability
Adjustable front and rear body mounts
Easy access sliding motor mount for quick motor removal
Dual XL battery trays
Waterproof receiver box
Heavy duty servo saver
Heavyduty 4X4 drivetrain
Durable steel drive shafts
Center diff for improved handling on loose or slippery surfaces
All metal diff outdrives and gearbox internals
Easy access diff module with 5 bolt center diff removal
Independent suspension
Big bore aluminum oil filled adjustable shocks
Blackanodized aluminum front and rear shock towers
5 Spoke wheels and allroad dBoots® Hoons tires
Super durable wheel hubs for strength
Hub nut Orings
Spektrum DX2E Active radio
Spektrum DSMR SRS6000 receiver with AVC Active Vehicle Control
ADS15M waterproof metal geared servo
BLX4074 2050Kv brushless motor
BLX185 waterproof* ESC
2year limited warranty (see product manual for details)
Fitted with a waterproof ESC and 4x4 capability the INFRACTION 6S BLX 4WD is a low riding muscle truck that you can run on any surface that you can get clearance on – asphalt, smooth dirt, gravel, short grass – in just about any kind of weather.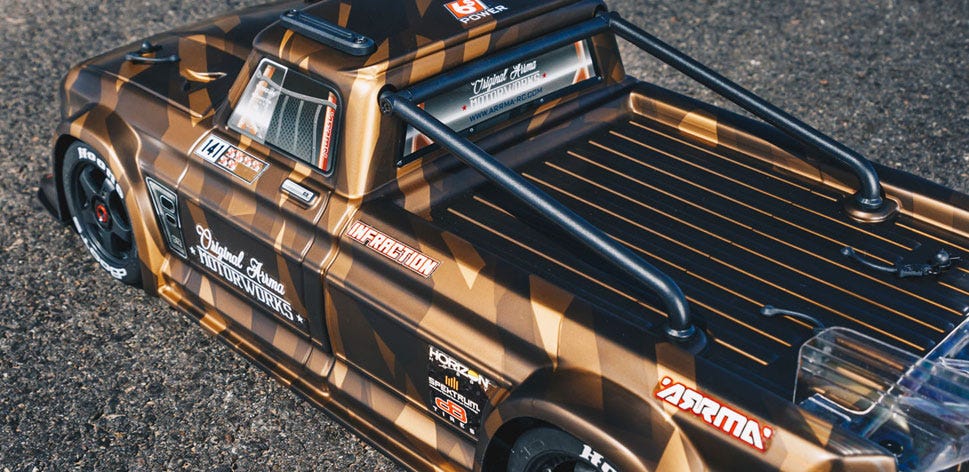 With a matte bronze factory finish featuring camouflage trim and decals the Arrma INFRACTION 6S BLX 4WD is on RC truck that is built for street bashing and turning heads. With a chassis fitted with a full-width front splitter and a tunable rear winglet you can ensure that your downforce can be tuned to your exact liking. Just to be certain that you have enough downforce the rear diffuser will increase those levels and provide superb grip for faster cornering and increased confidence.
Lift up the hood of the INFRACTION 6S BLX 4WD and you'll find a centre braced 3mm anodized aluminium chassis that is just the start of the strong and durable features in this RC truck. The 4x4 drivetrain is built for punishment and has all-metal gearbox internals, diff outdrives plus strengthened steel drive shafts. For fast maintenance access the centre diff module can be taken out for repairs with the removal of just five bolts. Motor access is made super easy with a sliding mount and there are also two XL battery trays included.

To achieve maximum traction from your all-road dBoots Hoons tyres you have oil filled big bore shocks on black anodized front and rear shock towers. The tires on the INFRACTION 6S BLX 4WD are fitted to 5-spoke wheels with extra-durable hubs.
To complete the Arrma INFRACTION 6S BLX 4WD it has been equipped with a brushless 2050Kv motor with a waterproof metal geared servo and ESC. The DX2E Active radio system from Spektrum features Active Vehicle Control(AVC) that will work behind the scenes to ensure you have enhanced stability without having to back off the throttle. You will need to provide your own 2S or 3S LiPo's x 2 with EC5 or IC5 connectors, 4 AA batteries for the Spektrum transmitter, a LiPo compatible charger and charging bag.
Two 2-3 cell LiPo batteries
LiPo balancing charger

Type

Street bash resto mod truck

Scale

1/7

Length

695mm

Width

4.8kg

Height

200mm

Ground Clearance

15mm

Wheelbase

406mm

Weight

4.8kg

Chassis

6061-T6 aluminum 3mm thick

Suspension

Independent

Drivetrain

4WD Shaft Drive

Tire Type

dBoots Hoons, White compound, 100mm diameter

Motor or Engine

4074 2050Kv Non-sensored brushless

Speed Control

6S brushless compatible w/ IC5 battery connector

Radio

Spektrum DX2E Active 2.4GHz

Servos

High torque metal gear steering servo

Batteries

Two 2S or 3S LiPo batteries w/ IC5 or EC5 connectors (sold separately)

Charger

LiPo Compatible balancing charger (sold separately)

Speed

130 km/h with 2 x 3S batteries and included optional pinion

Gear Pitch

1.0 Module

Wheel Size

43mm width, 83mm diameter, 17mm Hex

Kit/RTR

RTR

Shock Type

Big Bore aluminum body, oil-filled

Body

Screen printed, decaled and trimmed

Ball Bearings

Full set

Is Assembly Required

No
All product manuals are provided by the manufacturer, If you don't find the manual or information you are looking for, contact our experts for help.