Top Flite Giant P-40 Warhawk RC Plane , No Longer Available
At the beginning of WWII the P-40 Warhawk, the most widely used fighter plane at the time, quickly established a reputation with their fearsome 'Flying Tigers' paint scheme. This giant scale plane from Top Flite is a brilliant ARF reproduction one of the most esteemed warbirds to fly for the US armed forces.
Includes fixed and functional heavy duty landing gear and Robart retract gear can also be retrofitted
Fibreglass belly pan, cowl and landing gear pods as well as superbly constructed airframe of balsa and ply
Includes a painted aluminium spinner and the painted iconic nose art of the shark mouth
Brilliant scale detail applied to every part of this giant P-40 Warhawk
Can be fitted with 43-55 cc gasoline engines for easy maintenance and an exhilarating flight envelope
Top Flite's replica of the P-40 Warhawk
The Giant P-40 Warhawk from Top Flite captures all the scale detail you would expect from a reproduction of one of WWII's most memorable warbirds. This RC plane comes with a level of detail that reflects the esteem in which the P-40 is held. From the cockpit instrumentation through to the stab halves and self-aligning aluminium mounting tubes the Giant P-40 Warhawk aims to look as authentic as possible. With the exception of the rudder all the control surfaces are pre-hinged to help you quickly assemble your warbird to get it into the air.
There is no mistaking the Giant P-40 Warhawk for anything other than the famous warbird. The immediately identifiable 'shark mouth' is an iconic trim scheme that is unique to this giant scale plane. It is painted onto the fuselage with exact detail and the scale exhaust ports and aluminium spinner complete what is one of the most fearsome paint schemes in aviation history. The Giant P-40 Warhawk comes with fully functional fixed landing gear but if you are going for exacting authenticity the Robart retract gear can be retrofitted easily by following the assembly manual.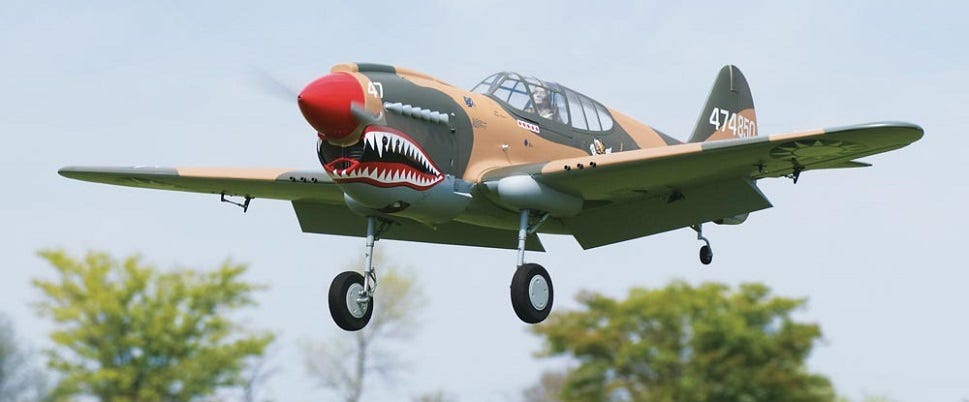 Top Flite has given this giant scale plane reinforced wings in order to ensure the landing can withstand the odd rough landing you may put your warbird through. The ribbed split flaps are exact scale replicas of the full sized P-40 Warhawk and the specifically designed airfoil ensures that tip stalls are all but eliminated making landing that much easier with your flaps deployed.
Using flat finish MonoKote covering Top Flite have reproduced this balsa and plywood giant scale plane that includes painted fibreglass parts and the most popular P-40 trim scheme ever painted on, The Flying Tigers shark mouth!
5-channel radio minimum with 9 servos (for fixed landing gear)
43-60 cc gasoline engine
Wingspan

86 in (2185 mm)

Overall Length

72 in (1830 mm)

Wing Area

1262 in² (81.4 dm²)

Flying Weight

23-24 lb (10.4-10.8 kg)
Looking for spare parts or upgrades?