Top Flite Cessna 182 Skylane .60-.91 GP/EP RC Plane, ARF
The beautiful look of the Cessna 182 Skylane is obvious and this gold edition ARF is sure to be a crowd favourite. The attention to scale detail and authentic touches is unmistakable, from the built-in lighting system to the twin radio antenna on the wing this R/C plane has had no stone unturned. Not only scale in looks but the Cessna Skylane 182 is easy to fly making it a great choice for the beginner all the way up to the advanced modeller.
Ready to fly in 15-20 hours
Balsa and plywood constructed airframe
Top Flite MonoKote covering
Polished 2.25" (57mm) aluminium spinner
Landing Gear: Main, two piece fibreglass, Nosegear 0.20" (5mm) diameter pre-bent wire
Cockpit Detail: Seats and instrument panel
Painted fibreglass cowl
Dual servo aileron control
Two-piece composite engine mount
Fibreglass wheelpants, white in colour
Fuel Tank: 14oz (420cc)
Two landing lights in cowl, one navigational light on each wing and red MARS beacon light on top of fin (requires separate receiver battery)
Wheels: Three foam, two main 3.25" (82mm) diameter, one nose wheel
Top Flite's Cessna 182 Skylane
Upon opening the Cessna Skylane 182 ARF box you're greeted with pre-assembled and covered components, all that's left for you to do is the final assembly and electronics install. Quality hardware, painted fibreglass pieces and a Monokote covered structure ensure that this ARF has been finished with the best products available.
The included fibreglass parts help reduce assembly time to 15-20 hours whilst also enhancing the scale appearance. They include everything from the antenna that covers wing bolt holes and authentic Horner wing tips to built-in "corrugations" on control surfaces and one-piece wing and landing gear struts. The sleek, one-piece boot/gear strut bolts invisibly to the fuselage, presenting a cleaner, more authentic line between the two. A wide, flat flange provides more contact area and a more stable connection between the boot and wheel pant.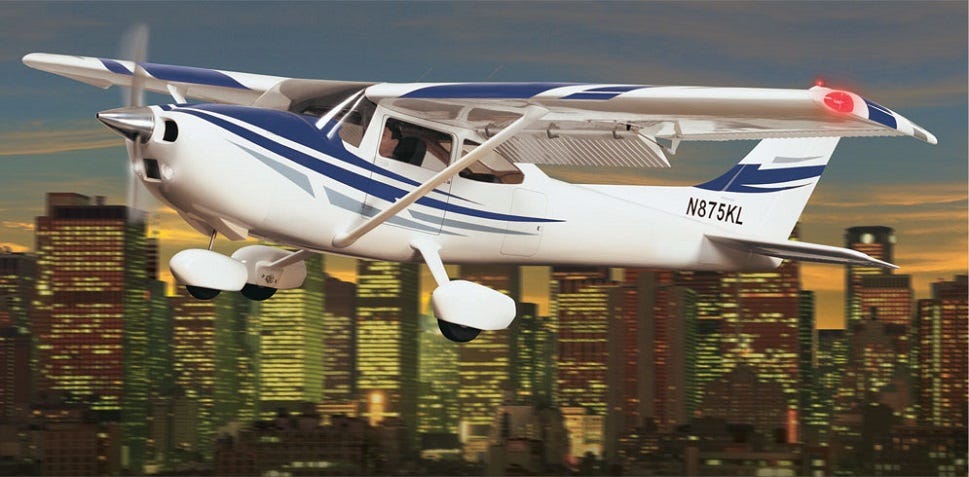 On most RC aircrafts, a cockpit kit is an optional extra but on the Cessna 182 Skylane ARF, this comes included in the box, beyond just a floor and door panel this cockpit kit includes seats, control yokes, and an ultra-realistic instrument panel. A painted fibreglass cowl is standard issue and helps reproduce the scale lines of the 182 Skylane. Also included is an aluminium spinner to complete the model and set off the scale appearance.
When it comes to finishing this model you have the choice of brushless and glow power options, parts for both are included in the box and the performance is excellent with both options. A magnetically sealed battery hatch on the bottom of the fuselage makes changing the pack easy without affecting the scale lines of this fantastic aircraft.
Radio: 6-channel
Servos: Six standard with at least 44oz/in (3.2kg/cm) torque
24" (610mm) Servo Extensions: Two for ailerons
12" (305mm) Servo Extensions: Six for ailerons, flaps and wing tip lights
Y Harnesses: Two for aileron and flap surfaces
Receiver Packs: 1000mAh minimum and 600mAh pack for flying lights
Gas Powered
Engine: .60-.91 cu in (10-15cc) two-stroke OR .91-1.20 cu in (15-20cc) four-stroke
Electric Powered
Motor: Rimfire 120 (50-65-450) Outrunner
LiPo Batteries: Two connected in series if using an electric motor
Wingspan

81 in (2,060 mm)

Overall Length

64 in (1,630 mm)

Wing Area

898 in² (57.9 dm²)

Flying Weight

11.5-12.5 lb (5.22-5.67 kg)

Wing Loading

30-32 oz/ft² (92-98 g/dm²)
All product manuals are provided by the manufacturer, If you don't find the manual or information you are looking for, contact our experts for help.
Looking for spare parts or upgrades?