TLR 8ight-X E 1/8 Competition Electric Buggy Kit, No Longer Available
Taking it's cues from the All NEW Team Losing Racing 8IGHT X, the 8IGHT X-E 1/8th Electric Class Buggy is set to innovative the market yet again.
Improved Suspension Geometry
Adjustable Suspension Arms
Wide Chassis Layout
Larger Pinion Bearing
Cab Forward Style Body
Chassis Side Guards
Aluminum Motor Mount
Adjustable 17.5 Degree Caster Blocks
Bleeder Shock Caps
Balanced Chassis
Redesigned Steering Rack
Redesigned Shock Towers
Easy Diff Access
Sway Bar System
Equalized Driveline
Updated Radio Tray
Optimized Shocks
Metric Hardware
Lightweight Battery Mount
The design is a massive departure from the historic 8IGHT family platform, sporting a total re-design from the ground up. This includes major changes to the chassis layout, becoming more neutral, plus incredible new features like easy access differentials, fully adjustable caster blocks, steering rack and steering geometry, and new way bar system. This means the TLR 8IGHT X-E not only jumps better, handles bumps better, but the relaxed style of the chassis will help you stay at the pointy end of the field come race day.

Improved Suspension Geometry
The 8IGHT X and 8IGHT X-E next generation suspension geometry have been completely revamped making a car that is super quick, agile, and easy to drive. Featured in the suspension updates are aluminium spindles, 17.5-degree spindle carriers, longer front shocks, wider front pivot with less scrub radius, narrower rear pivot, longer rear shocks, and updated hub offset. 
Wide Chassis
The 8IGHT X-E features a more traditional "neutral" wide type chassis which increases stability, balance and gives the buggy a more consistent and neutral feel. This has also meant that through the design, key component's are able spread out instead of being closely cramped together as with a narrow style chassis. Makes maintenance on this Team Losi Racing buggy an absolute breeze. 
Larger Pinion Bearing
The 8IGHT X-E features an over-sized pinion bearing in the front and rear of the buggy for increased strength and durability. This allows for a smoother, more reliable and hassle-free driveline. 
Cab Forward Style Body
The 8IGHT X-E includes the New cab forward body which generates more downforce toward the front of the buggy improving forward traction and steering. While at the rear of the body, the design has maximised airflow for less drag, with a unique a centre fin keeping the buggy stable at speed. 
Chassis Side Guards
The chassis side guards have been redesigned to fit the wide chassis and new body with a super clean fit while offering maximum protection from dirt and debris. 
New Aluminum Motor Mount
The new motor mount is now located directly on the chassis, not the centre diff mounts, and is lightweight. This aids in heat dissipation and is easy to adjust for quick gearing changes between races. 
Adjustable Caster Blocks
Redesigned and fully adjustable 17.5-degree caster blocks come standard on the 8IGHT X-E. The height of the spindle in the caster block can be adjusted via spacers on the kingpin. Optional spindle Ackerman arms will be sold separately to allow for even more adjustments and fine-tuning. 
Bleeder Shock Caps
The 8IGHT X-E comes standard bleeder style machined aluminium shock caps. Threaded bleeder screws allow you to build, and rebuild, your shocks faster and easier while ensuring you precise rebound tuning every time. 
Chassis Balance
The re-designed chassis means that components can be perfectly balanced in optimal locations across the 8IGHT X-E creating the best driving feel and balance to the vehicle possible. 
Steering Rack
The All New 8IGHT X-E steering rack has been changed to have a much cleaner, and less cluttered linkage to the steering servo along with increased Ackerman adjustments. The improved design of the servo saver also eliminates bellcrank bind during high loads creating a much smoother, consistent steering feel. 
Shock Towers
The 8IGHT X-E features machined 7075-T6 aluminum shock towers for extra strength and durability. Completely redesigned to work with the 8IGHT X-E's new suspension geometry which features updated camber link holes as well as a taller rear tower. 
The buzz around the 8IGHT X quick access diff cases has been huge. The New Front and Rear differential cases are designed to allow easy access, without removing the bulkheads from the vehicle, allowing racers to make diff oil change in half the time. The center diff was not left either with a split center mount allowing access with the removal of only four screws.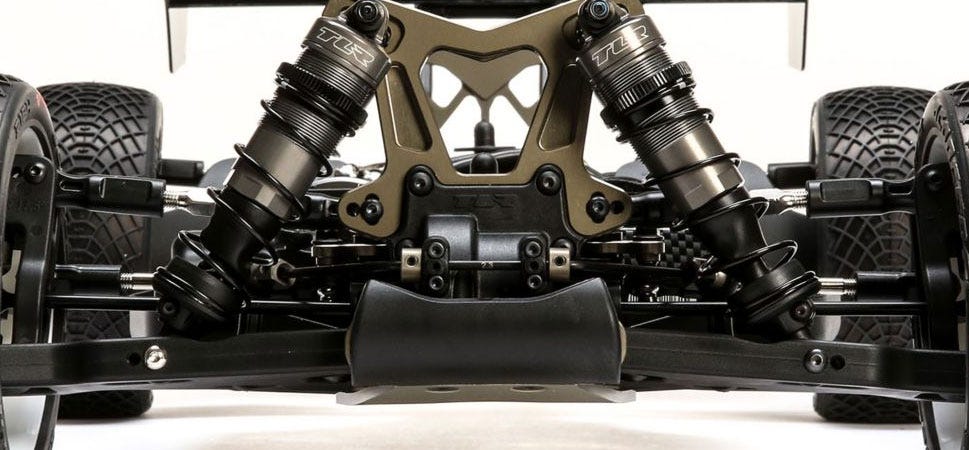 Sway Bar System
The 8IGHT X-E boasts a sway bar system that has been completely revamped for a more precise, equalized and consistent feel. Each side of the sway bar features adjustable length links as well as collars to keep the sway bars centred in the roughest of conditions. 
Equalized Driveline
Included in the chassis redesign, the 8IGHT X-E driveline now has reduced driveline angle on both the front and rear drive shafts. This not only creates an equalized driveline for more consistent power transfer, but also reduces wear on key driveline components. 
The large-bore shocks have been completely optimized for greater precision and increased performance. They come standard with machined pistons and have been lightened to decrease the centre of gravity and lower the weight of the car. The 8IGHT X-E includes 4.0mm shock shafts for extra strength and durability. 3.5mm shock shafts are available as a conversion kit. 
Metric Hardware
We know Team Losi Racing fans in Australia have been crying out for this change for many years. The 8IGHT X-E will now come standard with metric hardware and will be on par with all other manufacturers. This will allow for easier screw replacements and upgrades. 
Rear Mud Guards
The 8IGHT X-E comes standard with rear axle mudguards. These guards not only protect your rear axles and bearings from damage during rough and wet conditions, but they also keep your axles running smooth and precise in all conditions. 
Rear Shock Mounting Locations (Front) 
The 8IGHT X-E was designed so racers can mount the rear shocks on the front of the rear arm or on the front of the rear arm. By mounting the rear shocks to the front of the rear arm, the weight bias shifts forward and the arm flexes less, therefore providing more rotation in the corners. 
Rear Shock Mounting (Back)
By mounting the rear shocks to the back of the arm, the weight bias is further to the back and allows the rear arm to flex more, therefore providing more rear grip. 
Lightweight Battery Mounting System
Transmitter and Receiver
Motor
Servo
ESC
LiPo Battery
Charger
1/8 Scale Off Road Tyres
Type

1/8 Electric 4WD Buggy

Scale

1/8

Length

19.6 in (497mm)

Width

12.1 in (308mm)

Height

7.1 in (180mm)

Ground Clearance

2.4 in (60mm)

Wheelbase

12.8 in - 13 in (326mm-329mm)

Weight

Varies

Chassis

3mm, 7075 T-6 Aluminum, Hard

Suspension

Independent

Drivetrain

4WD

Motor or Engine

670 Sized 8th Motor

Gear Pitch

MOD1

Wheel Size

1.7" (42mm) width, 3.3" (83.5mm) diameter

Kit/RTR

Kit

Body

8XE Unpainted

Ball Bearings

Yes

Assembly Time

3-5 Hours

Is Assembly Required

Yes
All product manuals are provided by the manufacturer, If you don't find the manual or information you are looking for, contact our experts for help.
Looking for spare parts or upgrades?