Spektrum DX5 Rugged Surface Transmitter Only, Green, SPMR5200G
This special edition Spektrum DX5 Rugged has been released in Green format meaning the toughest handheld RC transmitter packed with innovative features is now ready to precisely control your boat, basher or off-roader.
Looking for spare parts or upgrades?
Upgraded flat touch panel
Rugged Green special edition custom colour case
Highly durable with bold and aggressive styling
Set up to enable Spektrum Smart Technology use
Ergonomic pedigree taken from Spektrum DX5C and DX5 Pro
Radio accessibility and safety assured with dual lanyard mounts
Chassis has a water-resistant* design that protects against minor splashes
Rubber bumper protection surrounds chassis
Accessory mounting options on built-in front chassis guard
Simple user-tested intuitive software that provides improved functionality
Simple extra responsive touch screen control panel
Safe and precise one-hand operation enabled by an innovative thumb steering lever
Removable non-slip off-road treaded steering wheel and rubber hand grip
Telemetry capability built-in (compatible telemetry devices are sold separately)
Large LCD screen that is easy to read
Spektrum 2.4GHz DSMR frequency-agile technology
Built-in compartment for convenient tool storage
AVC technology compatible receivers that can be tuned and programmed
Spektrum DSM2 receiver compatible
Full proportional 5 channel versatility
Status and frame rate display during the bind process
*The water-resistant limitations of the DX5 Rugged are outlined in the instruction manual
Spektrum's most durable surface transmitter
Whether you are into crawling, bashing, off-roading or boating you expect a level of toughness and durability from your vehicles or boats. Why not have the same expectation of your transmitter? A special edition transmitter has been released by Spektrum that can trace its origins back to the DX5C and the DX5 Pro and the advances in an ergonomic design that they introduced to the market. The Spektrum DX5 Rugged Green DMSR Transmitter is the next step in the evolution of handheld radios. Borrowing from cordless power tool designs, Spektrum ensured that the DX5 Rugged Green could well and truly take the same sort of punishment that tools might expect on building sites. Combine that with the precision and versatility that you come to expect from Spektrum and you'll have a tough, top of the class RC radio in your hands if you're lucky enough to get one. A new flat touch panel provides a better feel, control and operation while the sensitivity of the panel can be adjusted and a large LCD display helps make navigating the intuitive software easy.
A low-profile chassis ridge safeguards the high-speed internal signal output meaning no external antenna to worry about. The chassis itself is protected by moulded thermoplastic polyurethane (TPU) bumpers that give the Spektrum DX5 Rugged Green DMSR Transmitter the ability to endure a bump or drop without too much damage. The front chassis guard provides the versatility to mount some user integrated accessories such as a light source, camera etc. Two lanyard mounting points enable you to keep the Rugged Green close and also gain a free hand when you are not driving.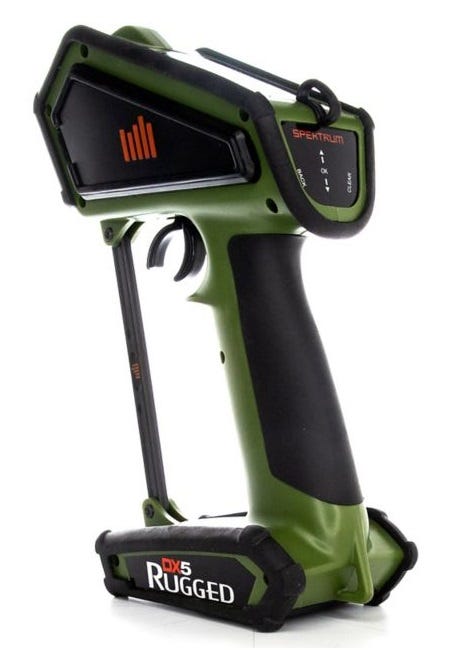 There is a small, easily accessible tool compartment that enables you to keep something like a small T-wrench snapped into the compartments internal mount. The Spektrum DX5 Rugged Green DMSR Transmitter also has a level of water resistance should you get caught out in the rain or get exposed to a spilt drink etc. In keeping with the Rugged Green design, Spektrum have equipped this transmitter with a combative looking steering wheel in an off-road style that continues the durable theme while also allowing for safer one-hand control of your vehicle with an innovative thumb lever built-in.
With 5-channel versatility, the Spektrum DX5 Rugged Green DMSR Transmitter can facilitate a range of auxilary switches for winches, lights etc. The interface on the Rugged Green has an innovative touch control panel that is simple to use and also moisture resistant. Much like a smartphone you just have to slide your finger over the control panel and then tap the options that you are after.
The Spektrum DX5 Rugged Green DMSR Transmitter can be programmed with AVC technology and tuned to work with your driving style and skill level so that you get all the turning assistance and adjustments to ensure a level of predictability no matter what speed you're travelling at.
Ready for Spektrum's Smart Technology
Spektrum Smart technology works with the electronics on your model to improve performance and efficiency. The information you are provided with ensures you are aware of the status of each component and how to maximise the electronics system to make your RC weapon of choice easier to use and more responsive.
The built-in microchip in Spektrum Smart LiPo batteries keeps a record of your charging preferences and automatically communicates this to Smart chargers by simply pressing 'Start'. There is an innovative data wire that Smart IC series connectors have that transfers information between Smart components easily with a single connection. Smart ESC's also make things a lot easier with the ability to remove the inconvenience associated with running telemetry with the need to instal and connect sensors, modules and wires now eliminated.
The Spektrum DX5 Rugged Green DMSR Transmitter is capable of receiving telemetry data directly through the Smart throttle port on the receiver if you are using the Spektrum Firma Smart ESC's and Smart capable receivers. You'll be sent speed, RPM, volts, ESC temp and amp draw through the Smart Throttle ESC's.
Rough, Tough, Rugged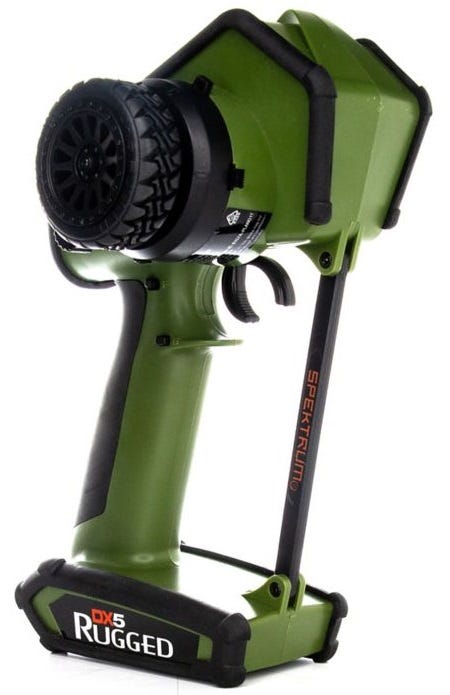 Believe it or not, Spektrum used the ability to absorb the same kind of punishment that cordless power tools do when designing the Spektrum DX5 Rugged Green DMSR Transmitter. As a result, this transmitter as a rubberized shock-absorbing bumper design that forms a level of protection around the transmitter chassis that has never been offered before.
Tracing its design origins back to the DX5 Pro and DX5C transmitters the Spektrum DX5 Rugged Green DMSR is ergonomically designed to allow all-day driving while minimising fatigue. A natural feeling non-slip rubber grip and trigger throttle action ensure that the experience is one of precision.
The off-road steering wheel tread on the Spektrum DX5 Rugged Green DMSR Transmitter gives you a tactile feel and precision steering regardless of the harsh conditions you may encounter while bashing, crawling or boating. Safe one-handed steering is made possible with the innovative thumb-lever that also adds to the level of precision you can achieve with this transmitter.
To improve water resistance a capacitive-touch sensing control panel has replaced the scroll wheel and buttons and they respond simply to the touch of your finger. The sensitivity of the panel is adjustable and navigating the intuitive software is made easy with the large LCD screen.
Frequency-Agile DSMR® Technology
The frequency-agile 2.4GHz DSMR technology is a Spektrum exclusive and can be used in any surface applications including boats. In 'noisy' 2.4GHz environments, the range and response are excellent. Backwards compatibility with marine-specific Spektrum receivers and DSM2 receivers means long-time users can continue using the receivers they currently have. Upgrading is only required if you want the frequency-agility of the DSMR receiver.
Exclusive AVC® (Active Vehicle Control™) Programming
The Spektrum DX5 Rugged Green DMSR Transmitter allows you to custom tune your AVC system with dedicated adjustments and open channels that can be adjusted independently. Predictability at speed is a builds confidence and the Rugged Green is built to handle both.
(1) Compatible Spektrum DSMR Receiver such as the SR515 5-Channel DSMR Sport Receiver
(4) AA Batteries
Band:

2.4 GHz

Channels:

5

Computer Radio:

Yes

Frame Rate:

11/22 Ms

Model Memory:

20

Modes:

Mode 1

Modulation:

DSMR

Range:

Full

Receiver:

Not included, Spektrum SR515 recommended

Telemetry:

Yes

Transmitter (Tx) Battery Type:

Four AA batteries (sold separately)

Water-Resistant:

Yes
All product manuals are provided by the manufacturer, If you don't find the manual or information you are looking for, contact our experts for help.