Seagull Models L-4 Grasshopper RC Plane, 20cc ARF, SEA-325
The L-4 Grasshopper from Seagull Models is the military version of the popular Piper J-3 Cub. 5,500 pieces were built in WW II and used primarily as a Light Observation Aircraft. This 2.3-metre model is a dream to fly.
Brilliant looking, accurate scale outline and superb flying characteristics
Lightweight high-quality construction from balsa and balsa plywood
Tail surfaces are airfoiled
Matte finished Oracover film covering in a realistic gradated camouflage trim scheme
Wheel pants and cowl made from painted fibreglass
Highly durable landing gear included
Includes a lightweight painted pilot figure in scale detailed cockpit
Easily assembled/disassembled and transported due to plug-in wings
Electric or glow power system hardware included for either setup
Fully operational flaps with linkages for realistic appearance and great performance
L-4 Grasshopper RC warbird
The 90 inch L-4 Grasshopper from Seagull is a superbly scale detailed RC plane that is ideal for use as a trainer or an everyday flyer. The L-4 Grasshopper is quick to assemble and easy to fly and is built using both plywood and balsa which means you get a lightweight RC warbird that is stronger and more durable than many.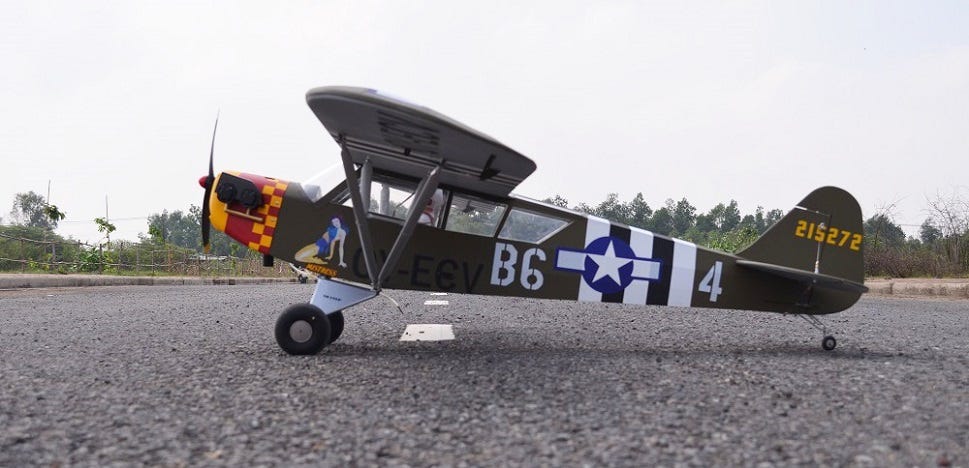 The 'Almost' in Almost Ready To Fly' (ARF) is spot on with a lot of the work done at the Seagull factory for you. The hinges are pre-installed and the motor mount has been fitted with the option of running the Grasshopper with either electric or gas power. Another added benefit of the L-4 Grasshopper is that it is a legal IMAA Warbird meaning you know this is a legit RC plane that you can fly with confidence at any Warbird fly meet.
There is much joy to be had by flying the L-4 Grasshopper 90 inches. Give it a try.
20cc gasoline engine
Computer radio 4 channel with 5 servos
Glow plug to suit the engine
Propeller to suit engine: 20x8 - 20x10
Protective foam rubber for radio system
Wingspan

90.0 in (228.6 cm).

Wing area

1182.3 sq.ins (76.3 sq.dm).

Weight

13.2 lbs (6.0 kg).

Length

56.8 in (144.2 cm).

Engine/Motor size

20cc gasoline.

Radio

4 channels with 5 servos
All product manuals are provided by the manufacturer, If you don't find the manual or information you are looking for, contact our experts for help.