Rage RC Mini-Q 1/24 Scale 4WD RC Car DIY Assembly Kit, Final Clearance
Special Price
$22.99
Regular Price
$119.99
The Mini-Q from RAGE R/C is all about fun, with a easy to assemble kit that includes all the necessary items to get up and racing on most indoor and outdoor surfaces. 
Looking for spare parts or upgrades?
Easy Step-By-Step Assembly
4WD System with Full Ball Bearings
Independent Suspension with Spring Dampeners
Front and Rear Differentials
FactoryDecorated Rigid Plastic Body
Included 1S LiPo Battery with USB Charger Delivers Plenty of Power and Long Run Times
2.4 GHz Transmitter with Adjustable Steering Rate
Complete Ball Bearings
130Size Brushed Motor
Integrated ESC with Reverse and 2.4GHz Control Board
Complete Ball Bearings Included
The perfected shaft driven 4WD system provides unparralelled performance and gear differentials front and rear split the power to the ground. With a factory standard ball bearing kit the Rage RC Mini-Q gives great performance in a affordable package.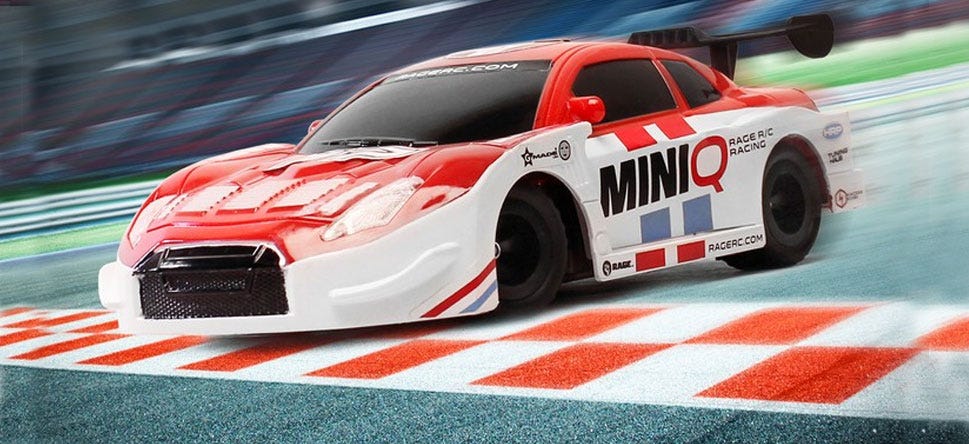 Even though this car does come in kit form, don't let that scare you as a majority of the work is done for you. All the gear differentials and suspension are pre built which makes final assemble quick and easy using the detailed instructions. Building a kit can be a rewarding experience and certainly helps with the knowledge of how to maintain and tune your own car with the array of option parts. This is perfect option for your next STEM Education project.
The Mini-Q has all the necessary items to get driving included in the box, a 2.4GHz radio system gives the user amazing precision and control. The car also includes a 2 in 1 ESC/RX unit, 1S LiPo battery and usb Charger. Racing the Mini-Q is possible on area's as small as a ping pong table! Any smooth surface is now a racetrack! All that you require is 4AA batteries and your and your friends can battle it out for the win!
Overall Length

180 mm

Width

84 mm

Height

53 mm

Wheelbase

95 mm

Ground Clearance

5 mm

Weight

153g

Radio

2.4GHz with FWD/REV ESC

Battery

3.7V 400mAh 1S LiPo
All product manuals are provided by the manufacturer, If you don't find the manual or information you are looking for, contact our experts for help.