Pro Boat UL19 Hydroplane 30inch RTR Boat
The UL-19 Hydroplane from ProBoat is a sleek, 76cm missile in the water. With its GP inboard hydroplane design, aluminium running gear, stainless steel turn fin and powerful brushless performance you'll be turning heads when you launch this one.
Please Note: Does not include pictured stand.
Powerful electronics that are fully waterproof
2000Kv brushless Dynamite motor
Fully aluminium adjustable propeller strut
Removable vertical fins and fibreglass hull with matching canopy
Two-blade stainless steel propeller and turn fin
DX2E 2.4GHz transmitter from Spektrum
Dedicated connection free of interference
Aluminium break-away rudder
Adrenaline-pumping action with the ProBoat UL-19 Hydroplane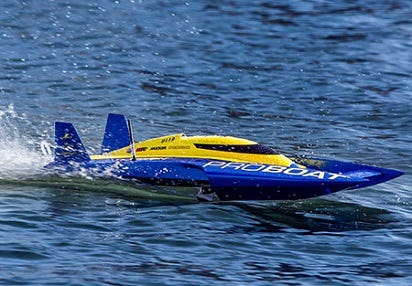 Careful what you wish for….ProBoat have just released this 76cm UL-19 Hydroplane that might be too much boat for some to handle! With no rear spoiler or turbine housing and a super sleek design, this thing is fast. 80kmh an hour fast! Hook the UL-19 up to 6S LiPo power and you'll see for yourself. The power comes from the 2000Kv 6 pole water-cooled motor from Dynamite and the accompanying 120A ESC. With a 3KG waterproof Spektrum servo on board, you can corner at high speed without concern. The UL-19 is fitted out with a stainless steel propeller and turn fine along with all aluminium running gear. Built to NAMBA race specifications the ProBoat UL-19 is not only ready to run but ready to race as well.
Lightweight fibreglass and waterproof electronics
With a lightweight but durable hull the UL-19 is perfectly designed for race conditions where maintaining maximum speed is crucial. The hand-laid fibreglass construction of the hull and canopy gives the UL-19 the durable strength to handle the speed it is capable of and if you are unlucky enough to crash the vertical fins will break away from the UL-19 without damaging the hull.
To achieve speeds of 80kmh ProBoat have fitted out the UL-19 with a brand new 2000kV 6-Pole Dynamite motor and a water cooled 2-6S, 120A speed controller.
If you are going to wind it out to 80kmh you'll feel confident knowing that in the event of a crash or collision with a solid object the aluminium rudder is designed to break away in order to safeguard the transom from extensive damage.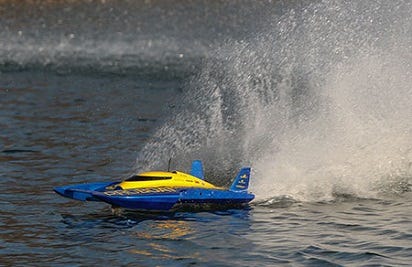 Stainless steel two-blade propeller
The UL-19's high-pitch and high rake stainless steel propeller utilises the hull's design performance perfectly by producing a tight thrust cone. This translates to propulsion that generates higher speeds and doesn't run the risk of overloading your ESC or Servo. On 4S power your UL-19 will get you up to speeds that others will need 6S power to reach.
When your UL-19 is racing across the water you'll enjoy the clear and precise connection provided by the 2.4GHz Spektrum DX2E DSMR transmitter.
Aluminium adjustable propeller strut
The Ready To Run claims on the UL-19 extend beyond just being able to race it out of the box. Being able to adapt on the fly to the prevailing water conditions with the adjustable aluminium propeller strut means you are able to achieve optimal performance regardless of water surface conditions. The precise adjustments that the square bottom propeller strut allows will remind you of the trim tab function that Deep-V boats have enjoyed exclusively in the past.
Stainless steel turn fin
The UL-19's stainless steel turn fin keeps it fastened to the water enabling full speed turns or blistering straight runs.
If you like this electric boat, you should also take a look at the ProBoat Miss Geico 29" V3 Catamaran.
What's in the box?
(1) UL-19 Hydroplane Boat 
(1) Spektrum™ DX2E 2.4GHz Transmitter 
(1) Spektrum SR310 DSMR 3-Channel Receiver 
(1) Dynamite® 120A Marine Brushless Maring 2-6S ESC 
(1) Dynamite Marine Brushless Motor, 2000Kv 
(1) Spektrum 3KG Servo 
(1) User Manual
Notice: Running the boat in salt water (e.g. sea water or salt chlorinated pools) could cause some parts to corrode. If you run the boat in salt water, make sure it is rinsed thoroughly in fresh water after each use and lubricate the drive system. Because of the corrosive effects, running the boat in salt water is at the discretion of the owner and will void the boat's warranty.
2 x 2S-3S 5000mAh, 50C LiPo Battery with EC5 Connector
Lipo Battery Charger
4 x AA Batteries
Length

30 in (762mm)

Beam

16 in (406.4mm)

Motor Size

3650 6 Pole Marine Motor 2000Kv

Weight

5 lbs (2300g)

Speed

45+

Radio

DX2E

Speed Control

120A

Hull Material

Fiberglass

Trim Scheme Colors

Blue and Yellow

Prop Size

1.7 x 1.6

Hull Type

Hydroplane

Battery

(2) 7.4V 5000MAH 2S 50C LiPo, with EC5 connector

Kit/RTR

RTR

Scale

30-inch

Drive System

Flex Shaft

Experience Level

Intermediate

Recommended Environment

Outdoor
All product manuals are provided by the manufacturer, If you don't find the manual or information you are looking for, contact our experts for help.
Looking for spare parts or upgrades?