Pro Boat Alpha Patrol Boat, 21inch, RTR
If you're looking for a realistic boating experience, the ProBoat Alpha Patrol Boat is for you. From the trim scheme to the scale looking accessories, it's impeccable detail makes it picture perfect on the water or on the mantle.
Durable ABS hull
Propelled by twin jet pumps
A water cooling coil to extend the life of the brushed 390 sized motor
Detailed military trim scheme
Boat stand included for display or storage while not in use
Use your Alpha Patrol boat at night by using the working LEDs
Detailed accessories including, machine guns, light pods, dock bumper tyres, antennas and a flag
60 amp Waterproof ESC
Less than 1 hour assembly time
Most any size 7.4 LiPo battery is compatible
History of the Alpha Patrol Boat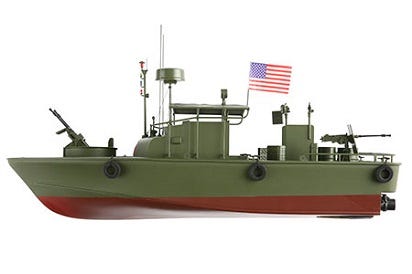 The ProBoat Assault Support Patrol boat, otherwise known as 'Alpha boat' was purpose built for riverine operations by American forces in Vietnam. Made of steel for maximum durability, it displaced at 36.5 tons with a length of 15m and was able to traverse 1.29m of water. It was powered by two 12V71 diesel engines of 430 horsepower each and consisted of a captain, radioman, engineer/gunner - a .50 caliber heavy machine gunner as well as a 20mm autocannon gunner.
Scale Military RC boat like no other
The 21inch ProBoat Alpha Patrol Boat is a highly detailed military RC scale boat. It is perfect for cruising around a lake, or as a display model with its moulded detailed accessories such as a .50 caliber gun on the bow, m60 machine guns, a .50mm gun on the transom, a flag, and dock bumper tyres.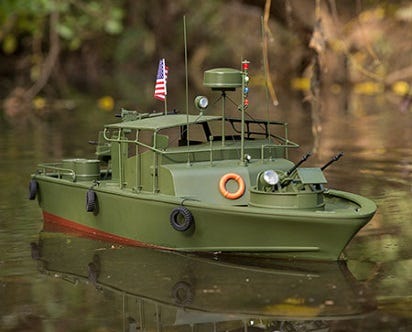 Powered by dual motors
Dual brushed 390 size, 22T motors power the new ProBoat Alpha Patrol boat, along with a 60-amp waterproof ESC. Propelled by twin, steerable jet pumps just like the boat it is modelled after, ensures you will have a smooth ride.
Take control of the pivoting gun turret
The ProBoat Alpha Patrol boat comes with an interference-free Spektrum 2.4GHz FHSS transmitter. Add a 3-channel transmitter and a servo, and you can take control of the pivoting the gun turret mounted on the bow.
An RC boat that looks good on and off the water.
Order yours today.
If you like this scale boat, you should also check out the ProBoat Volere.
Notice: Running the boat in salt water (e.g. sea water or salt chlorinated pools) could cause some parts to corrode. If you run the boat in salt water, make sure it is rinsed thoroughly in fresh water after each use and lubricate the drive system. Because of the corrosive effects, running the boat in salt water is at the discretion of the owner and will void the boat's warranty.
LiPo battery.
Charger.
4 x AA batteries.
Length

21 in (533mm)

Beam

8 in (203mm)

Motor Size

(2) 390 Brushed

Weight

2.85 lbs (1300g)

Speed

15 mph

Radio

STX2 2Ch 2.4GHz FHSS Radio System

Speed Control

60 Amp Marine ESC, WP

Hull Material

ABS

Trim Scheme Colors

Green/Burgandy

Hull Type

Scale Military

Battery

3300mAh NIMH 6C FLAT EC3 (Not Included)

Kit/RTR

RTR

Scale

21 Inch

Drive System

Jet Drive

Assembly Time

Less than 1 Hour
All product manuals are provided by the manufacturer, If you don't find the manual or information you are looking for, contact our experts for help.
Looking for spare parts or upgrades?