Parkzone Sukhoi SU-29MM BNF Basic , No Longer Available
An aerobatic RC plane like no other - the ParkZone Sukhoi SU-29MM comes with SAFE Technology; allowing you to fly with greater confidence and minimised risk.
Spektrum AR636 receiver with SAFE technology
10-size, 1250Kv brushless outrunner motor
E-Flite 40A brushless ESC included
E-Flite 13-gram digital micro servos
Constructed from lightweight, hollow-wing Z-Foam
Vortex generators on the leading edges
Striking, high-visibility trim scheme
Easy transportation with two-piece, plug-in wings
Large control surface throws
Durable wire landing gear and large wheels
Accessible battery hatch
The Super Sukhoi
The Sukhoi SU-29MM from ParkZone is an RC plane designed by the legendary pilot and aircraft designer, Mike McConville. What makes this sport plane unique is the inclusion of the Spektrum AR636 receiver with Sensor-Assisted Flight Envelope (SAFE) technology. SAFE technology makes the Sukhoi aware of its attiude in relation to the ground. Through this technology, you will have access to four different flight modes. The first mode is "Stagility", where the plane can perform any aerobatic or 3D manoeuvre, but will return to upright flight immediately if you release both sticks. In the AS3X 3D Mode, you will be able to access sharp response balanced with solid stability when performing low-speed maneuvers such as hovers and harriers. In AS3X Precision Mode, you will be able to smooth out the effects of turbulence when performing precision aerobatics at high speed. Finally, there is Panic Recovery Mode, which immediately returns the Sukhoi to upright flight at the push of a button. You can activate this mode at any time and in any flight mode. Overall, SAFE Technology allows you to explore aerobatics with minimal risk.
Want to see more? Check out our demo video below:
Similar to the ParkZone ArtiZan, this RC plane is constructed from hollow Z-Foam and has been reinforced with carbon fibre. This gives you a model that is more durable and lighter than solid-foam counterparts. This airframe is combined with a 10-size 1250Kv brushless outrunner motor and a 40-Amp switch-mode BEC. ParkZone have also added additional features to perform 3D maneuvers with ease. For example, the leading edges of the wings come with vortex generators to give you more control and stability when flying at slow speeds and high angles. Additionally, there are double-beveled hinges on the control surfaces, allowing you to achieve the extreme control throws necessary for high alpha performance. Each control surface of the Sukhoi is linked to an E-Flite 13g digital micro servo with metal gears to give your input great responsiveness. You will also notice how the flexible wire landing gear and large wheels make it easier to take off and land on various surfaces, including grass.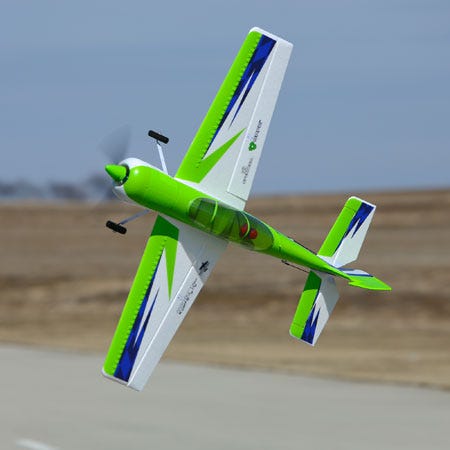 The Sukhoi has great visibility in the air. It offers a striking trim scheme and its large canopy has been tinted to make it more visible. This electric RC plane can be easily assembled in under an hour. Just like the ParkZone Extra, it comes with two-piece, plug-in wings that makes the model easy to transport and are supported with a carbon fibre wing joiner. ParkZone have also included a large battery hatch with a mechanical latch for easy access to the tray and electronics. Please note that because this model comes as a Bind-N-Fly Basic, you will need to supply your own DSM2- or DSMX-compatible 6+ channel programmable transmitter and a charged 2100-2200mAh3S 11.1V LiPo battery. Please refer to the "What You Need" section for more information. The Sukhoi is an outstanding aerobatic RC plane, utilising leading-edge technology to delivery consistent high performance. Order yours now.
If you like the Sukhoi, you should also check out the ParkZone Sport Cub.
Radio. We recommend the Spektrum DX8 (SPMR88101) or DX9 (SPMR9900)
Battery. We recommend the E-Flite 2200mAh LiPo (EFLB22003S30)
Charger. We recommend the Dynamite Prophet Precept (DYNC2015) or Ultra Power 680AC (UP680AC)
Wingspan

44.0 in (1120mm)

Overall Length

42.3 in (1074 mm)

Wing Area

403 sq. in. (26.0 sq, dm.)

Flying Weight

40.6 oz (1150 g)

Motor Size

10-size BL10 Brushless outrunner, 1250Kv (installed)

Radio

4+ Channel DSM2/DSMX Transmitter Required

Servos

Installed

CG (center of gravity)

3.2 in. (82mm) Back at Wing Root

Wing Loading

14.5 oz/sq. ft.

Prop Size

12 x 4

Spinner Size

1.93 in (49mm)

Speed Control

40-Amp Pro ESC (installed)

Recommended Battery

11.1V 3S 2200mAh 25C LiPo

Anti-Crash Technology

Yes
All product manuals are provided by the manufacturer, If you don't find the manual or information you are looking for, contact our experts for help.
Looking for spare parts or upgrades?