Losi Tenacity Short Course Truck RTR, No Longer Available
The TENACITY short course truck from Losi is built on the world-renowned TEN platform and can handle just about any terrain and conditions you want to put it through. Throw in a hat tip to the TLR design crew and you've got a serious RTR SCT that has the look as well as off the chart performance.
550 12T Brushed motor and a brushed 60A ESC both from Dynamite
Razr MT tyres from MAXXIS
Spektrum SRX200 waterproof receiver and a 2.4GHz STX2 radio transmitter
Adjustable differentials with 4x4 driveline and fully independent front and rear suspension
Bottom loading battery tray on composite chassis for easy changeover
All weather waterproof components
Race proven and time-tested TEN platform
12mm composite-bodied race ready shock absorbers for superb stability
Long lasting smooth drive train equipped with full set of sealed ball bearings
Bearings, screws and nuts all in metric throughout the TENACITY
Pre-load adjusted coil-over oil filled shocks
Scale body with racing influenced styling
Legendary TEN platform
With fully adjustable drivetrain and suspension, the Losi TENACITY Short Course Truck (SCT) is built on the ultra-tough composite chassis that is the TEN platform. You can tweak your TENACITY RC truck to suit any conditions and the suspension system allows you to handle some pretty serious terrain with grip and feel that allow you to get the most of your driving experience.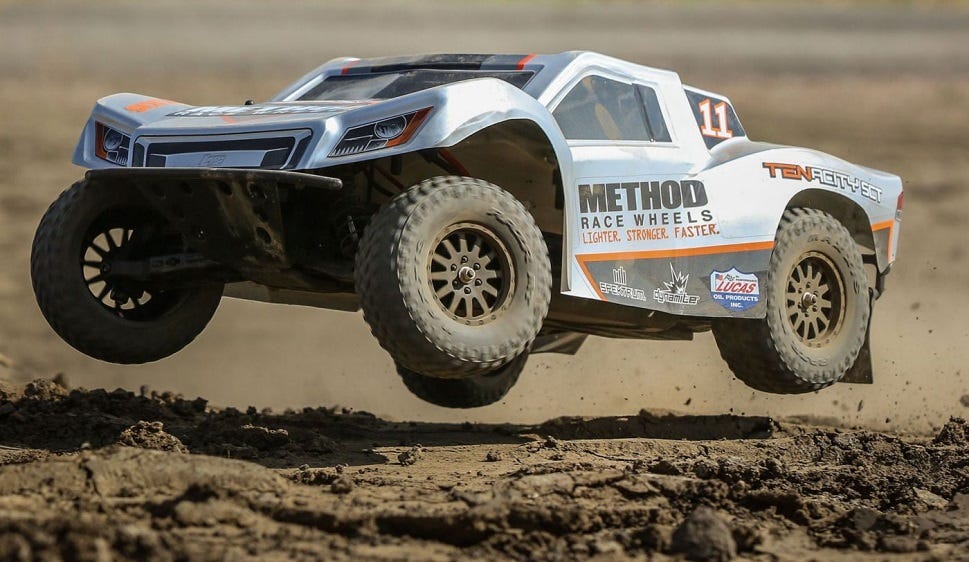 The ability to tune your front/centre/rear differentials to the prevailing conditions will see you get the most out of the TENACITY's full time 4WD with improved levels of handling and traction. The centre differential on your Losi TENACITY SCT disperses power, as its needed, to either the front or rear differentials giving you the power you need where and when you need it.
Waterproof electronics
The TEN platform is a proven performer and the TENACITY SCT exploits this race engineered advantage by including a hardware package that is fully metric, fully tuneable and….fully sick! Quick battery changeovers are facilitated by the bottom loading battery tray underneath the composite chassis. Driving in the wet is no problem either as the TENACITY is equipped with a fully waterproof Dynamite power system that includes a 12T brushed motor and 60A ESC that will get you up to 40kmh straight out of the box.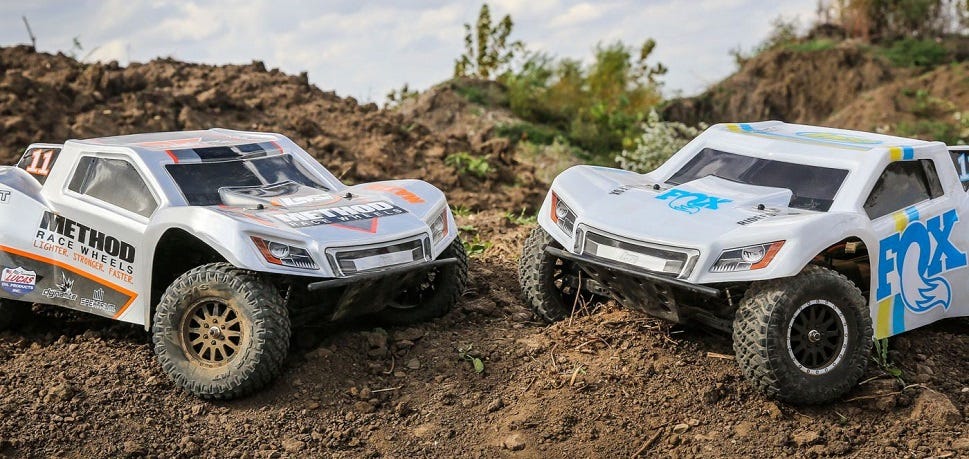 Control at your fingertips
The TENACITY is decked out with a Spektrum SRX200 receiver that will maintain constant contact with the STX2 2.4GHz Spektrum transmitter for full control. To enhance this RC trucks ability to handle the rough stuff it is also kitted out with scaled-down MAXXIS Razr MT tyres that come with a tread pattern to handle dirt, grass, gravel, rocks or asphalt.
To help you 'stand out' from the crowd the updated body on the TENACITY SCT comes in a choice of two liveries – the Fox Racing Shocks, or, the Method Wheels colour schemes. Losi has always strived to bring you the best performing RC trucks in the business and the TENACITY SCT lives up to that goal.
2-Cell 30C+ Hardcase LiPo Battery, or 6 Cell NiMH Battery, with EC3 Connector
Appropriate 2S LiPo or Multichemistry Charger
Dynamite® Powerstage™ Bundle Stage 2: 2S LiPo is the recommended battery and charger
Type

4WD Short Course Truck

Scale

1/10

Length

21.1in (535mm)

Width

11.7in (297mm)

Ground Clearance

1.50in

Wheelbase

13.1 in (332.7mm)

Chassis

5mm Composite

Suspension

Independent

Drivetrain

4WD

Tire Type

Short Course

Speed Control

60A ESC (included)

Radio

Spektrum STX2 Transmitter (included)

Servos

1 x 9KG 23T Waterproof Servo (included)

Batteries

2S 30C LiPo or 6S NiMH with EC3 (sold separately)

Charger

2S+ LiPo and/or 6S+ NiMH compatible balancing charger (sold separately)

Gear Pitch

MOD1

Wheel Size

2.2 in x 3.0 in Diameter, 1.63 in (41.4mm) Width

Kit/RTR

RTR

Shock Type

12mm Composite

Body

Screened

Ball Bearings

Yes

Assembly Time

Less than 1 Hour

Is Assembly Required

No
All product manuals are provided by the manufacturer, If you don't find the manual or information you are looking for, contact our experts for help.