Hobbyzone Mini Apprentice S RC Plane, RTF Mode 1
The HobbyZone Mini Apprentice S the RTF plane for new pilots – but can be flown and enjoyed by all experience levels.
RTF RC airplane – no accessories needed
Equipped with SAFE technology – with Panic Recovery mode
Made for the beginner, but enjoyed by the intermediate and experienced
Agile brushless motor
Four-channel control
Strong and flexible Z-foam construction
Powered by a 3S 1300mAh LiPo battery
Landings are easy, with tricycle gear
Includes Spektrum DXe radio transmitter
Add floats, if you like
The Mini Apprentice…
the
airplane for beginner flyers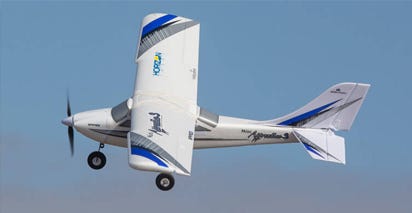 Looking to treat your child (or yourself) to an RC plane that's easy to fly? It's the HobbyZone Mini Apprentice S, of course. The Apprentice, as it's accurately named, is perfect for trainee flyers.
But don't be fooled into thinking it's the type of plane that you'll grow out of quickly. Intermediate and experienced pilots love flying the Apprentice.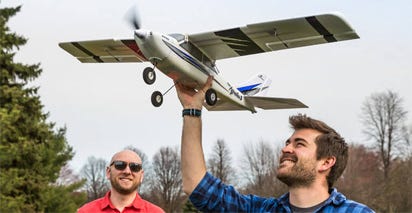 Launch
, in the smallest of spaces
Take your two Apprentices, your child and plane, down to your local park. You don't need much room to launch into the sky. And you can even fly in your own backyard. How cool is that!
You don't need to worry about flying into a tree. Its strong Z-Foam construction and SAFE technology keeps you on track – with modes like Panic Recovery. There are a bunch of other modes available, which you'll control through the Spektrum DXe 7Ch radio transmitter.
Powered by a 370-size brushless motor and 18A ESC
The Apprentice is a powerful little pocket rocket. The 370-size brushless motor and 18A ESC give it all the guts you need. Access the battery easily, through the large compartment. This means installing the 3S 1300mAh LiPo battery has never been quicker.
For an RC plane that's designed for the beginner, you can't fly past the HobbyZone Mini Apprentice S. Add on floats for more challenging take-offs and landings, on water!
Order yours today.
Nothing! Everything you need is included in the box.
Wingspan:

48.0 in (1220mm)

Overall Length:

34.2 in (869mm)

Wing Area:

341.80 sq in (22.05 sq dm)

Flying Weight:

25.9 oz (735g)

Motor Size:

370 Brushless Outrunner 1300Kv

341.80 sq in (22.05 sq dm)

6 Channel

Servos:

4 Included

25.9 oz (735g)

75mm back from leading edge of wing at root

Prop Size:

8.25 x 5.5

Spinner Size:

34mm

Speed Control :

18 Amp ESC

Recommended Battery:

1300mAh 3S 11.1v 20c Lipo

Approx. Flying Duration:

6 Minutes

Recommended Environment:

Outdoor

Assembly Time:

Less than 1 Hour
All product manuals are provided by the manufacturer, If you don't find the manual or information you are looking for, contact our experts for help.
Looking for spare parts or upgrades?