Hobbyzone Mini Apprentice S RC Plane, BNF, No Longer Available
There's nothing mini about the features on the Hobbyzone Apprentice S BNF. It's proof that the best things in life come in small packages.
Bind and Fly version
Built for all levels of flyers – beginner to experienced
Don't panic, use the SAFE technology Panic Recovery mode
Fast, easy assembly
Fly faster with the powerful brushless motor
Four-channel control
Made from strong Z-foam construction
Long-lasting 3S 1300mAh Li-Po battery
Unbeatable ground handling, with tricycle landing gear
The option to add floats.
The Hobbyzone Apprentice: The best co-pilot you'll ever have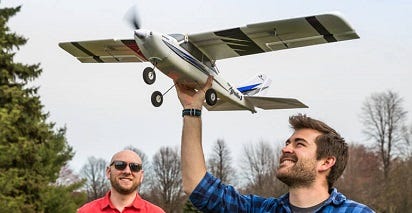 There's nothing quite like flying the Hobbyzone Mini Apprentice S. You'll love how intuitive it is and just how prepared it is for anything – wild weather, challenging landings or newbie pilots.
Take it out at your local park or fly it in small spaces in your home, if you're not ready for big, open spaces just yet.
The RC plane made for the beginner
While the Apprentice is fun to fly no matter what level you're at, it's designed for the beginner. It boasts a durable Z-Foam exterior and SAFE technology, so you don't have to worry about ever losing control.

You've got the security of recovery, by simply pressing a button. And as your skills develop, the Apprentice is designed to grow with you, as you progress through the multiple flight modes.
Vigorous 370-size brushless motor
The Apprentice has a powerful 370-size brushless motor and 18A ESC. There's a big battery section that's easy to enter, so adding the 3S 1300mAh LiPo battery is simple. When you need to re-charge, it's never been easier.
If you like to idea of taking off and landing on water, just add the optional floats and you can! It's a fun new skill to add to your flying repertoire. So, the next time you're at your local park and there's a small body of water, try taking off from there. With the Apprentice, it's never been easier to teach yourself to fly. It's fun and beginner-friendly. Let your inner child out.
Choose the Hobbyzone Apprentice S BNF if you're looking for a small plane with big performance. Have fun flying, no matter whether you're a new or seasoned pilot.
All you need to do is bind your current four-channel (or greater) DSMX-equipped Spektrum radio transmitter and you're ready to launch.
Order yours today. You're going to have a blast flying it.
If you like this RC Plane, you should also check out the HobbyZone Champ S Plane.
DSMX equppied 4 channel or higher transmitter. We recommend the Spektrum DXE (SPMR1000)
Wingspan

48.0 in (1220mm)

Overall Length

34.2 in (869mm)

Wing Area

341.80 sq in (22.05 sq dm)

Flying Weight

25.9 oz (735g)

Motor Size

370 Brushless Outrunner 1300Kv

Radio

6 Channel

Servos

4 (Included)

CG (center of gravity)

75mm back from leading edge of wing at root

Prop Size

8.25 x 5.5

Spinner Size

34mm

Speed Control

18 Amp ESC

Recommended Battery

1300mAh 3S 11.1v 20c Lipo

Approx. Flying Duration

6 Minutes

Recommended Environment

Outdoor

Assembly Time

Less than 1 Hour
All product manuals are provided by the manufacturer, If you don't find the manual or information you are looking for, contact our experts for help.
Looking for spare parts or upgrades?