Hobbyzone Champ Beginner RC Plane, RTF Mode 1
The ideal RC plane for beginners, the HobbyZone Champ will help you learn to fly in the comfort of your own backyard.
Everything you need to fly is included in the box
Champ comes completely assembled and ready to fly
2.4GHz transmitter with Spektrum DSM technology included
Comes with scale wing rib detail and steerable tail wheel
1S 3.7V 150mAh LiPo battery and DC LiPo charger included
Instruction manual with flying tips included
The HobbyZone Champ - For Beginners Who Want to Become Champions
If you are brand new to the world of RC plane flying, you cannot go past the HobbyZone Champ. The Champ is lightweight, but small enough for you to learn to fly in your own backyard or local park. As a beginner pilot, HobbyZone understands that mistakes can happen, so they designed the Champ to be durable enough to withstand the occassional bad landing!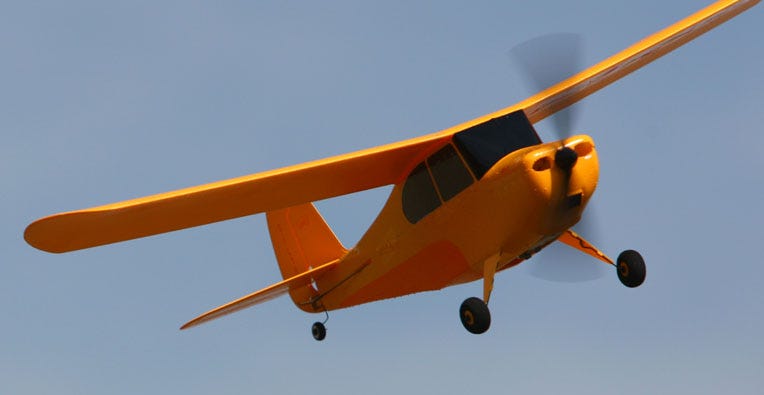 Furthermore, there is no assembly required with this RC plane. It comes ready-to-fly out of the box with a LiPo battery and charger, along with a 2.4GHz transmitter. HobbyZone have also included a detailed instruction manual with tips to help you get in the air smoothly. The Champ is easy to control and really fun to fly.
If you cannot wait to to begin your journey as an RC plane pilot, order the HobbyZone Champ today.
Nothing! Everything is included in the box.
Wingspan

20.3 in (517mm)

Overall Length

14.3 in (365mm)

Flying Weight

1.3 oz (38g)

Radio

4-channel 2.4GHz transmitter with Spektrum DSM 2; 3 channel receiver and aircraft

Trim Scheme Colors

Yellow with orange trim

CG (center of gravity)

Approximately 28mm from leading edge of the main wing

Prop Size

130 x 70mm

Recommended Battery

3.7V 1S 150mAh LiPo (included)

Charger

DC 3.7V LiPo charger (included)

Landing Gear

Fixed main with steerable tail wheel
All product manuals are provided by the manufacturer, If you don't find the manual or information you are looking for, contact our experts for help.
Looking for spare parts or upgrades?