Hangar 9 P-51D Mustang RC Plane, 20cc, ARF, HAN2820
Hangar 9 has brought one of the great warbirds to life with the P-51D Mustang 20CC ARF. This 1/6 scale RC plane gives you incredible scale detail combined with the versatility of being able to power it the way you want.
Includes shock-absorbing struts along with a rugged fixed landing gear with 4 inch wheels
Superbly detailed, satin-finish covering includes scale panel lines, nomenclature etc
Scale control surface hinge lines, wing cannons, gear doors and antenna
Easily transported and assembled with plug in, two-piece wing set
Cockpit detail includes accurately painted pilot, 3D instrument panel and more
Simulated exhaust and engine detail on the painted cowl
Easily accessible fuel tank and electronics through large top hatch
Optional (sold separately) electric retracts ready for tail and closing doors
Enhanced scale flight profile and flight envelope with functional flaps
Customize your trim with two decal sets included – Sky Bouncer or Geraldine
Lightweight construction with expert laser cut plywood and balsa
Everything for fuel or EP power included in the comprehensive hardware package
Wing pylons with removable drop tanks (Optional use and remote release sold separately)
Scale spinner with matching paint finish
Fly America's favourite fighter plane – the Hangar 9 P-51D Mustang
Out of the necessities of war the US aviation industry created a flying marvel that pilots loved to fly. Flight time, power and payload capability were the hallmarks of the P-51D Mustang and Hangar 9 have produced a brilliant 1/6th scale version of this famous warbird that you can take to the airs with at your local field.
Based on the Mustangs flown by the 375th Fighter Squadron these 1/6th scale warbirds are expertly constructed with lightweight plywood and balsa to emulate the durability of the much loved full-scale Mustang.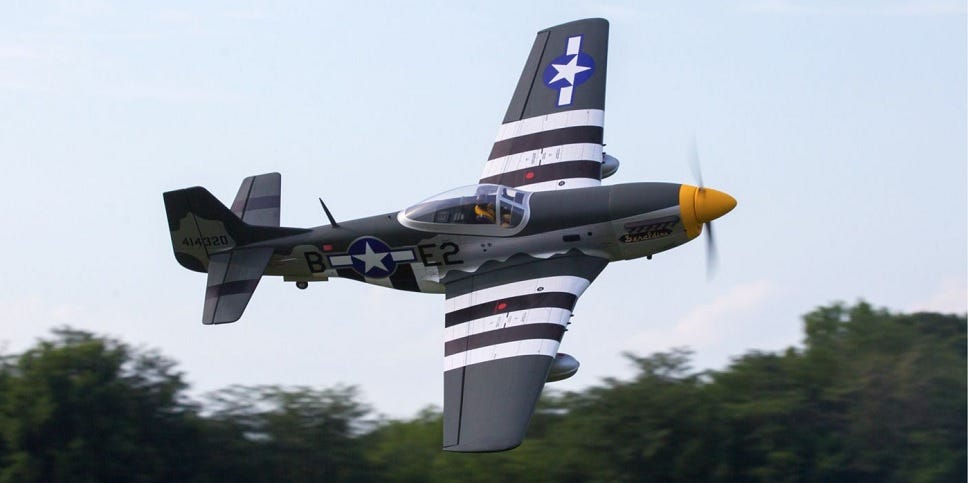 Incredible scale detail
The expertly applied, lightweight satin finish on the Mustang's sleek airframe helps capture some fantastic scale features. Rivets, panel lines, nomenclature and the distinct colours are all captured in this durable form to ensure the scale look Hangar 9 have produced remains looking superb.
Attention to scale detail is present throughout the P-51D with the cockpit looking as close to the real warbird as possible with an intricately detailed pilot figure, a 3D instrument panel and accurately divided utility compartment. Matching cowl, finish and spinner also include scale inlets and exhaust. You also have the option of adopting the wing tanks the Mustangs were known for or you can take them off for decreased drag and improved maneuverability. Takeoffs and landings are made easier with the shock absorbing gear struts which have trailing-link suspension and axles that can facilitate larger wheels all of which come in superb scale detail.
Easy to assemble
Connecting the two piece wings to the Mustangs distinct air scoop and wing fillet is easy and tool-free. The control surfaces on the P-51D have factory drilled hinges for easy installation and scale hinge lines as well as airfoil-shape design for better aerodynamics. Increase the genuine scale feel of your Mustang by installing the E-flite electric retracts at the front and rear (sold separately) instead of the standard durable fixed landing gear. The functional flaps allow your Mustang shorter takeoff capability, wider flight envelope and slower landing speeds.

In order to gain easy interior access, your P-51D Mustang comes with a large top hatch. Mounting options for your choice of power source are easy to install and all the components required for either EP or fuel power are in the hardware package. Regardless of your power source choice you will enjoy the scale look and feel of one of the US military's historically top fighter planes.
Gas or Electric? The power is in your hands
You have both options with your P-51D Mustang and Hangar 9 have designed it to accept either the Saito FG-21, 21cc four-stroke, or, the Evolution 20GX, 20cc fuel engine. Alternatively, you can go the electric option with an E-flite Power 60 electric outrunner brushless motor system powered by a 6S LiPo battery. An electric motor mount is included in the hardware package so as to not impede your Mustang's journey to hit the skies.
If you are looking to migrate parts from an existing model the airframe on the P-51D Mustang can be outfitted with the ESC and stock motor used in E-flite's giant Carbon-Z T-28.
20cc two- or four-stroke gas engine or equivalent electric motor system
Full-range, 5+ channel transmitter and receiver (6+ for the retract option)
(8) Standard-size servos (7 for the electric power option)
(2) Batteries for receiver and engine ignition (for the gas power option)
Propeller
Wingspan

69.5 in (1.76 m)

Overall Length

60.0 in (1.52 m)

Wing Area

848 sq in (54.7 dm2)

Flying Weight

11.5-13.0 lb (5.2-5.9 kg)

Engine Size

20cc 2 to 4-stroke gas/petrol (sold separately)

Motor Size

Power 60 1800W outrunner with 80A ESC and 6S LiPo (sold separately)

Radio

5+ channel, full-range transmitter and receiver (sold separately)

Servos

Standard Digital, 7-8 required (not included)

CG (center of gravity)

6 9/32" (160mm) behind leading edge

Prop Size

16x8

Spinner Size

3.7" (95mm)

Flaps

Yes

Retracts

Optional (main and tail wheel)

Control Throw (Ailerons)

5/8 inches (16mm) - 7/8 inches (22mm)

Control Throw (Elevator)

1/4 inches (6.5mm) - 7/16 inches (11mm)

Control Throw (Rudder)

1 inch (25mm) - 15/32 inches (35mm)

Control Throw (Flaps)

Take-off 13/32 inches (10mm), Landing 25/32 inches (55mm)

Scale

1/6 - 1/7

Recommended Environment

Outdoor

Assembly Time

20+Hours

Is Assembly Required

Yes
All product manuals are provided by the manufacturer, If you don't find the manual or information you are looking for, contact our experts for help.
Looking for spare parts or upgrades?