Flex Innovations FlexJet Pro 90mm EDF Jet, ARF+, Grey, FPM1500A
Taking the same superb flight performance that made the FlexJet Super PNP so successful, Flex Innovations now bring you the FlexJet Pro. This next-level EDF RC jet not only gives you brilliant flight performance but it comes in a larger aircraft with high-end features and a strengthened composite construction.
Wood built wings and expertly painted fibreglass fuselage for world-class performance
Incredible thrust from precisely engineered inlet lips and full ducting for clean efficiency
Ball bearing supported all-moving stabilizers and leading-edge root extensions (LERX's) provide easy handling and high performance even when flying at lower speeds
Superb ground handling provided by CNC-machined trailing link struts even on rough fields and grass
Retracts, nose gear servo and gear door servos have been installed to save you time with the build and setup and will work with 8.4V high voltage power systems
Large top hatch gives you easy access to the battery and electrical component compartments
Installed gear door servos – DS16HV x 4
All moving stabilators are mass balanced and ball bearing supported
Eye catching military-inspired trim scheme has been custom painted ensuring high visibility
FlexJet Pro EDF Jet from Flex Innovations
Some serious design work has gone into the FlexJet Pro 90m EDF ARF with multiple Top Gun Champion, David Ribbe and F3A World Champion, Quique Somenzini, both lending their expertise to the development of this RC jet. In order to maximize aerodynamic performance, the painted fibreglass shell has been reinforced with plywood in key areas while it also ensures a lightweight, rigid and clean airframe. Finished in a military-inspired scale colour scheme you will have no problems seeing this bad boy flying at the field.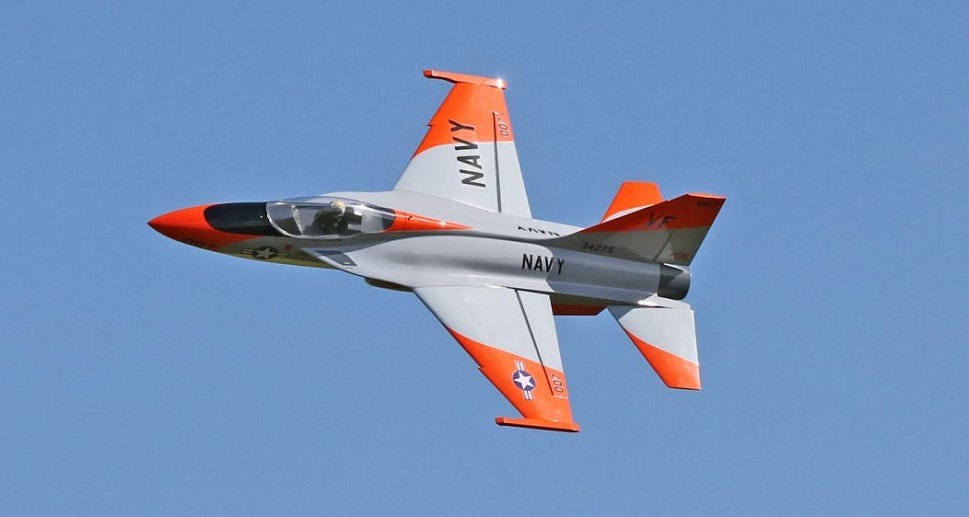 The engineering on the Flex Innovations FlexJet Pro 90m EDF ARF is world-class with full ducting and expertly tuned inlet lips providing efficient thrust over a wide range of speeds. This is all done without the need for scale inaccurate performance reducing cheater holes. In order to achieve excellent pitch control at all speeds, the FlexJet Pro 90m EDF ARF has all-moving flying stabs that can also be used as tailerons to help with slow speed roll authority.
Landing your FlexJet Pro 90m EDF ARF on grass or rough runways has been made easier with tough CNC-machined aluminium trailing link struts fitted. To give the pilot easier takeoff rotation, ground handling and achieve the famous FlexJet wheelie landing the main landing gear is located near the centre of gravity in the fuselage. You can store and transport easily with the main gear mounted in the fuselage.
The high-performance FlexJet Pro 90m EDF ARF is the next step in your RC jet journey and will take your flying to the next level!
8+ Channel computer transmitter and receiver
90mm EDF unit and motor
120A high-voltage (8S compatible) ESC
(5) mini servos
Receiver battery
Flight battery
Wingspan:

1127 mm (44.4″)

Length:

1486 mm (58.5″)

Weight:

4.90 kg (with 8S 6200mAh battery)

Channels:

8+ channel receiver and transmitter

Flight Battery:

4000 – 6200+ mAh 40C+
8S (29.6V Nominal)

Receiver Battery:

1500 – 2000 mAh 15C+
2S (7.4V Nominal)