E-Flite V1200 RC Plane with Smart Technology, PNP, EFL12375
Looking for the fastest prop-driven E-flite airplane yet? The 1.2m V1200 RC Plane is it! On 4S LiPo power you can hit 177+ km/h, and, on 6S LiPo a whopping 225+ km/h! With retracts, flaps and SMART technology on board this RC Plane is ready to give you the flight of your life!
Looking for spare parts or upgrades?
Smarter and FASTER than any prop-driven E-flite RC plane yet
Bigger brother to the admired V900 and equipped with Smart technology, retracts and flaps
Top speeds at level flight – 177+ km/h on 4S LiPo, and, 225+ km/h on 6S LiPo
APC10x8E prop and an aluminium spinner powered by a high-RPM factory installed brushless outrunner motor
4S, 5S and 6S battery compatability in the 3200-7000 mAh range for a broad spectrum of flight times and performance
Incredibly versatile flight envelope from precision aerobatics to unexpectedly stable slow-flight capabilities
Spektrum Avian 100-amp SMART ESC gives the flyer real-time temperatures, motor RPM, battery voltage levels and more via compatible transmitters and receivers
Six metal geared servos have been factory installed with precision ball-link linkages
Short take off and landings (STOL) and better slow-flight performance from functional flaps
Operate from a number of different surfaces with sprung wire strut equipped dependable electric retracts
Assembled with only 6 bolts and no glue is required
Easily installed and removed strong composite one-piece reinforced wing equipped with the V2 hands free servo connection system
Convenient storage/transport/assembly with bolt-on stab and wing
Made from damage resistant and strengthened high-density EPO foam resulting in a smoother and stiffer airframe
High contrast trim scheme is factory finished for improved orientation and visibility
Magnetically secured top hatch large enough for convenient access to a big battery compartment
Look good, fly fast and fly SMART with E-flite's V1200 RC plane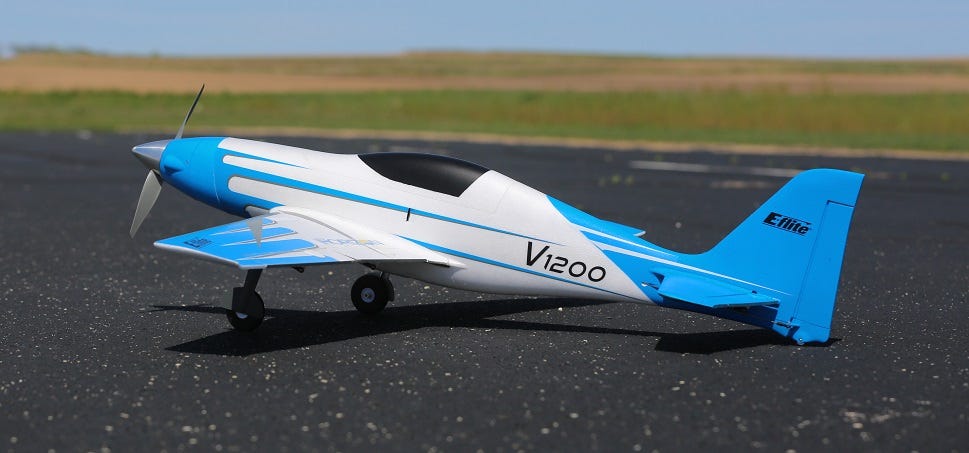 The E-flite V1200 1.2m RC Plane goes like the clappers! On top of that, it is kitted out with the latest Spektrum SMART technology so you get the complete package. The bigger brother to the popular V900, this next generation RC plane has retracts and operational flaps that have been factory fitted that work in conjunction with the brushless, high-performance power system. You get the choice of either going 177+ km/h on 4S LiPo power or, 225+ km/h on 6S LiPo's using standard 3200-7000mAh batteries. For an RC plane capable that delivers such head-turning speeds the V1200 is also a surprisingly good and stable slow flyer that also excels at precision aerobatics. When connected to a compatible receiver (such as the Spektrum AR637TA - sold separately), the included Spektrum Avian 100A Smart ESC gives you access to full-range telemetry that can tell you how much battery life you have left, how much current is running through the motor and its current temperature plus more. This SMART technology is compatible with the following Spektrum transmitters - DX6e and DX8e, DX6 G2/G3 and DX8 G2, the DX9, iX12, iX20 plus others.
When shooting along at 200 km/h an hour you will appreciate the E-flite V1200 1.2m RC Plane's locked in precision provided by the six factory-installed metal geared digital servos with ball-link equipped linkages. STOL capability and slow flight performance are enabled by the operational flaps and the sprung wire strut equipped electric retracts let you fly off anything from bitumen to grass fields. The streamlined airframe on the V1200 is moulded in new, composite reinforced, high-density EPO foam that gives you a stiffer and stronger airframe making the surface smoother and resistant to damage and dents. To ensure that you can always maintain eye contact with the E-flite V1200 1.2m remote control plane as it whizzes by you the high contrast trim scheme has been factory applied to give you improved orientation and visibility. The one-piece wing and stabs can be installed with a total of six screws without the need for any glue in the assembly. The wing is also easily removed and attached making transport and storage super convenient. You'll be in the air faster than it takes everyone else at the field to turn around and ask 'What was that propeller-driven rocket?!?'.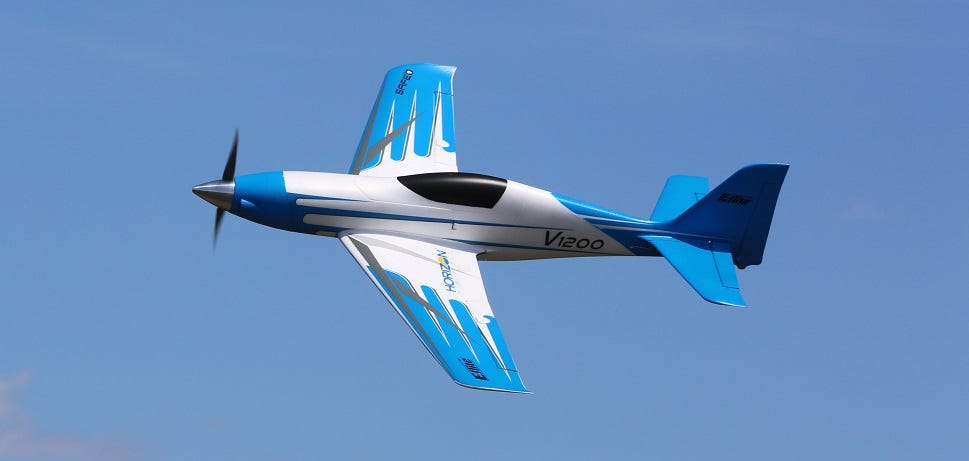 Plug-N-play RC plane
The Plug-N-Play (PNP) option means that your E-flite V1200 1.2m RC Plane comes with the servos and power system factory installed. These are ready to be connected to a compatible receiver of your choice that you will need to purchase separately along with a transmitter and battery.
What's in the box?
(1) E-flite® V1200 1.2m with:

(1) 100A Spektrum™ Avian™ Brushless Smart ESC (installed)

(1) Brushless Outrunner Motor (installed)

(6) Digital, Metal-Geared Servos (installed)

(1) Product Manual
Full-range 6+ channel transmitter and receiver
4S 14.8V to 6S 22.2V 3200–7000mAh LiPo with EC5™ or IC5™ Connector
Compatible LiPo charger
Wingspan

47.25 in (1200 mm)

Overall Length

43.0 in (1091 mm)

Flying Weight

5.8 lb (2.63 kg)

Motor

Brushless Outrunner (installed)

Speed Control

Spektrum™ Avian™ 100A Smart Brushless (installed)

Servos

(6) Digital Metal-Geared (installed)

Radio

Full-range 6+ Channel (sold separately)

Receiver

Full-range 6+ Channel (sold separately)

Battery

4S 14.8V to 6S 22.2V 3200-7000mAh LiPo with EC5™ or IC5™ Connector

Experience Level

Skill Level 3 = Experience Required

Rec. Environment

Outdoor

Assembly Required

Yes

Approx. Assembly Time

Less than 1 hour
All product manuals are provided by the manufacturer, If you don't find the manual or information you are looking for, contact our experts for help.