E-Flite V-22 Osprey VTOL, BNF Basic
Looking for something a little different? The officially licensed V-22 Osprey from E-flite gives you Vertical Take Off and Landing (VTOL) capability for ultimate flying flexibility. This tilt rotor RC plane gives you the best of both worlds with multirotor/helicopter AND airplane flight envelopes at the fingertips of your exclusive flight control system.
Combined functionalities of forward flight and vertical lift
Innovative and unique officially licensed replica of the tilt-rotor Bell Boeing V-22 Osprey
Superb scale details of a uniquely capable VTOL RC plane
Enjoy flying outdoors and indoors with this compact sized VTOL Osprey
Transitions automatically between airplane and helicopter/multirotor flight
Enjoy a wide flight envelope with Acro and Stability flight modes
Fitted with DSMX equipped Spektrum receiver
3S 800mAh compatible brushless motors
Multi capabilities are possible with expertly tuned flight control system exclusive to Osprey
Servos, power systems and the flight controller are all factory installed
Decal sheet has multiple military branch trim scheme options for customisation
Tough, rugged and lightweight EPO airframe for increased durability
No complex transmitter programming required due to the simple set up
No assembly required
The V-22 Osprey has been set up so that the recommended FPV camera and video transmitter (both sold separately) are ready to be easily fitted
Bell Boeing V-22 Osprey replica
Blending the best of both worlds the E-flite V-22 Osprey with its scale Vertical Take Off and Landing (VTOL) is the RC aircraft that you didn't know you needed. The officially licensed Bell Boeing V-22 Osprey in its superb scale detail is unique due to the tilt-rotor capabilities that make it possible for you to fly either a multirotor/helicopter or airplane flight envelopes. The forward or up and down flight capabilities are made possible by the optimized software in the exclusive flight control system that will have you feeling completely comfortable with the transition between flying styles. With the simple flick of a flight mode switch on your transmitter, your V-22's tilt-rotor positions will automatically adjust for either hovering or forward flight.
One of the E-flite V-22 Osprey's big appeals is that it takes very little time to have it in the air. With fully installed motors, servos, flight controller, Spektrum ESC and receiver you'll only need to plug your battery in. You can deck the E-flite V-22 Osprey out with your choice of military branch trim schemes from the included decal sheet. To set your transmitter up you only need to assign one switch to select your chosen flight mode which adds to the simplicity of the setup. The E-flite V-22 Osprey is set up to take a 3S 800mAh 11.1V LiPo which you'll need to buy separately. There are optional landing gear choices and you can either install nothing for the retracted gear look or, put on a castering nose wheel so you can taxi into rolling take-offs or landings.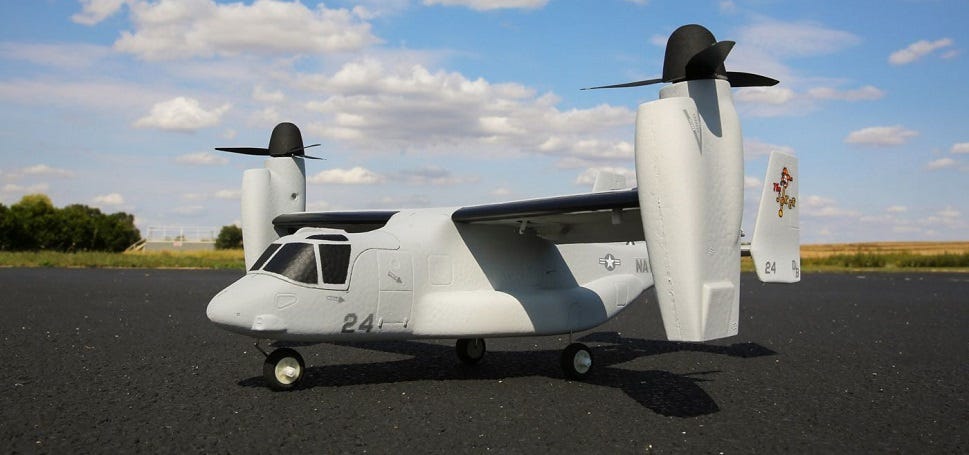 In order to emulate the distinctive VTOL performance of the full-scale original, the E-flite V-22 Osprey combines the scale size and detail with a composite-reinforced lightweight EPO frame that can not only absorb a lot of punishment but is also capable of flight in places other RC models can only dream about.
Vertical Take-Off and Landing RC plane
In order to blend both airplane and multirotor/helicopter flight into this superb RC plane, there is some exclusive flight control software that has been engineered to ensure that pilots from both flying forms enjoy this expertly tuned tilt-rotor aircraft.
Once you flip your transmitter switch to interchange flight modes the flight controller will swing into action by activating the control surfaces you will need, and, automatically moving the tilt rotors into the corresponding position.
Multiple flight modes
The E-flite V-22 Osprey three easy to use flight modes so you can enjoy the full capabilities of this RC airplane.
Multirotor Stability Mode
In the event that you get into any mid-air trouble Multirotor Stability Mode will self-level the aircraft as soon as you release the sticks, and, it also places limits on your bank and pitch angles. You will really see the benefits of this mode when taking off and landing regardless of your VTOL flying experience.
You get all the same crash prevention attributes – bank and pitch angle limits plus self-levelling upon stick release – but this mode will automatically activate your airplane flight control surfaces and rotates the tilt rotors to facilitate forward flight.
This one is for more experienced flyers as the self-levelling and angle limits aren't active in this mode. The seasoned pilot will then be able to enjoy some aerobatic rolls and loops as well as tighter manoeuvring.
Bind your own transmitter, and fly!

You can set up the E-flite V-22 Osprey on any 6+ channel full range Spektrum DSM2 or DSMX compatible transmitter by allocating the three flight modes to a single 3-position switch. There is a factory installed Spektrum serial receiver on board this RC military plane and it becomes super simple to get connected to the flight controller.
You have two options on your E-flite V-22 Osprey when it comes to landing gear and both require no tools to install or remove. Simply do nothing and go for the retracted gear look that will allow for slightly better aerodynamic performance. Your second option is to install the included castering nose wheel landing gear which will allow you to execute rolling take-offs and landings as well as being able to taxi once on the ground.
Full-range 6+ channel DSMX®/DSM2® transmitter
3S 11.1V 800mAh 30C LiPo with JST Connector
Compatible LiPo charger
Aileron:

Dual servo control

Approximate Assembly Time:

Less than 1 Hour

Approximate Flight Time:

4 minutes

CG (Center of Gravity):

0.98 - 1.2" (25 - 30mm) from the leading edge of the wing root

Charger:

3S LiPo compatible required

Completion Level:

Bind-N-Fly Basic

Flying Weight:

14.75oz (418g)

Landing Gear:

Wire nose gear and main gear foam wheels

Length:

19.2" (487mm)

Material:

EPO foam

Minimum Required Radio:

Full range 2.4GHz 6-channel with Spektrum DSMX technology

Minimum Speed Control:

Two 12A main, one 6A tail

Motor Size:

Two 2250Kv, one 4000Kv

Propeller Size:

Two 5x3 three blade for main motors, one 2x1.8 four blade for rear motor

Recommended Motor Battery:

3S 800mAh with JST connector required

Servos:

Two 5g sub-micro analog air servos, three 3.7g sub-micro analog air servos

Wing Area:

62 sq in (4 sq dm)

Wingspan:

19.2" (487mm)
All product manuals are provided by the manufacturer, If you don't find the manual or information you are looking for, contact our experts for help.
Looking for spare parts or upgrades?