E-Flite UMX P3 Revolution BNF Basic, No Longer Available
Manoeuvre like never before with E-flite's striking P3 Revolution BNF Basic.
Looking for spare parts or upgrades?
Easy access forward battery hatch
Greater control with steerable tail wheel
A 16 inch wingspan, with a 85 sq. inch wing area
15.8 inch long
Flying weight of 86g
180 size, 3000Kv brushless outrunner motor – already installed
4 channel radio
7.4V 200mAh 25C LiPo battery – recommended
Show them a real air show with the P3 Revolution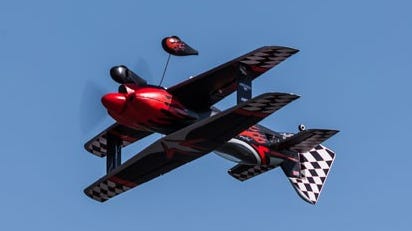 Representing a completely new biplane design, the E-Flite UMX P3 Revolution RC plane allows pilots to attempt manoeuvres and tricks never attempted before! Designed by the daring, death-defying air show legend, Skip Stewart, the P3 is a full-scale aircraft boasts innovative design – an adaption from the UMX.
Stewart has proven to be one of the most entertaining air show pilots in the world today – with his signature looking American hot rod airplane. Some of the incredible features that are part of his repertoire include flying under a falling motorcycle and performing a "knife-edge" manoeuvre less than a meter from the ground. For Stewart, aerobatics means "freedom of expression" – with a focus on entertaining his audience.
3D aerobatic capability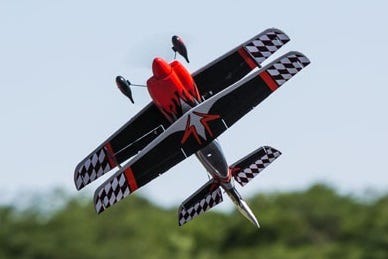 The P3 Revolution's aggressive 3D aerobatic capability is second to none. AS3X is custom tuned for this airplane, which means you'll have more control than ever before. Delivering breakthrough performance and freedom to experience more fun than ever, you'll be the envy of all your friends. The P3 Revolution is made for experienced 3D pilots looking for an ultra-micro airplane with a modern bi-plane design.
Innovative RC design, ongoing support
The P3 Revolution comes fully assembled, so you don't have to waste time trying to put it together. Its authentic Skip Stewart trim scheme will have you feeling like the daredevil himself. And powered by the 180 brushless motor will have you flying like him too.
The P3 Revolution is built to last, but if you do need to replace parts, it's easy. Every Horizon Hobby product is backed by the best customer service you'll find in the industry – including customer phone support, warranty repairs and online resources. Choosing a P3 Revolution means you can really soar with confidence!
Flirt with the skies with the P3 Revolution BNF Basic. Order yours now.
Requires a 6+ channel transmitter with Spektrum DSM2®/DSMX 2.4GHz technology, 200mAh 2S 7.4V Li-Po battery (EFLB2002S30 recommended) and a suitable charger.
Wingspan

16 in (523mm)

Overall Length

15.8 in (400mm)

Wing Area

85 sq in (547 sq cm)

Flying Weight

3.03 oz (86g)

Engine Size

180-size, 3000Kv Brushless Outrunner (installed)

Radio

4+ channel Spektrum transmitter required

Recommended Battery

7.4V 200mAh 25C LiPo
All product manuals are provided by the manufacturer, If you don't find the manual or information you are looking for, contact our experts for help.