E-Flite UMX Mig-15 EDF RC Jet, BNF Basic, No Longer Available
By popular demand the UMX MiG-15 EDF from E-flite returns! Kitted out with AS3X stabilisation and SAFE Select technology this RC jet is a whole lot of fun to fly. Completed with an eye-catching colour scheme and an unmistakable look in the air the UMX MiG-15 is the jet you need.
Equipped with 2.4Ghz Spektrum DXMX technology
Brushless in-runner ducted fan motor with 13,500Kv
Maximum thrust from fully engineered exhaust ducting and intake
28mm E-flite Delta-V 180m high output EDF system
AS3X technology provides superb precision and stability
Functional nose wheel steering and split rudder adjusting available through 4 channel control
Attention to scale detail with wing fences, gun detail, accurate outlines plus more
Simulated gear doors on the removable landing gear
Fully assembled and only requiring a charged battery to get flying
Eye-catching scale detail with expertly applied graphics and trim scheme
Has SAFE Select technology installed for optional use
Ultra Micro MiG-15 Replica
As one of the first jet fighters to adopt the swept wing the MiG-15 rose to prominence during its role in the Korean War. The introduction of the MiG-15 proved to be a major advantage over the straight-winged jet that it came up against. The RC jet version of this famous fighter is an attractive scale replica with attention to detail and a period-inspired colour scheme.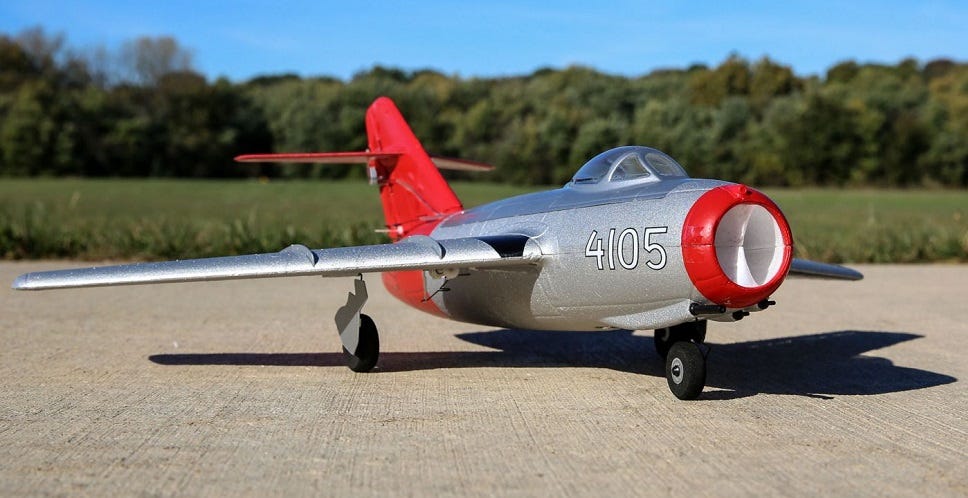 When we heard the UMX MiG-15 was making a comeback we were a little sceptical as to how it could be any better. Well, you needn't be concerned. Not only is it the equal of its predecessor but the new E-flite UMX MiG-15 EDF RC jet brings with it smoother handling, more power and a lot of onboard technology to ensure you get the best jet fighter experience. The SAFE Select technology in the MiG-15 is optional to use but if engaged ensures that all the little flying wrinkles are ironed out and you enjoy increased stability and control. Given the MiG-15 is packing a 13,500Kv brushless motor and a 28mm Delta-V 180m EDF special attention has been given to the high volume of airflow with carefully engineered ducting built in. 
Along with the classic snub nose, the E-flite MiG-15 comes with fantastic scale detail for an RC jet. With a striking colour scheme and precise scale outlines this RC jet does its full-scale predecessor justice and along with its handling, agility and vertical performance, it is worthy of its own personal air show.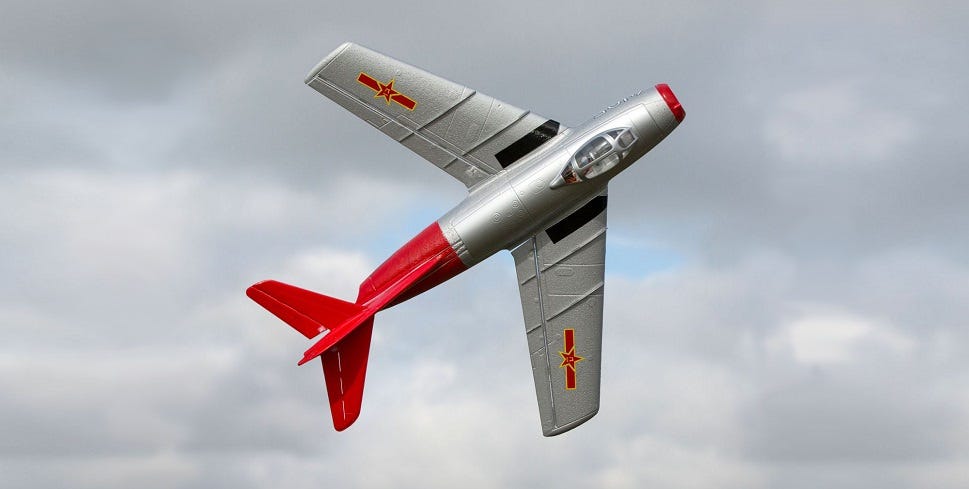 If you 'pop the bonnet' on the MiG-15 you'll find there is as much substance as there is style when it comes to this RC jet. Working in conjunction with the brushless 13,500Kv motor you have a Delta-V ducted fan system that will help you accelerate to the MiG-15's top speed even faster. To help you handle this swept wing speed merchant there is SAFE Select technology which is optional to use depending on your level of experience. Also working for you behind the scenes is Artificial Stabilization 3-aXis (AS3X) technology.
Fly SAFE with Spektrum
The Spektrum receiver on board your MiG-15 has been integrated with AS3X technology that gives you a heightened sense of precision and stability by working in the background to help smooth out the effects of turbulence and wind. The end result is that you have an Ultra Micro RC Jet that performs like a much larger finely turned aircraft.
If you are just starting out in the hobby or just want additional safety in flight then you have the option of engaging the SAFE Select technology which is also integrated into your Spektrum receiver.
If you choose to engage your SAFE Select technology the following features come into play:
Pitch and Bank Angle Limits
The limits that engage with SAFE Select keep you from pitching or rolling upside down and also prevent extreme dive or climb angles as you are taking off or landing.
If your MiG-15 gets into trouble just put the sticks in the centre position and release them. Your RC Jet will automatically return to and hold a level flight path until you retake control of the aircraft. If you're looking to hand launch your MiG-15 this function is also very helpful.
As a factory set function SAFE Select automatically assigns to a switch so turning it on and off if/when assistance is required is very easy.
Once your battery is charged you can get your UMX MiG-15 into the air just by binding your 5+ channel DSM2/DSMX transmitter to the 2.4GHz Spektrum technology. 
Spektrum™ DSM2®/DSMX® with dual-rates (DX4e and up)
280mAh 2S 30C Li-Po with JST-PH connector
Suitable LiPo charger
Wingspan

16.2 in (41.1 cm)

Overall Length

15.9 in (40.4 cm)

Wing Area

53.5 sq in (3.45 sq dm)

Flying Weight

2.75 oz. (77.5 g)

Motor Size

28-10-13,500kV, 28mm EDF Size

Radio

4+ Channel DSMR/DSM2 AS3X/SAFE Transmitter (sold separately)

Servos

4 - Included and installed

Recommended Battery

2s 7.4v 200+ mAh

Approx. Flying Duration

3-5 minutes

Landing Gear

Yes

Assembly Time

Less than 1 Hour
All product manuals are provided by the manufacturer, If you don't find the manual or information you are looking for, contact our experts for help.
Looking for spare parts or upgrades?