E-Flite UMX Aero Commander RC Plane, BNF Basic
The Aero Commander is a series of light twin piston-engined & turboprop aircraft designed and built in the late 1940's. The model was introduced to the commercial market in 1951 and was in production until the mid-1980's. E-flite's UMX Aero Commander in Bind N Fly basic form provides outstanding performance and manoeuvrability to the ultra micro market.
Exciting twin-motor performance with scale authenticity
Twin brushless 180-size, 3000Kv outrunner motors
Stability and precision of AS3X® technology
Proportional 4-channel control with independent servos
Industry-leading Spektrum™ DSMX® 2.4GHz technology
Up to 20-minute flights with an 800mAh 2S battery
Scale three-blade propellers
Removable landing gear
Easy-access, magnetic battery hatch
Steerable nose wheel
No assembly required
E-Flite's Aero Commander ultra-micro replica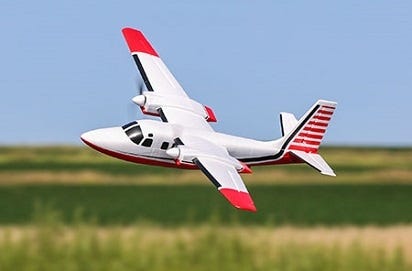 The red and white colour scheme is easy to see in the sky. The airframe features a carbon-fibre reinforced wing, and careful attention has been paid to the panel lines of the wing and fuselage. The brushless outrunners and three blade propellers deliver a level of speed and excitement not usually found in R/C passenger planes. The landing gear is easy to remove and install, and the nose wheel is steerable for scale take offs. Linear servos manage the control surfaces, with DSM-X and AS3X technology responding to the commands of your Spektrum transmitter.
Powerful twin-motors and long flight time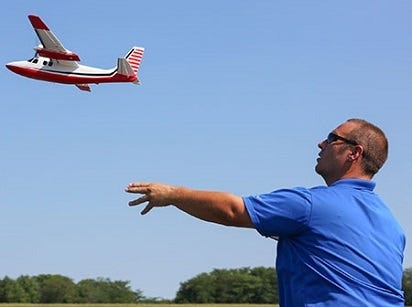 The sky's the limit with twin 3000kv brushless motors. Vertical performance is outstanding, making the UMX Aero Commander a delight to fly. In the right conditions, flights of up to 20 minutes can be achieved with the use of E-Flite's 800mah 2S LiPo battery. We recommend batteries between 400 and 800mah.
Fly confidently with AS3X technology
AS3X technology allows models of all shapes and sizes to fly in a wider range of conditions. It smooths out the wind effect that smaller models are particularly susceptible to, and makes you feel like you're flying a much larger model.
The wide-stance main gear and steerable nose wheel make it fun to fly from smooth surfaces. If you desire a more realistic appearance in flight or plan to land on grass, the landing gear can easily be removed without tools.
E-Flite UMX Aero Commander comes 100% assembled. Charge your own battery, bind the transmitter & away you go!
If you like this scale plane, you should take a look at the E-Flite UMX B-25 Mitchell.
Full-range, 4+ channel DSMX®/DSM2® transmitter
450–800mAh 2S LiPo flight battery
Suitable LiPo charger
Wingspan

28.15" (715mm)

Overall Length

20.15" (512mm)

Flying Weight

5.1-5.6 oz (145-160grams)

Motor Size

180BL 3000KV

Radio

4-Channel

CG (centre of gravity)

15-20mm from leading edge

Wing Loading

93.1 sq in (6 sq dm)

Recommended Battery

450-800 2S 7.4v

Flaps

No

Retracts

No
All product manuals are provided by the manufacturer, If you don't find the manual or information you are looking for, contact our experts for help.