E-Flite Turbo Timber RC Plane, PNP, No Longer Available
The 1.5m Turbo Timber from E-flite has evolved and is now equipped for even better performance than its predecessor. This latest representation of one of the great RC planes has been designed to be compatible with a 3S and 4S power systems, has metal-geared servos, a 3 blade prop, and, a turboprop-styled nose for increased aerial capabilities and performance.
Roll rates, handling and aileron authority improved with a stiffer wing
50A ESC and outrunner motor compatible with 3S and 4S high powered LiPo's
Superb aerobatic flight envelope, as well as, astonishing Short Take Off/Landing (STOL) capability
Factory installed, fully functional LED navigation, landing and strobe lights
Composite reinforced EPO construction from tough and lightweight foam
Improved STOL performance with functional slotted flaps and optional use leading edge slats
Tundra style oversized wheels attached to the shock absorbing landing gear
Glue free assembly with a fast and easy bolt together system
Six metal geared servos factory installed for increased durability
Floats with steerable rudders included for optional use for water STOL
E-Flite Turbo Timber Plane
E-flite has produced an RC plane that is possible for anyone from beginners through to experts to enjoy flying in the Turbo Timber 1.5m. This PNP model comes equipped with a level of features that provide the flyer with sport flying capabilities, STOL and high-powered flight runs. Equipped with an LED light system, functional slotted flaps, leading edge slats, oversized tundra wheels attached to shock absorbing landing gear, and, optional use float set means this RC plane is equipped with enough extras to keep most flyers happy.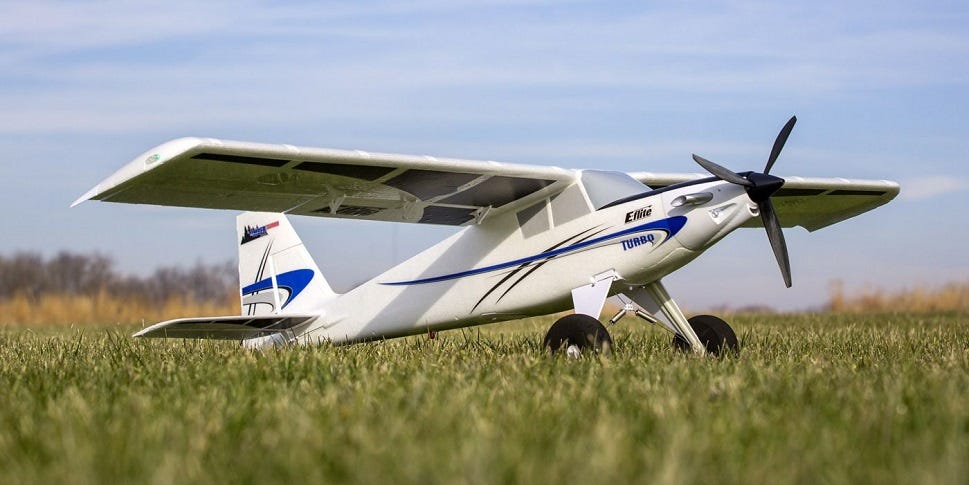 Further enhancing the 1.5m Turbo Timber are a 3-blade prop and spinner attached to a turboprop styled nose. You also have the option of being powered by a 3S or 4S system all of which is fitted to a stiffer EPO airframe that is both lightweight and can handle a rough landing or two. The six metal-geared servos fitted to the Timber also add to its tough reliability as well as giving the flyer an awesome combination of fun and performance.
More power and durability
The Turbo Timber is equipped with a 50A ESC that when combined with the finely tuned brushless motor and 3S power will give you plenty of power and thrust. Without the need for any upgrades, the ESC will also handle a 4S LiPo if you want to get super quick!
With six metal geared servos equipped throughout the Turbo Timber, you can be assured that in-flight functional movement will be reliable. Combined with a stiffer wing this reliability will also improve your roll rates and aileron authority. Airframe construction is made up of hollow-core EPO foam which gives you the lightweight durability that will enable you to get the most out of this remote control plane.
LED Lights
Configured with a scale detailed LED navigation, landing and strobe lighting array, the 1.5m Turbo Timber, like its predecessor, takes on an impressive realistic look that is all powered through the flight battery.
Versatile gear options
The Turbo Timber gives the flyer a couple of gear options. If you live near water you may want to fit the optional float set provides excellent steering control from the dual water rudders and is also in the same trim scheme as the main fuselage. If you're land-bound then the oversized tundra style wheels are going to enable you to tackle a lot of different landing surfaces. You will be able to absorb the bumps of gravel paths, thick grass and dirt trails all the while enjoying good prop clearance. You can swap over between the two in as little as 10 minutes.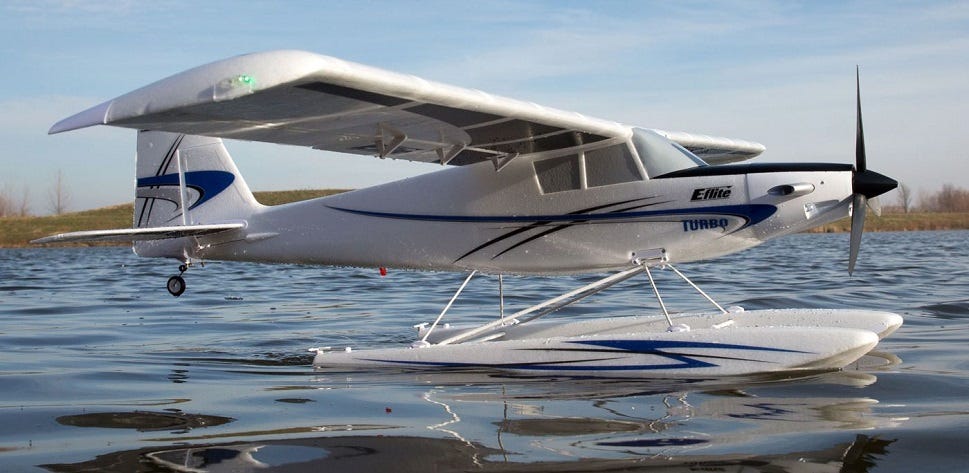 Short Take Off and Landing
The wing design of the Turbo Timber features functional slotted flaps, drooped wingtips, and, is able to accept leading edge slats as an option (included) to improve STOL and slow flight performance. In the space of two feet, you can have your Turbo Timber landed or airborne as this lightweight, high powered RC plane utilises all the features at your disposal.
Just plug and play!
This Plug-N-Play (PNP) model comes out of the box with a factory-installed power system and servos that are ready to connect to the compatible receiver of your choice (sold separately). Simply install the receiver, finish any final assembly, and fly!
Full-range, 5+ channel transmitter and receiver
2200- 3200mAh 3S or 4S 11.1- 14.8V LiPo with EC3™ or IC3™ Connector (SPMX22003S30 or SPMX22004S30 recommended)
Compatible LiPo charger
Wingspan

61" (1555mm)

Overall Length

40.9" (1040mm)

Wing Area

559.5 sq in (36.1 sq dm)

Flying Weight

57 - 60oz (1.61 - 1.7kg)

Motor Size

10 size, 800Kv brushless outrunner

Radio

6-channel DSMX/DSM2 required (sold separately)

Servos

9g metal gear (6)

CG (center of gravity)

2.4" (60mm) +/- 0.20" (5mm) back from the leading edge of the wing measured at the fuselage

Wing Loading

13.45 oz sq/ft (14.04 g sq/dm)

Prop Size

11x7.5 3-blade

Speed Control

50A w/EC3 battery connector

Recommended Battery

2200mAh 3 - 4S LiPo w/EC3 connector (sold separately)

Flaps

Full, 1.4" (35mm), Half, 0.79" (20mm)

Control Throw (Ailerons)

1.2" (30mm) High / 0.87" (22mm) Low

Control Throw (Elevator)

0.87" (22mm) High / 0.63" (16mm) Low

Control Throw (Rudder)

1.4" (35mm) High / 0.98" (25mm) Low

Transmitter Range

Full

Landing Gear

Fixed main LG with steerable tail wheel
All product manuals are provided by the manufacturer, If you don't find the manual or information you are looking for, contact our experts for help.
Looking for spare parts or upgrades?