E-Flite SU-30 Twin EDF RC Jet, BNF Basic, EFL01050, No Longer Available
E-flite have released a large scale replica of the Su-30 Twin 70mm EDF multi-role fighter that brings a superb combination of sleek scale detail and superb aerial performance. The functional features on this large scale RC jet deliver you a flying experience that is unparalleled.
Looking for spare parts or upgrades?
Rarely modelled multirole Sukhoi fighter in imposingly large scale
Moulded-in panel lines, removable ordnance plus more extra scale details
Additional functioning scale features include LED lights, sequenced gear doors, air brake etc.
12-blade twin 70mm fans produce turbine like sound and deliver superb vertical performance and impressive top speed
DSMX 2.4GHz technology installed in the 6-channel AR636 RX from Spektrum
Factory installed 80-amp ESC's and brushless high-powered 6S inrunner motors
Optional use SAFE Select flight envelope protection makes flying easier
AS3X technology installed for brilliant stability and unwavering feel
Ten metal geared servos with ball-link equipped linkages all factory installed
Magnetically secured nose cone and removable wings make assembly/dismantling easy
Fully moulded lightweight EPO airframe for increased durability
Clear canopy with visible pilot figure and cockpit detail that doubles as convenient top hatch
Unique finish and high-visibility trim scheme has been factory applied
Shock absorbing struts with scale detail and electric retracts for multi-surface take offs and landing
Sukhoi Su-30 twin-engine fighter jet replica
E-flite have delivered an impressive scale version of Russia's Sukhoi Aviation Corporation's Su-30 twin-engine multirole fighter with the Su-30 Twin 70mm EDF jet. With unique features and flight characteristics this rarely modelled EDF RC jet fighter will bring a level of scale detail to the airfield that will turn heads. The large scale of the aircraft, the highly detailed retractable landing gear and the functioning air brake are features that when combined with the twin EDF power system, produce blistering speed and a turbine-like sound. The trim scheme on the Su-30 is from the Russian Falcons squadron and adds to the authentic look and flight visibility.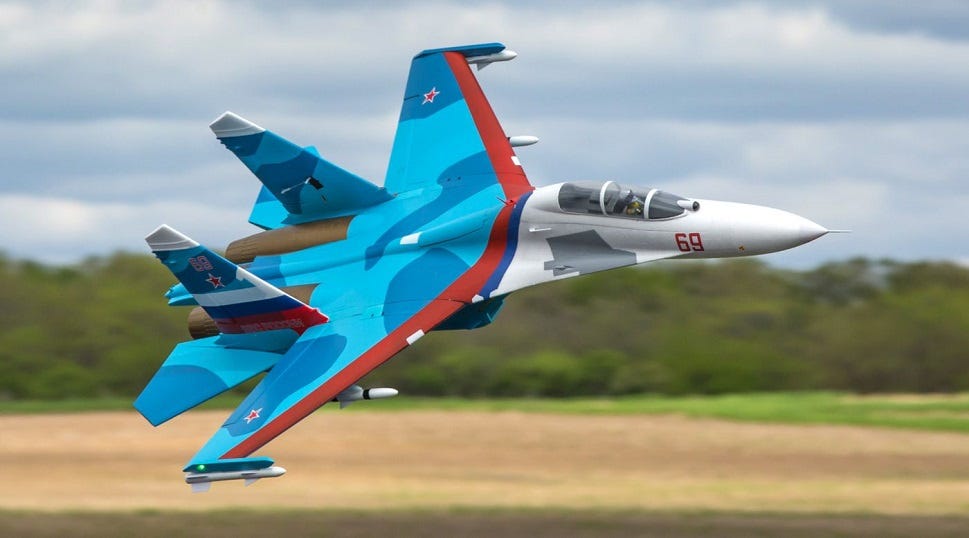 When the twin EDF units on the E-flite® Su-30 Twin 70mm EDF jet run in sync it will sound like a turbine-powered giant-scale jet roaring past you. With a 6S 5000-7000mAh LiPo hooked up to 80A ESC's, the power running through to the brushless inrunner motors will propel the 70mm 12-blade fans at an impressive speed. Along with the speed comes superb vertical performance and precise control delivered by ten metal-geared servos with ball-link equipped linkages. The number of functioning scale features on the E-flite® Su-30 Twin 70mm EDF jet includes an LED navigation and landing lights, sequenced gear doors, a deployable air brake, full flying stabs and shock absorbing electric retracts that include trailing link nose gear so you can fly the Su-30 from a number of different surfaces. While the functioning scale details provide the performance, the additional details will turn heads with removable optional-use ordnance, moulded-in hatches and panel lines, detailed cockpit features and a unique trim scheme that provides high visibility and a detailed factory applied finish.
Exclusive Spektrum technology
The Spektrum DSMX receiver fitted in the E-flite® Su-30 Twin 70mm EDF jet features the AS3X (Artificial Stabilization 3 aXis) system that nullifies the effects of turbulence and wind by working behind the scenes to provide increased precision and stability when your RC plane experiences non-optimal flying conditions.
SAFE Select is optional technology that gives the E-flite® Su-30 Twin 70mm EDF jet an extra margin of safety by enabling features that will ensure your flight envelope is limited to keep you out of trouble until you are a better flyer or have familiarized yourself with the controls. No programming is required to engage SAFE Select as it is built into the receiver. You just need to follow the manual directions and change up the binding sequence to switch it on.
With SAFE Select enabled, you get:
Pitch and Bank Angle Limits
• These envelope limits keep the airplane from rolling or pitching upside down. They also prevent excessive climb or dive angles.
Automatic Self-Leveling
• The airplane instantly returns to and holds level flight when the sticks are released and in the centre position. It's also helpful for keeping the wings level during takeoffs/launches and landings.
Easy Switch Assignment—No Programming Required
• The simple procedure for assigning a transmitter switch to turn SAFE Select features on and off doesn't require any programming and takes just a few seconds.
If you don't want to enable the SAFE Select features, just bind the receiver normally and it will function like a standard AS3X receiver.
The advantage of Bind-N-Fly
With servos, power system and a 2.4GHz Spektrum receiver already installed all you need to do to get your E-flite® Su-30 Twin 70mm EDF jet into the air quickly is just bind the receiver to a compatible transmitter, complete any final assembly you might need and then you are good to fly!
Full-range 6-7+ channel Spektrum™ DSMX®/DSM2® compatible transmitter
6S 22.2V 5000-7000mAh 30+C LiPo with EC5™ or IC5™ Connector
Compatible LiPo charger
Wingspan

43.7 in (1110 mm)

Length

64.6 in (1640 mm)

Flying Weight

154.5 oz (4380 g)

Motors

(2) 1850Kv Brushless Inrunner (installed)

Speed Controls

(2) 80A Brushless ESCs (installed)

Servos

(10) Digital Metal-Geared (installed)

Radio

Full-Range 6–7+ Channel DSMX®/DSM2® (sold separately)

Receiver

Spektrum™ AR636 with AS3X® and SAFE® Select Technologies (installed)

Battery

6S 22.2V 5000-7000mAh 30+C LiPo with EC5™ or IC5™ Connector (sold separately)

Retracts

Yes

Experience Level

Skill Level 3 = Experience Required

Recommended Environment

Outdoor

Assembly Required

Yes

Approx Assembly Time

Less than 1 hour
All product manuals are provided by the manufacturer, If you don't find the manual or information you are looking for, contact our experts for help.