E-Flite Radian XL 2.6m Glider BNF Basic, No Longer Available
Are you a thrill seeker? Well, you're a Radian seeker. E-Flite's Radian XL 2.6m glider is big, boisterous, and made for sport pilots.
Jumbo 2.6-metre polyhedral wing, with spoilers
Efficient and easy to fly
Outstanding pitch control with horizontal stabiliser
Put it together and take it apart in minutes
Bolt-together wing makes it easy to transport
Agile brushless motor
Stay stable with AS3X technology
Lightweight Z-Foam construction
Just Bind with your radio and fly!
The motor glider of all motor gliders
If heart-racing speed and thrill doesn't come to mind when you think of soaring, then you haven't flown the E-Flite Radian. The 2.6m Radian glider is big in size and even bigger in features. Staying true to its roots, the Radian XL brings Radian's legendary features – simple elevator, rudder, throttle and spoiler controls – as well as a whole new level of soaring enthusiasm.
The Radian has always been the number one choice for sailplanes. They're quick, daring, and easy to fly. But that doesn't mean you can't just cruise. Feel free to soar into relaxation, at the speed you desire, too!
And you don't even need to be an experienced pilot to succeed at soaring. You'll be riding thermals after just a few sessions.
2.6m polyhedral wing, with spoilers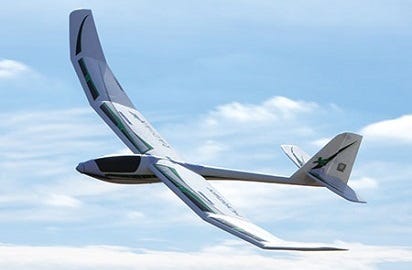 The Radian XL's 2.6-metre wing is constructed with unbeatable thermal-grabbing functions – while reducing drag for steady persistence. It's retractable spoilers help you control your descent when you're ready to be back on steady ground. Plus, you won't need a big landing area either.
You'll love the improved pitch control, too. Unlike a fixed-position horizontal stabiliser with a hinged elevator, the stabiliser on the Radian XL rotates. Up or down, you're in control of the aerodynamic force. What this means is great pitch, no matter the speed.
Pack it up, and go!
While the E-Flite Radian XL is big in size, it's easy to transport. The wing is bolted together, which comes in three pieces – two outer parts and the centre. The two-piece, flying elevator slides right into the tail – and there you have it!
This high power, lightweight plane will satisfy your need for thrill – everyday. It's incredibly stable, incredibly fun, and incredibly easy to soar. Give it a try today… you won't be sorry.
Order the E-Flite Radian XL 2.6m glider today.
Radio. We recommend the Spektrum DXE 7Ch Transmitter (SPM10001).
3S 3200 LiPo battery with an EC3™ connector. We recommend E-Flite 3S 3200mAh (EFLB32003S30)
Charger. We recommend the Ultra Power 680AC (UP680AC)
Wingspan

102.40 in (2.6m)

Overall Length

56.90in (1444mm)

Wing Area

946.45 sq in (61.05 sq dm)

Flying Weight

79.5 oz (2254g)

Motor Size

BL 10 1250Kv

Radio

5+ Channel

CG (center of gravity)

91mm behind the leading edge @ the root

Prop Size

12x4

Speed Control

40A

Recommended Battery

3200mAh 3S LiPo

Experience Level

Intermediate

Recommended Environment

Outdoor

Assembly Time

Less than 1 Hour

Is Assembly Required

Yes
All product manuals are provided by the manufacturer, If you don't find the manual or information you are looking for, contact our experts for help.
Looking for spare parts or upgrades?