E-flite P-39 Airacobra 1.2m RC Plane, BNF Basic, No Longer Available
The 1.2m P-39 Airacobra from E-flite is an RC warbird that offers the flyer a unique scale experience with features such as split flaps, 3-4S LiPo compatibility, tricycle retracts and SAFE Select technology at your fingertips to ensure a more enjoyable and easier flying experience.
Looking for spare parts or upgrades?
3-blade prop with a brushless power system that is 3S and 4S LiPo compatible
Superbly detailed scale replica of this unique World War II fighter plane
Steerable nose wheel with electric retracts and functional split flaps
6-channel DSMX enabled 2.4GHz receiver from Spektrum
7 factory-installed linkages and servos with 6-channel control
Packed with authentic scale detail with exhaust stacks, panel lines, removable drop tank etc.
Decals are factory applied along with the 'Wahl Eye II' painted camouflage trim scheme
Electronics and battery access through convenient, magnetically secured top hatch
Optional use SAFE Select flight envelope safeguard makes for easier flying
Hands-free retract/servo connection system in a one-piece wing
Constructed from durable, lightweight moulded EPO foam
Final assembly is a simple bolt together process
Equipped with AS3X technology that enhances in-flight precision and stability
P-39 Airacobra replica
Considered one of the more innovative and unconventional WWII warbirds the E-flite® P-39 Airacobra 1.2m is a high scale detailed version of its full-scale namesake. To ensure the unique look of the Airacobra was maintained it includes an antenna, removable drop tank, three-blade propeller, pilot tube, panel lines and exhaust stacks amongst its many features. To enhance the scale realism of this RC warbird E-flite have included operational split flaps and a retractable tricycle landing gear that has been factory installed.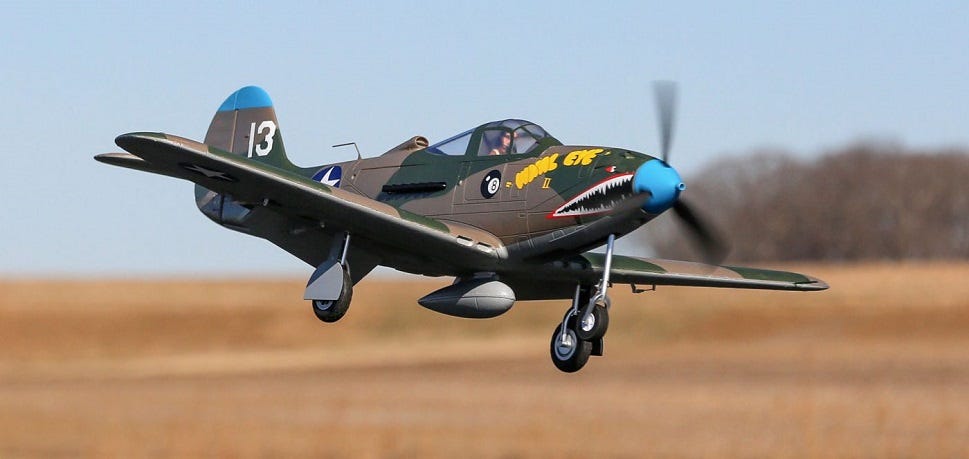 Powerful RC Warbird
The power system on the E-flite® P-39 Airacobra 1.2m has been factory installed and is made up of a formidable brushless motor and ESC that have the versatility of 3S to 4S (2200-3000mAh) LiPo compatibility along with a 3-blade propeller for superb vertical performance and speed. The factory decals set off the camouflaged EPO foam constructed body that gives you lightweight durability plus a simple bolt together final assembly. The one-piece wing makes for easy transport and storage and also features an inventive hands-free servo connection system.    
As far as RC warbird experiences go the E-flite® P-39 Airacobra 1.2m is suitable to advanced or intermediate pilots alike. Packed with scale details and features you get the look, the functionality and the performance!
Bind-N-Fly Advantage
If you own a Spektrum transmitter already then getting the E-flite® P-39 Airacobra 1.2m airborne will be even easier.  With the servos, power system and 2.4GHz Spektrum receiver already installed it is simply a matter of binding the receiver to your transmitter and you are ready for supersonic take off!
The Spektrum DSMX receiver fitted in the BNF E-flite® P-39 Airacobra 1.2m features the AS3X (Artificial Stabilization 3 aXis) system that nullifies the effects of turbulence and wind by working behind the scenes to provide increased precision and stability when your RC plane experiences non-optimal flying conditions.
SAFE Select is optional technology that gives the Airacobra warbird an extra margin of safety by enabling features that will ensure your flight envelope is limited to keep you out of trouble until you are a better flyer or have familiarized yourself with the controls. No programming is required to engage SAFE Select as it is built into the receiver. You just need to follow the manual directions and change up the binding sequence to switch it on.
With SAFE Select enabled, you get:
Pitch and Bank Angle Limits
These will prevent you from excessive dive or climb angles as well as keep the P-39 Airacobra from pitching or rolling upside down.
Automatic Self-Leveling
If you get yourself into any trouble you need only release the sticks and return them to the centre position on your transmitter and the E-flite® P-39 Airacobra will return to and hold level flight. All you need to do is resume control once you are ready.
Easy Switch Assignment- No Programming Required
You can assign a switch on your transmitter to turn SAFE Select on and off in just a few seconds by following the simple procedures in the manual.
If you don't need the flight envelope protection that SAFE Select provides then just bind the receiver as you normally would and you will just enjoy the features of the AS3X receiver on its own.
Full-range, 6–7+ Channel DSMX®/DSM2® transmitter
2200–3000mAh 3S or 4S 11.1–14.8V LiPo with EC3™ or IC3™ Connector
Compatible LiPo charger
LiPo Charging Bag (recommended)
Aileron:

Dual servo control

Airfoil Shape:

Semi symmetrical

Approximate Assembly Time:

Less than 1 Hour

Approximate Flight Time:

4 minutes

CG (Center of Gravity):

1.7-1.7(44-50mm) from edge of wing with gear down

Charger:

Compatible with selected battery

Completion Level:

Bind-N-Fly Basic

Control Throw (Flaps):

1.4" (35mm) mid, (50mm) full

Control Throw - High (Ailerons):

0.55" (14mm)

Control Throw - High (Elevator):

0.59" (15mm)

Control Throw - High (Rudder):

0.79" (20mm)

Control Throw - Low (Ailerons):

0.35" (9mm)

Control Throw - Low (Elevator):

0.39" (10mm)

Control Throw - Low (Rudder):

0.47" (12mm)

Expo (Ailerons):

10%

Expo (Elevator):

10%

Expo (Rudder):

20%

Flaps:

Operational split flaps for added realism

Flying Weight:

58.5-67oz (1660-1900g)

Landing Gear:

Yes

Length:

1.1m (43.3")

Material:

EPO Foam

Minimum Required Radio:

At least 6-channel

Minimum Speed Control:

40A included

Motor Size:

850Kv brushless outrunner

Propeller Size:

5.5x8.5" 3-blade

Recommended Motor Battery:

LiPo, 3S 11.1V 2200mAh 30C, or 4S 2200mAh 14.8V 30C w/EC3 connector

Retracts:

Factory installed electric powered tricycle configuration

Servos:

Seven 9g

Stabilizer Tube Length:

11.8" (300mm)

Stabilizer Tube OD:

0.22" (5.5mm)

Transmitter Range:

Full range

Trimscheme Colors:

Wahl Eye II painted camo scheme with factory applied decals

Wing Area:

27.08 sq dm (419.76 sq dm)

Wingspan:

1.2m (47.2")
All product manuals are provided by the manufacturer, If you don't find the manual or information you are looking for, contact our experts for help.