E-Flite Havoc Xe 80mm EDF RC Jet, BNF Basic, No Longer Available
The E-flite HAVOC Xe is a superb first choice RC jet for beginners and experienced jet pilots alike with incredible speed, aerobatic capability and a flight envelope that will leave you more than pleasantly surprised. 
Looking for spare parts or upgrades?
This is the superb sport jet, the Elite Aerosports HAVOC X in a scaled down version
Easy to fly, take off and land making it a perfect entry into the world of EDF jets
Factory installed 100amp ESC equipped 6S compatible high powered brushless inrunner motor
Expansive performance envelope and can hit speeds over 225kmh
80mm 12 blade fan delivers unlimited vertical performance and outstanding top speed
When using 'mixed' ailerons and fullspan ailerons via the flaps this is the fastest 'rolling' jet ever
Incredible 1012+ minutes of possible flight time by fitting wide range of 6S 40008000mAh lipos
All control surfaces have factory installed metal gear servos with pocket hinges and balllink equipped linkages
Remarkably efficient performance with skilfully engineered ducting without any 'cheater' holes
AR636 6channel Spektrum receiver with 2.4GHz DSMX technology
Optional use SAFE Select technology installed for protective flight envelope parameter setting
Convenient storage/transport/assembly/disassembly due to bolt on wing and stab
Strong onepiece composite reinforced wing with hands free connection system and easy to install/remove
Large and easily accessible battery compartment located in convenient top hatch
AS3X technology enabled for added stability in the air
Lightweight, tough and durable fully molded EPO foam airframe finished in a high vis, striking trim scheme
Shock absorbing, fully reliable electric retracts equipped with trailing link struts
Ventral fins and nose tip have plastic capping for improved protection and durability
Assemble with no glue and be flying as soon as your battery is charged
The engine room of the The E-flite HAVOC Xe is literally the brushless, inrunner motor that is 6S compatible with a 100-amp ESC. Paired with a 12-blade fan this power system, when combined with innovative and optimized ducting engineering will work in conjunction to bring you a turbine-like sound and an impressive level of thrust and speed – all without the need for 'cheater' holes.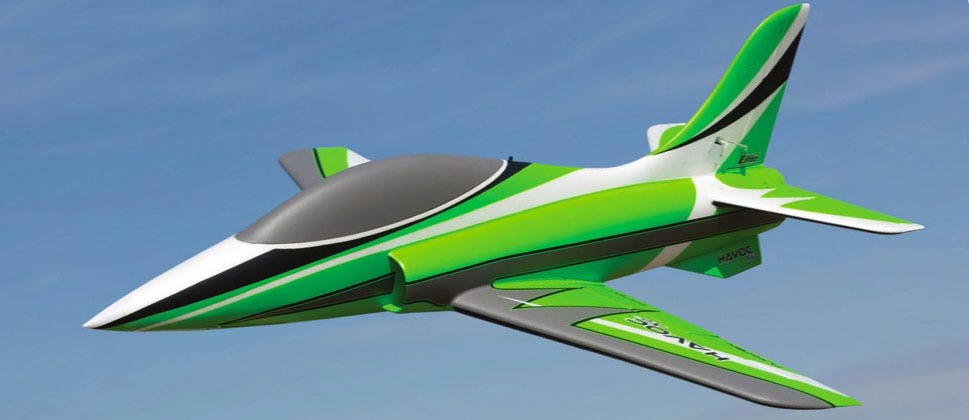 Need for Speed?
With a top speed in excess of 225kmh you may run the risk of whiplash as you try to keep up with the almost limitless vertical performance of the The E-flite HAVOC Xe. This impressive RC jet will also achieve 10 to 12 plus minutes of flight time depending on how often you pin it, and, your choice of LiPo battery. Inside the easily accessibly battery compartment this RC jet is able to fit a range of batteries in the 4000 to 8000mAh range.
Everything an RC Jet Needs
Easy take offs and landings on grass and other surfaces are made possible with a dependable set of shock absorbing electric retracts that come with trailing link struts on the main gear and nose. The The E-flite HAVOC Xe achieves precise control through its factory installed eight metal-geared servos with ball-link equipped linkages. The airframe on this RC jet is made from fully molded EPO foam giving the The E-flite HAVOC Xe both a toughness and lightweight finish. With 7+ channel receivers/transmitters you can achieve full-span aileron control on the the E-flite HAVOC Xe as the large flaps can travel both ways or be mixed. This translates to the fastest roll rate ever seen on an RC jet.
The ease in which this RC jet can be assembled is made possible due to a one-piece factory finished wing, a one piece fuselage/stab requiring just nine screws to bolt together and a total absence of glue. This obviously means you are just a fully charged battery away from flying one of the best handling and highest performing EDF RC jets ever
What's in the Box?
(1) E-flite HAVOC Xe 80mm EDF with:
    (1) 100A Brushless ESC (installed)
    (1) Brushless Inrunner Motor (installed)
    (8) Metal-Geared Servos (installed)
    (1) Spektrum™ AR636 6-Channel Receiver (installed)
(1) Product Manual
Please read an important bulletin located under the Product Manuals section below.
Full-range 6–7+ channel Spektrum DSMX®/DSM2® compatible transmitter
6S 22.2V 4000–8000mAh 30+C LiPo with EC5™ or IC5™ Connector
Compatible LiPo charger
Wingspan

41.0" (1041mm)

Overall Length

49.25" (1250mm)

Wing Area

366 sq in (23.6 sq dm)

Flying Weight

5.38 - 6.74 lbs (2440 - 3057 g)

Motor Size

3270-2000Kv (3.1" (80mm) EDF)

Radio

6-channel full range required (sold separately)

Servos

13g analog metal gear

CG (center of gravity)

3.9 - 4.9" (100 - 125mm) from leading edge of wing measured at fuselage

Wing Loading

33.9 - 42.4 oz/sq ft (103.4 - 129.5g/sq dm

Speed Control

100A w/8A BEC

Recommended Battery

6S LiPo 4000 - 8000mAh (sold separately)

Aileron

Yes

Elevator

Yes

Rudder

Yes

Control Throw (Ailerons)

Up/down 0.59" (15mm) high, Up/down 0.39" (10mm) low, Low rate 10%, high rate 18% Expo

Control Throw (Elevator)

Up/down 0.59" (15mm) high, Up 0.43" (11mm), down 0.39" (10mm) low, Low rate 6%, high rate 12% Expo

Control Throw (Rudder)

Left/right 1.1" (28mm) high, Left/right 0.79" (20mm) low, Low rate 5%, high rate 10% Expo

Approx. Flying Duration

10-13 minutes

Landing Gear

Yes
All product manuals are provided by the manufacturer, If you don't find the manual or information you are looking for, contact our experts for help.