E-Flite F-4 Phantom II EDF RC Jet, BNF Basic
Special Price
$919.99
Regular Price
$949.99
The extra scale replica F-4 Phantom II 80mm EDF from E-Flite is one superbly detailed and sublime handling RC jet. Equipped with SAFE Select and AS3X technology this F-4 Phantom makes RC jet flying more accessible to pilots of just about all skill levels.
High powered, factory installed brushless inrunner motor that is 6S compatible with 100 amp ESC
Accurate scale detailed version of this long-range, all-weather, supersonic jet fighter-bomber/interceptor
Electric Ducted Fan (EDF) powered jet model with superb handling capabilities
Additional scale details include full flying stabs, moulded-in panel lines, LED lights, removable tanks and ordnance, flaps, LED lights and sequenced nose gear doors, plus more!
Awesome vertical performance, impressive top speed and turbine sound achieved with 12 blade 80mm fan
AS3X technology from Spektrum delivers incredible precision and stability
Ball link equipped linkages in the factory installed metal geared servos
Optional use SAFE Select flight envelope protection makes for easier flying
DSMX equipped 6-channel Spektrum receiver
Magnetically secured nose cone and a hands-free two-piece wing connection system
Lightweight but tough airframe constructed from fully moulded EPO foam
Access electronics/battery through top hatch underneath the detailed cockpit with pilot figure and clear canopy
Equipped with shock absorbing struts on electrical retracts for use on a number of different surfaces
Easy assembly requiring no glue that takes minutes to complete
VF-51 "Screaming Eagles" squadron finish is factory applied
Phenomenal F-4 Phantom II Replica 
Coming into production in 1960 the F-4 Phantom II was considered one of the greatest supersonic fighter-bomber/interceptor jets of its time. The E-flite F-4 Phantom II 80mm EDF tries to capture, in brilliant scale detail, the look and performance of the original. With a host of extra scale details that include removable ordnance and tanks, moulded in hatches and panel lines, strut covers for the main gears plus a factory applied livery that emulates the fearsome colour scheme of the VF-51 "Screaming Eagles" squadron. Along with the looks comes the functionality with operational control surfaces with pocket hinges and flaps, LED navigation and landing lights, full-flying stabs, and, sequenced nose gear doors and shock absorbing electric retracts for takeoffs and landings on a variety of different surfaces. The 12-blade 80mm fan has been matched with a brushless 6S compatible inrunner motor with a 100 amp ESC that sounds like a turbine when you utilise the immense thrust for a high-speed flyby. With a 'no glue' bolt together airframe constructed of lightweight and durable EPO foam, you can have your F-4  Phantom BNF jet assembled and ready for take-off in less time than it takes to charge your battery!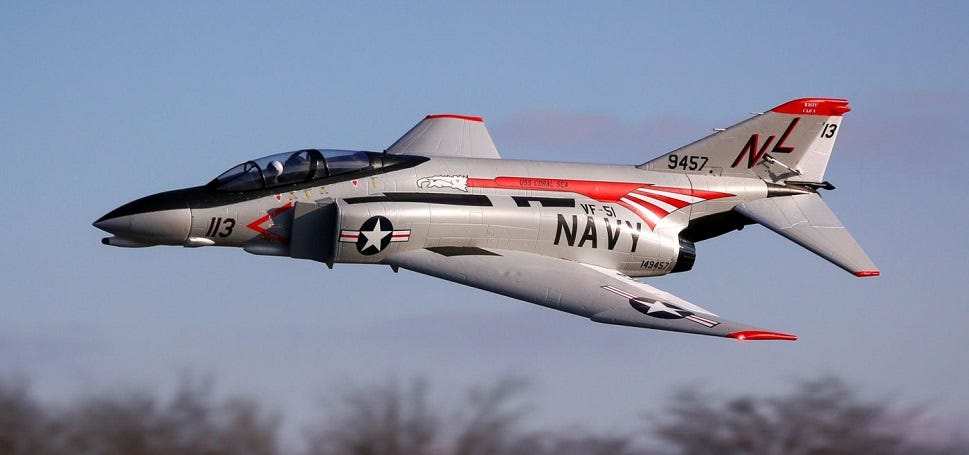 Impressive power system and scale detail
When combined with your 6S 4000-5000+mAh LiPo battery, the 80mm 12 blade fan and your brushless inrunner motor with 100mAh ESC will produce a throttle response that will leave you gaping. The speed and vertical performance at your disposal give you the RC jet experience normally only found in larger aircraft. The power system on the F-4 Phantom will also deliver you longer flight times and also provide the real kicker….a turbine sound that will turn heads. 
E-flite's attention to detail on the F-4 Phantom II 80mm EDF is impressive. Along with a number of functional and non-functional scale features the decal array on this RC jet is a fine tribute to the VF-51 "Screaming Eagles" squadron that also allows the flyer high visibility of the F-4 Phantom when airborne. It also means everyone else will see this scale replica supersonic jet fighter in all its glory. 
Reproducing the F-4 Phantom in a rugged but lightweight form is achieved through the use of fully moulded EPO foam throughout the construction. This material allows for fine detailing without compromising the F-4 Phantom's ability to weather a bit of wear and tear associated with high-speed flying. Precise responsiveness to transmitter signal is facilitated by the factory installed metal geared servos that have ball link equipped linkages. This RC jet will perform as requested on demand at high speed.
Exclusive Spektrum technology
Never before has an F-4 Phantom been equipped with performance-enhancing technology like SAFE Select and AS3X. The Spektrum DSMX receiver fitted in the F-4 Phantom features the AS3X (Artificial Stabilization 3 aXis) system that nullifies the effects of turbulence and wind by working behind the scenes to provide increased precision and stability when your RC plane experiences non-optimal flying conditions. SAFE Select is a way of giving you an extra margin of safety by enabling features that will ensure your flight envelope is limited to keep you out of trouble until you are a better flyer or have familiarized yourself with the controls. No programming is required to engage SAFE Select as it is built into the receiver. You just need to follow the manual directions and change up the binding sequence to switch it on.
To find out more about SAFE Technology, click here.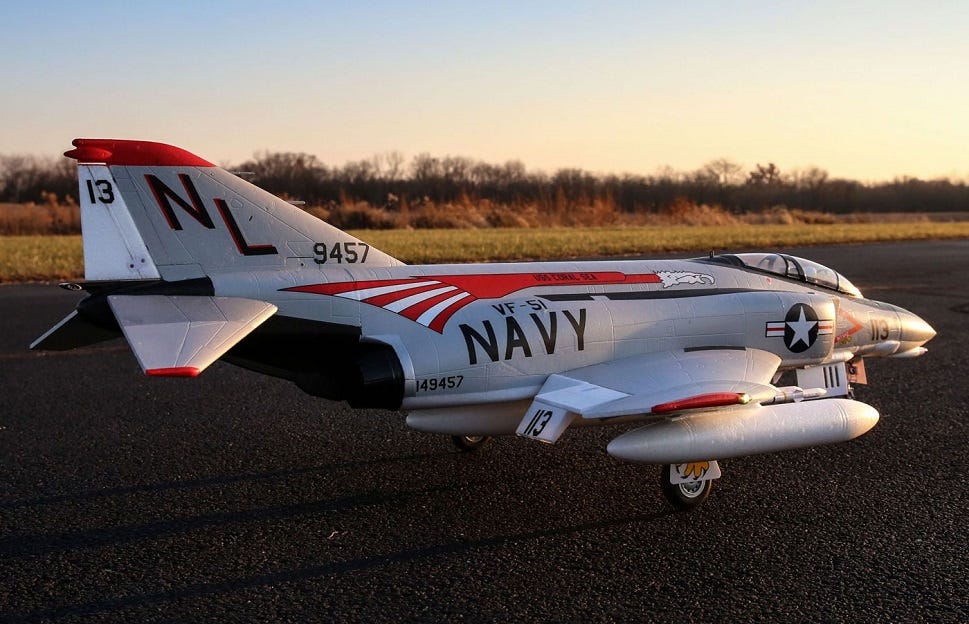 Benefits of Bind-N-Fly
If you own a Spektrum transmitter already then getting the F-4 Phantom airborne will be even easier.  With the servos, power system and 2.4GHz Spektrum receiver already installed it is simply a matter of binding the receiver to your transmitter and you are ready for supersonic take off!
Full-range 6-7+ channel DSMX®/DSM2® transmitter
6S 22.2V 4000-5000+mAh 30+C LiPo with EC5™ or IC5™ Connector
Compatible LiPo charger
Wingspan

35.8" (910mm)

Overall Length

53.7" (1364mm)

Wing Area

443.3 sq in (28.6 sq dm)

Flying Weight

6.32 - 6.62lbs (2866 - 3006g)

Motor Size

3270-2000Kv

Radio

6-channel minimum (sold separately)

Servos

7 Metal Geared

CG (center of gravity)

6.7" (170mm) back from leading edge of wing measured at the fuselage

Wing Loading

33 - 43oz sq/in (100 - 105g sq/dm)

Prop Size

3.1" (80mm) diameter EDF

Speed Control

100A included

Recommended Battery

6S 4000-5000mAh LiPo w/ EC5 connector

Aileron

Controlled by two 13g metal gear servos

Elevator

13g metal gear servo control

Rudder

13g metal gear servo control

Flaps

13g metal gear servo control

Retracts

Yes, nose and main gear

Control Throw (Ailerons)

0.79" (20mm) High / 0.59" (15mm) Low

Control Throw (Elevator)

Up 1.2" (30mm), Down 0.79" (20mm) High / Up 0.98" (25mm), Down 0.47" (12mm) Low

Control Throw (Rudder)

0.59" (15mm) High / 0.39" (10mm) High

Charger

sold separately

Is Assembly Required

No
All product manuals are provided by the manufacturer, If you don't find the manual or information you are looking for, contact our experts for help.
Looking for spare parts or upgrades?