E-Flite F-27 Evolution RC Plane, BNF Basic
Merging improved functionality with sleek looks the E-flite F-27 Evolution gives you removable wings, a big boost in power and an FPV option that gives this BNF model all the ingredients that will make it a favourite to fly as soon as you've taken your maiden voyage.
Brushless motor and ESC compatible with high power 3 - 4S LiPo
Fitted with AS3X technology for precision and stability
Easily transported and stored with removable wing design
Achieve maximum pitch and roll authority with oversized elevons
Constructed from EPO foam for lightweight and durable performance
With 3S power you can reach speeds up to 136kmh, 4S will get you up to 169kmh
Flight envelope protection provided with optional SAFE Select
6 channel receiver from Spektrum equipped with their superb DSMX technology
Metal geared digital servos installed
Interchangeable nose piece that includes an FPV camera and VTX capability (EFL5608 sold separately)
Easy battery changeover with a large top hatch
Sure to be a crowd favourite and the next generation F27
E-Flite's extraordinary F-27 Evolution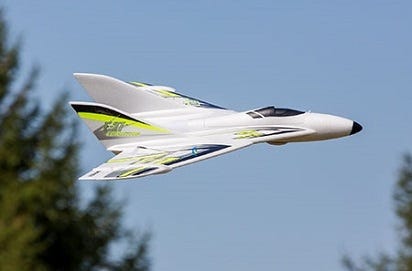 As the name suggests the E-flite F-27 Evolution is the next generation of the hugely popular flying wing design that introduced many to the thrill of high-performance flying. The Evolution BNF has taken the modern aerodynamics, high tech materials and advanced electronics of its predecessor and made them better. Along with removable wings and a nose fitted FPV option you also get a significant uptick in power.
The F-27 Evolution comes with a potent brushless power system that when equipped with 3S power will help you reach speeds of up to 136kmh. With 4S power, you can get up to 169kmh of straight-line speed! If speed is not your thing, you can cruise and utilise the low speed with the predictability of a sport model. The performance envelope on your F-27 Evolution gives you many options - tight loops, super fast roll rates and you can use the elevator for high and slow climbs followed by using the elevator right to the ground as you throw in all your tricks. E-Flite has refined the airfoil on the F-27 Evolution to give you a tough and durable reinforced EPO airframe along with oversized elevons directed by metal geared servos. For simple transport and storage, the F-27 Evolution has an easy to break down three-piece wing design that needs no fasteners or tools to undo. To utilise FPV the F-27 comes with an interchangeable nose that you can equip with an optional nosepiece that has a video transmitter (EFL5608 sold separately) and an FPV camera without changing the flight profile of the aircraft.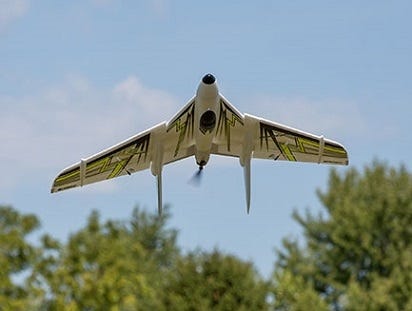 Fly SAFE with the AS3X Receiver
The F-27 Evolution comes kitted out with an AS3X receiver from Spektrum. This receiver utilises SAFE technology which helps you combat the effects of turbulence and wind by working behind the scenes to give you a smoother flight. The sense of precision and stability provided by the SAFE system gives the flyer the feeling that they are at the controls of a much larger aircraft.
Made of durable EPO foam
Made with lightweight EPO foam the F-27 Evolution is tough and durable while also aerodynamically efficient. Equipped with metal-geared digital servos to control the oversized elevons the F-27 Evolution delivers the flyer a rigid airframe with low wing loading and precise control.
With a wingspan of just over a metre, the F-27 Evolution comes equipped with removable wings that are supported by carbon fibre tubes with a unique attachment system that secures to the centre section without the need for fasteners or tools.
If you're getting reacquainted with the F-27, or, just getting started with a flying wing, the Evolution will leave you wanting more! Buy yours today.
Full-range, 5+ Channel DSMX®/DSM2® transmitter
1800–2200mAh 3–4S LiPo flight battery (EFLB22003S30 recommended)
Compatible LiPo charger
Wingspan

37.1 in (943mm)

Overall Length

24.1 in (612mm)

Wing Area

373 sq in (24.1 sq dm)

Flying Weight

28.0–29.0 oz (800–825 g)

Motor Size

10-Size Brushless Outrunner (installed)

Radio

Requires Full-Range 5+ Channel DSMX®/DSM2® (sold separately)

Servos

(2) DSV130 Digital, Metal-Gear Servo (installed)

Speed Control

40A Brushless (installed)

Recommended Battery

1800–2200mAh 3–4S LiPo with EC3™ Connector (sold separately)

Experience Level

Intermediate

Recommended Environment

Outdoor

Assembly Time

Less than 1 Hour

Is Assembly Required

Yes
All product manuals are provided by the manufacturer, If you don't find the manual or information you are looking for, contact our experts for help.