E-Flite F-18 80mm EDF RC Jet, BNF Basic, No Longer Available
Go supersonic with your very own E-flite® F-18 Hornet 80mm EDF! Featuring extra scale details with an all-new design this stalwart of many modern-day air forces will provide you with a flying experience centred around superb performance and an easy to handle RC fighter jet.
Looking for spare parts or upgrades?
High performing and superb handling Electric Ducted Fan (EDF) jet model
Remarkable scale replica of iconic fighter jet flown by US Marine Corp and Navy
80mm 12-blade V2 fan provides huge speed and lift plus a turbine-like sound
100-amp ESC and 6S compatible inrunner brushless motor both factory installed
Capable of accommodating different 6S batteries in the 4000-7000mAh range
Additional scale features include painted landing gear, removable tanks and ordnance, molded-in panel, functional flaps, main and nose gear doors, and, LED lights
Optional use SAFE Select flight envelope protection installed
6-channel AS3X technology enabled Spektrum receiver with 2.4GHz DSMX technology
Ball link equipped linkages on the nine factory installed metal geared servos
Magnetically secured nose cone and two piece bolt together wing
Electric retracts with painted shock-absorbing, trailing-link struts with added scale detail
Clear canopy with scale cockpit detail and pilot figure lifts out as convenient top hatch
Quick and easy glue-free assembly
Fully molded and super tough EPO airframe
Superb factory installed livery of the VMFA(AW)-242 "Bats" air squadron
F/A-18D Hornet Military Jet replica
The F/A-18 made its first flight back in 1978 and has been updated since to become a staple in the U.S. Navy and Marine corp air arsenal used as both an attack platform and a jet fighter. E-flite have brought this jet fighting classic into superb scale life with the F/A-18D two-seat variant that is based on the US Marine Squadron 242 affectionately known as the 'Bats'. The factory-installed colour and trim scheme is the same used by this squadron and adds to the realistic scale effect. Designed and built with the experienced RC pilot in mind, the E-flite® F-18 Hornet 80mm EDF comes with a host of working scale features including full flying stabs, operational flaps, factory-installed LED lights and more.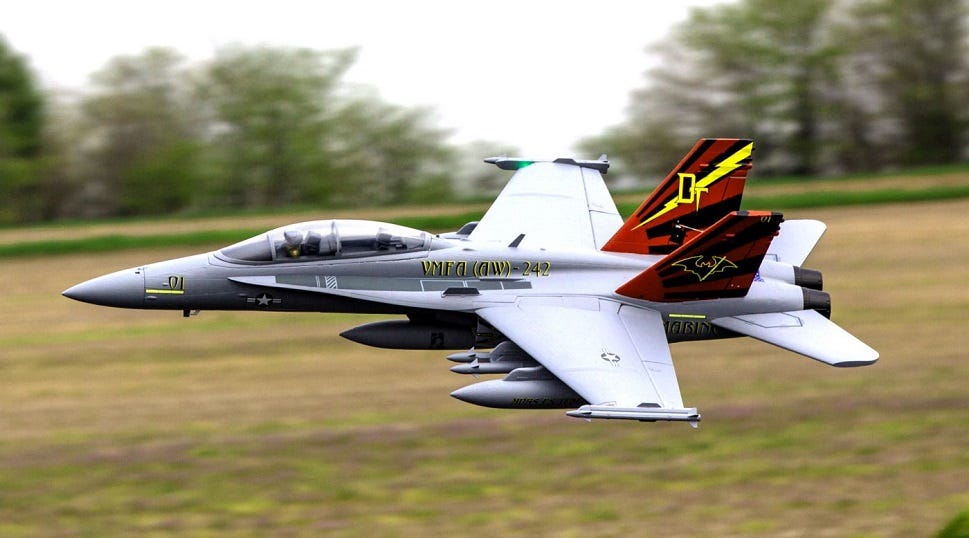 High-performance EDF RC Jet with exceptional scale detail
If you pin the throttle on this RC jet fighter you will see an immediate response as the 12 blade 80mm V2 fan, the brushless inrunner motor and the 100 amp ESC combine with your 6S LiPo battery of choice to bring you awesome vertical performance and blistering speed. You can also expect longer flight times and better performance than larger models with compatible 6S power systems. Throw in the realistic turbine-like sound as the E-flite® F-18 Hornet 80mm EDF whistles by and you've got a real head-turner on your hands!
Paying tribute to the U.S. Marine Corps VMFA(AW)-242 "Bats" squadron the factory-applied decal and paint finish gives you excellent visibility in the air and is bound to catch the eye of others around the airfield as well. The extra scale details on the E-flite® F-18 Hornet 80mm EDF include removable drop tanks and ordnance, moulded-in panel lines and hatches, painted landing gear, plus more. On top of that you get functional working scale detail in the form of full-flying stabs, factory-installed LED lights, operational control surfaces and flaps with pocket hinges, and, sequenced nose gear and main gear.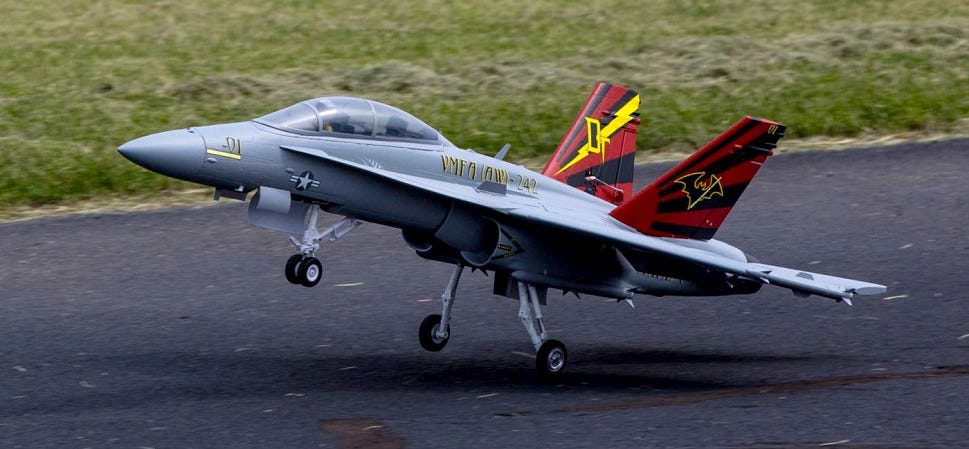 The rotating main gear and steerable nose gear feature factory-installed reliable electric retracts. Featuring hard-wearing metal components that include scale designed trailing link along with shock-absorbing struts. You'll be hard-pressed to find better scale detail on another F-18 EDF model!
Durable, yet lightweight
The fully moulded EPO foam construction of the E-flite® F-18 Hornet 80mm EDF allows for complex shaping and details to be included in the tough but lightweight form. As a result, you get a very easy to maintain RC jet model and a brilliant flight experience. No matter what speed you get your E-flite® F-18 Hornet 80mm EDF up to the metal-geared servos with ball link equipped linkages have been factory installed to ensure you maintain precise control.
The two-piece wing plus the stabs bolt into place and can be assembled and removed very easily making it easy to transport and store this RC jet.
Full-range 6-7+ channel Spektrum™ DSMX®/DSM2® compatible transmitter
6S 22.2V 4000–7000mAh 30+C LiPo with EC5™ or IC5™ Connector
Compatible LiPo charger
Wingspan 38.5 in (980 mm)

Overall Length

53 in (1350 mm)

Flying Weight

5.4 lb (2.4 kg)

Motor

Brushless Inrunner (installed)

Speed Control

100A Brushless ESC (installed)

Servos

(9) Metal-Geared (installed)

Radio

Full-Range 6-7+ Channel Spektrum™ DSMX®/DSM2® Compatible (sold separately)

Receiver

Spektrum™ AR636 with AS3X® and SAFE® Select
Technologies (installed)

Battery

6S 22.2V 4000–7000mAh 30+C LiPo with EC5™ or IC5™ Connector (sold separately)

Flaps

Yes

Retracts

Yes

Experience Level

Skill Level 3, Experience Required

Rec. Environment

Outdoor

Assembly Required

Yes

Approx. Assembly Time

Less than 1 Hour
All product manuals are provided by the manufacturer, If you don't find the manual or information you are looking for, contact our experts for help.