E-Flite F-16 Falcon 64mm EDF RC Jet, BNF Basic, No Longer Available
Looking to get into RC jets? E-flite have released the F-16 Falcon 64mm EDF with an 11 blade fan and a 4-S compatible power system for those of you who have a need for speed. This is a great package for beginners and experienced alike as it comes equipped with SAFE Select and AS3X technologies to give you an easy to fly and super quick RC jet that will be fun for all levels of pilot.
Looking for spare parts or upgrades?
The F-16 Falcon EDF (Electric Ducted Fan) RC jet is fun and easy to fly
Turbine-like sound from 11 blade 64mm fan that gives you a high top speed and excellent vertical performance
Still flown by various air forces globally this is a superb scale replica of this renowned fighter jet
The airframe is constructed from lightweight but strong moulded EPO
40-amp ESC, 5 servos and a 4-S compatible high powered brushless motor factory installed
2.4GHz DSMX technology equipped into the 6 channel AR636 receiver both from Spektrum
Top hatch and nose cone are magnetically secured for easy access
Steerable nose wheel and fixed landing gear are available for optional use
Equipped with AS3X technology that provides behind-the-scenes stability
Scale accurate optional use ordnance and tanks to go with bolt-on wings
Optional use SAFE Select sets limits on your flight envelope for safer air time
Fly the F-16 Falcon jet replica
More than 40 years ago the F-16 Falcon began its production life for the U.S. Air Force. To this day the F-16 single-engine jet fighter remains in the upper echelon of those military aircraft still in service in air forces around the world and will continue to do so into the future.
To pay tribute to this enduring full-scale fighter E-flite have released the F-16 Falcon 64mm EDF RC jet. Ideal for smaller flying sites the F-16 also comes equipped with some industry-leading technology in the form of SAFE Select and AS3X capabilities making it a fun and easy fly for pilots of all levels.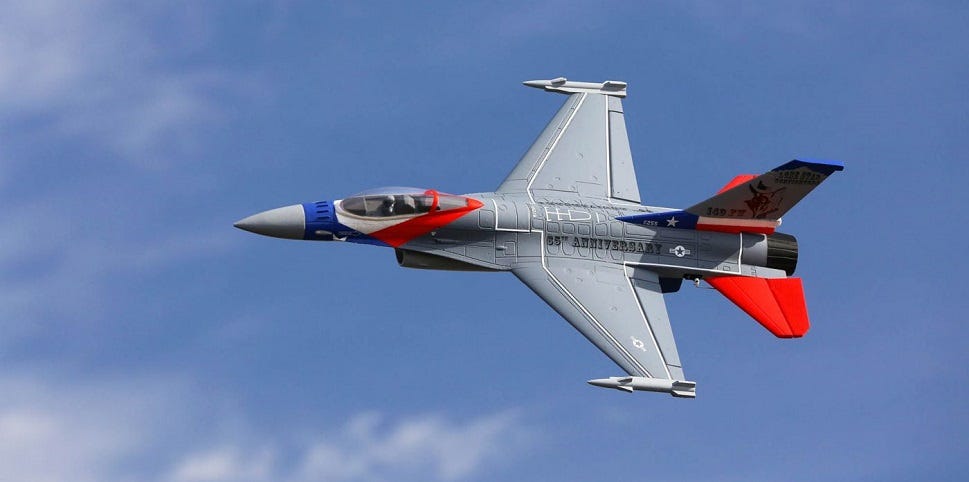 The perfect beginner RC jet
The F-16 Falcon 64mm EDF RC jet is been equipped with a with an 11 blade high thrust fan unit, a high RPM 4-S compatible brushless motor along with a 40-amp ESC to bring you superb aerial performance along with a pretty cool and realistic turbine-like sound as it whizzes by you. Constructed from composite strengthened lightweight EPO material, the F-16 RC jet boasts an incredibly durable airframe that is fitted with factory-installed servos for precise and responsive handling.
A removable landing gear with a steerable nose wheel allows for easier landings and ground use. The alternative is that you can put the F-16 Falcon 64mm EDF RC jet up without the landing gear and enjoy the sleek flight profile and scale accuracy as well as improved performance due to lowered wind drag. Adding to the scale authenticity are features such as a pilot figure sitting in the cockpit, moulded in surface details, and, optional use external ordnance and fuel tanks. The trim scheme is another unique scale detail that gives the pilot great air visibility and just looks good when you take it out at your local field.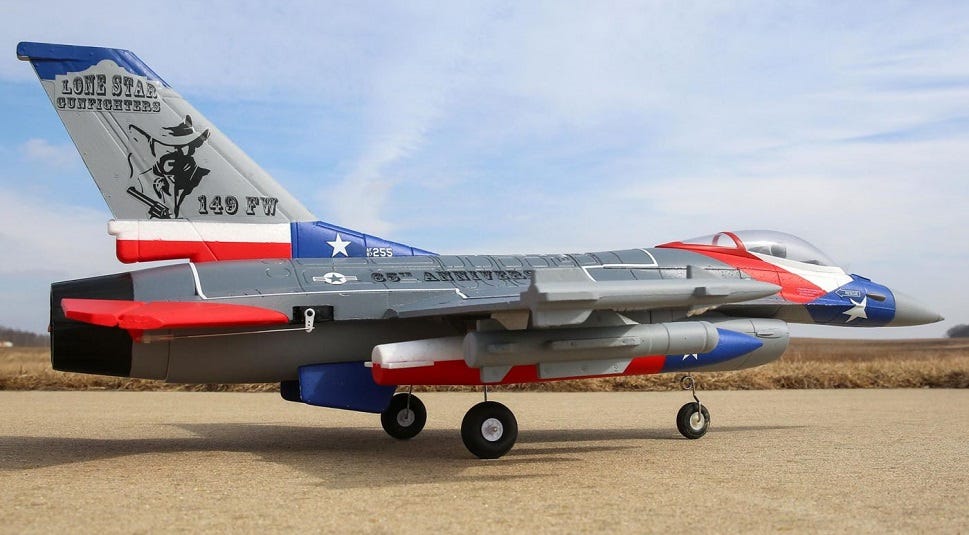 Fly SAFE with Spektrum's AS3X receiver
The Spektrum DSMX receiver fitted in the F-16 Falcon 64mm EDF RC jet features the AS3X (Artificial Stabilization 3 aXis) system that nullifies the effects of turbulence and wind by working behind the scenes to provide increased precision and stability when your RC plane experiences non-optimal flying conditions.
SAFE Select is optional technology that gives the F-16 Falcon 64mm EDF RC jet an extra margin of safety by enabling features that will ensure your flight envelope is limited to keep you out of trouble until you are a better flyer or have familiarized yourself with the controls. No programming is required to engage SAFE Select as it is built into the receiver. You just need to follow the manual directions and change up the binding sequence to switch it on.
With SAFE Select enabled, you get:
Pitch and Bank Angle Limits
These will prevent you from excessive dive or climb angles as well as keep the F-16 RC jet from pitching or rolling upside down.
Automatic Self-Leveling
If you get yourself into any trouble you need only release the sticks and return them to the centre position on your transmitter and the F-16 Falcon 64mm EDF RC jet will return to and hold level flight. All you need to do is resume control once you are ready.
Easy Switch Assignment- No Programming Required
You can assign a switch on your transmitter to turn SAFE Select on and off in just a few seconds by following the simple procedures in the manual.
If you don't need the flight envelope protection that SAFE Select provides then just bind the receiver as you normally would and you will just enjoy the features of the AS3X receiver on its own.
Full-range, 5+ channel transmitter with Spektrum™ DSMX®/DSM2® technology
4S 14.8V 2200mAh 30+C LiPo battery with EC3™ or IC3™ Connector
Compatible LiPo charger
Airfoil Shape

Symmetrical

Approx. Flying Speed

80mph (129kph)

Approximate Assembly Time

Less than 1 Hour

Approximate Flight Time

3.30 minutes, 3-4 minutes

CG (Center of Gravity)

3.5 - 3.7" (90 - 95mm) back from leading edge of wing measured at the fuselage

Charger

Sold Separately

Completion Level

Bind-N-Fly Basic

Control Throw - High (Ailerons)

Up/Down 0.59" (15mm)

Control Throw - High (Elevator)

Up/Down 0.79" (20mm)

Control Throw - Low (Ailerons)

Up/Down 0.31" (8mm)

Control Throw - Low (Elevator)

Up/Down 0.31" (8mm)

Expo (Ailerons)

High Rate 10%, Low Rate 0%

Expo (Elevator)

High Rate 10%, Low Rate 0%

Fan Size

64mm, 11 blade

Flying Weight

251-2000g, 31.75oz (900g)

Landing Gear

Yes

Length

1099mm, 43.3" (1099mm)

Minimum Required Radio

4-Channel

Minimum Speed Control

40A Installed

Motor Size

2840 3900Kv

Recommended Motor Battery

4S LiPo 2200mAh 25C (Sold Separately)

Servos

Five Micro Included, Five Micro Included

Transmitter Range

Full Range Transmitter Required

Wing Tube Length

13.8" (350mm)

Wingspan

28.7" (729mm), 729mm
All product manuals are provided by the manufacturer, If you don't find the manual or information you are looking for, contact our experts for help.