E-Flite Delta Ray One RTF, No Longer Available
The Delta Ray One from E-Flite breaks from tradition with cutting edge aerodynamics and modern technology setting this RC airplane apart. The SAFE technology on-board also enables an optional increase to the Delta Ray One's technology firepower with SAFE Plus GPS-enabled that gives anyone a chance to fly! 
Looking for spare parts or upgrades?
Make things easier for you to learn to fly with Horizon Hobby's exclusive SAFE technology
Impact resistant rubber nose cone connected to the extremely tough and durable EPO foam constructed fuselage
Longer flight times and superb performance from the efficient and powerful brushless motor
At the flip of a switch you can jump from beginner to intermediate to experienced flight modes
Ready to go straight out of the box – no additional extras needed to complete
Add Virtual Fence, Holding Pattern and AutoLand (sold separately) when you upgrade to GPS enabled SAFE Plus drone technology
Increased motor and propeller protection with the unique pusher configuration and folding blades
DSMX 2.4GHz technology by Spektrum
Get On Screen Display with compatible cameras/headsets/monitors (sold separately) to take advantage of the FPV-ready status
Great RC plane for beginners
Learn to fly in less time! With a futuristic delta wing design, exclusive technology and compact size all signs point towards an RC plane that is perfect for those starting out in the hobby. You get that with the Delta Ray One from E-Flite and a whole lot more. This RC plane is super easy to fly but has a flight envelope that will cater to your improving skills once you get a hang of the basics.
Based on the combination of efficiency and stability that the Delta Ray One provides you will find this delta wing design RC airplane brilliant to learn on. Activate the exclusive Sensor Assisted Flight Envelope (SAFE) technology and you'll notice a lot of the stress is taken out of the learn to fly stage of your RC journey. You also run the risk of having fun! To add in that extra level of safety you can upgrade your Delta Ray One with SAFE Plus GPS-enabled drone technology. This utilises Virtual Fence and AutoLand so you can program in set boundary parameters which then opens up the possibility of safely flying in smaller fields and parks.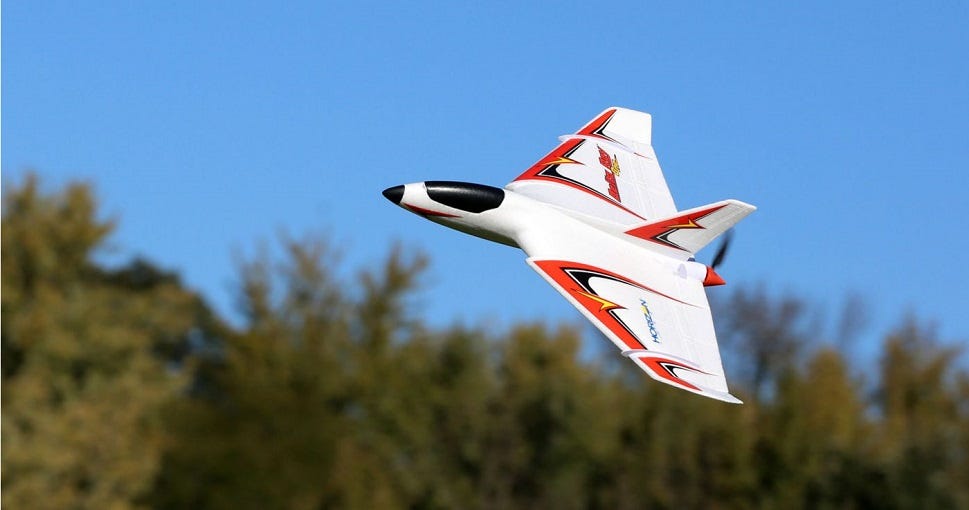 Lightweight, yet durable
Constructed from advanced lightweight and durable EPO foam, the Delta Ray One is extremely resilient which means it can handle a few prangs and scrapes particularly with its rubber nose cone. To make it even easier for the beginner flyer this RC plane can be taken straight out of the box, bound to the supplied transmitter and into the sky you can soar!
Beginner RC planes don't have to be boring and the Delta Ray One is far from it. The delta wing design combined with the brushless power system gives the pilot an efficient and powerful aircraft that will do rolls, loops and inverted flight. The flight envelope on the Delta Ray One is wide enough to allow beginners to flourish and also challenging enough to give more experienced pilots some aerobatic opportunities.
The Delta Ray One also comes in the BNF Basic version (EFL9550) which lets you set this RC plane up using your own transmitter, batteries and FPV related equipment.
Wingspan

500mm (19.7 in)

Overall Length

422mm (16.6 in)

Wing Area

127.3 sq in (8.2 sq dm)

Flying Weight

120 - 135 grams (4.25 - 4.75 oz)

Motor Size

BL 180 Brushless Outrunner (Installed)

Radio

5+ channels (MLP6DSMA included)

CG (center of gravity)

60-68mm back from Leading Edge break

Prop Size

130 x 70 mm folding

Spinner Size

23.5mm pusher

Hardware Included

Yes

Speed Control

2-in-1 RX/ESC Unit

Recommended Battery

2S 280 Li-Po Battery (included)

Approx. Flying Duration

5+ min

Charger

Celectra 2S 7.4V DC Li-Po Charger

Assembly Time

Less than 1 Hour
All product manuals are provided by the manufacturer, If you don't find the manual or information you are looking for, contact our experts for help.