E-Flite Convergence VTOL BNF Basic, No Longer Available
The brand new Convergence BNF Basic is an amazing performance designed vertical take-off and landing (VTOL) aircraft.
Ease of flight with custom flight control software
Designed by Professional Pilot, Mike McConville
Stability and Acro Modes provide a wide performance envelope
The advantage of FPV Ready capability
Flip, Roll, Hover with extraordinary VTOL technology
Park flyer size and fun
Versatile multirotor or nimble sport plane?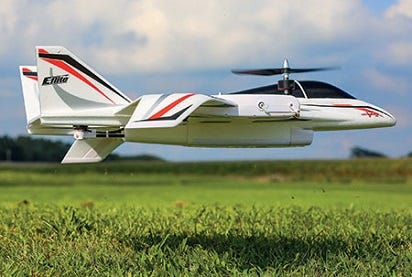 The E-Flite Convergence flies and hovers just like a multi-rotor but can then transform into fast, exhilarating forward flight. The E-Flite Convergence VTOL BNF Basic offers a pure and roar sport plane ability without all the traditional fuss of a VTOL or multi-rotor aircraft. Plus at 650mm, it's the perfect size for throwing around at your local park or reserve and enjoy VTOL fun!
Simply flip a switch and the Convergence VTOL will transition between multirotor and airplane flight. The flight controller will smoothly rotate the two wing-mounted motors into the correct flight attitude and activate the rear motor as needed. Three brushless motors power the convergence with the rear vertical tail motor spinning a three-bladed propeller and the two main wing motors being adjustable to both vertical (multi-rotor mode) and normal horizontal flight aspects by the flight controller.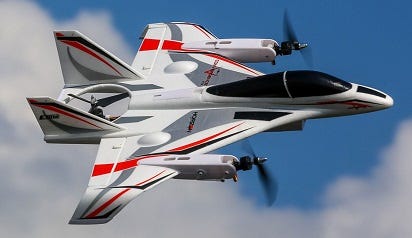 Two different flight modes
Two flight modes give you a wide range of performance for every phase of flight.
Stability Mode
In multirotor flight, Stability Mode will limit pitch and bank angles and work to keep the model level when you release the sticks. This allows you to take off and land like a pro, even if you've never flown a multirotor before. In airplane flight, it will limit pitch and bank angles and automatically return the wings to level when the sticks are released.
Stability Mode automatically engages during the transition between multirotor and airplane flight. It seamlessly maintains self-leveling and angle limits from one phase of flight to the other, making this the easiest RC VTOL experience you will find anywhere.
Acro Mode
In Acro Mode there are no angle limits or self-leveling in any phase of flight. During multirotor flight, the model will behave like a conventional multirotor that pitches and banks in whatever direction you want it to fly. It can flip and roll like other multirotors, too.
In airplane flight, Acro Mode lets you perform a wide range of aerobatic maneuvers. And because you have the forward thrust of two brushless motors working for you, there is plenty of speed and power to spare. You can even use the differential thrust of the motors to perform unique spinning and tumbling maneuvers.
FPV ready!
If you want to try it out as an FPV (First-Person-View) aircraft then we would recommend you add (All Items Sold Separately):
Spektrum 650TVL CCD FPV Camera NTSC
Spektrum 25mW 5.8GHz Video Transmitter
Power Adapter
Spektrum 4.3-Inch Video Monitor with Headset or the FXT Technology Marvel Monitor with Headset
The aircraft has been designed with FPV capabilities in mind so why not add those component and hit your local park or trail for some extreme FPV maneuvers with the E-Flite Convergence VTOL.
If you like this product, you should also check out the Blade Theory W.
Full-range, 6+ DSMX®/DSM2® channel transmitter
2200-3000mAh 3S LiPo flight battery
3S compatible LiPo charger
Wingspan

25.6 in (650mm

Overall Length

26.9 in (680mm)

Wing Area

291 sq in (1883 sq cm)

Flying Weight

1.7 lbs (771g)

Motor Size

2210-1450Kv Main, 2730 - 1550Kv tail

Radio (Not included)

6+ Channel DSMX/DSM2

Trim Scheme Colors

Black, Red, Silver

Recommended Battery

2200mAh, 3S (not included)

Experience Level

Intermediate

Recommended Environment

Outdoor

Is Assembly Required

No
Looking for spare parts or upgrades?