E-Flite Cirrus SR22T UMX BNF Basic, No Longer Available
The E-Flite UMX Cirrus SR22T is an aircraft offering a modern and unique flight experience just like the full-size version. With fantastic AS3X and SAFE technology on board this plane is capable of thrilling performance for the advanced pilot yet offers safety features for the beginner alike.
Scale authenticity includes accurate outlines, clear windows and cockpit detail
An officially licensed replica of the full-size SR22T
LED wingtip lighting for increased scale presence
Factory fitted and powerful 3600Kv brushless outrunner motor
Fully assembled and Ready to fly straight out of the box
Incredible flight performance and stability using AS3X® technology
Quality Spektrum™ 2.4Ghz DSMX® technology as standard
Scale-shaped three-blade propeller and matching spinner
Optional SAFE® Select flight for beginners
Responsive 4-channel control with steerable nose wheel for ground handling
Top mounted battery hatch for convenient battery changes

Beautiful scale detail
With a flight experience that is both comfortable and exciting the full-size Cirrus SR22T resonates with pilots and passengers on so many levels, its build is like a luxury car with state of the art features. With this high standard and level of detail in mind, the E-Flite UMX Cirrus SR22T has taken UMX aircraft to the next level. The pilot will experience a modern flight performance along with brilliant scale detail taken from the full-size version, with the inclusion of AS3X you will feel right at home in the air and feel like you're flying a much larger model.
The E-Flite UMX Cirrus SR22T is a fully licensed scale replica of the full-size SR22T and is designed to give the user the ultimate experience flying one of the best-selling and modern single engine aircraft of this generation. Right out of the box this aircraft is fully assembled and ready to go, all you need to do is add your charged battery and chosen Spektrum transmitter to get up into the air. With a brushless power system and crisp control from the Spektrum electronics system, this UMX aircraft offers high maneuverability whilst maintaining a smooth feeling.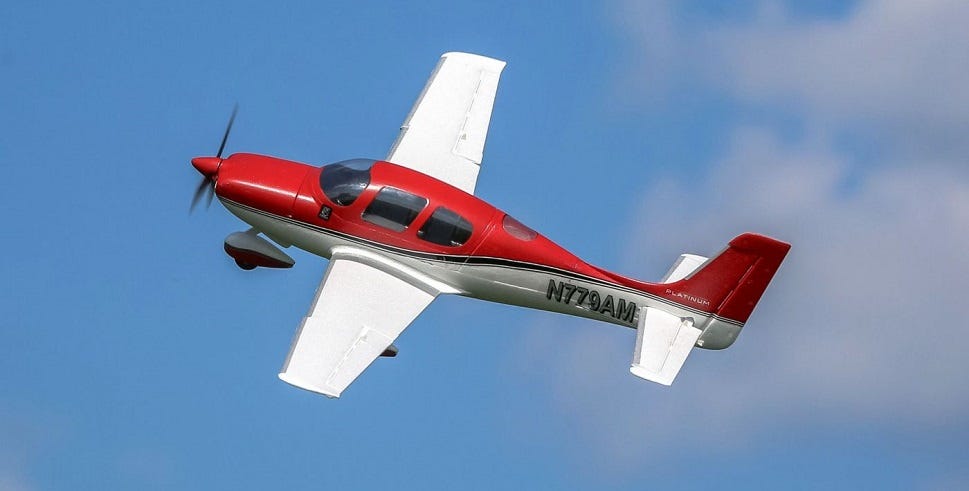 Perfect for pilots of all skill levels
With the Included AS3X technology working non-stop you get to enjoy an aircraft that feels locked in and stable just like a much larger model. The additional SAFE select system allows extra protection for the beginner pilots with flight modes to help guide you through your first few flights, with self-levelling and pitch/bank angles limits of offer you can successfully fly this incredibly scale UMX aircraft without the worry of getting into trouble.
Full-range, 5+ channel DSMX®/DSM2® transmitter
180–300mAh 2S 7.4V LiPo JST-PH flight battery
• Suitable LiPo charger
Wingspan

(28.8 In) 732mm

Overall Length

(20.2 In) 512mm

Wing Area

87.8 Sq In (5.7 Sq Dm)

Flying Weight

4.2 Oz (118 grams)

Motor Size

180 Brushless outrunner 3000kV

Radio

5+ channel

Servos

Installed

Prop Size

120mm x 70mm, 3 blade

Recommended Battery

7.4v 280mAh LiPo

Scale

UMX

Landing Gear

Yes
All product manuals are provided by the manufacturer, If you don't find the manual or information you are looking for, contact our experts for help.
Looking for spare parts or upgrades?