E-Flite Carbon Z T-28 Trojan BNF Basic, No Longer Available
Constructed from Carbon-Z material, the T-28 Trojan RC plane from E-Flite is a joy to fly. Back by popular demand – for a limited time – equipped with optional-use SAFE Select technology and improved AS3X tuning for even better handling, control authority and aerobatic capability!
Looking for spare parts or upgrades?
AS3X Technology for solid handling
Strong Carbon-Z construction
Powerful 60-size motor
Quality metal gear servos
Great scale details
Operational retracts and flaps
U.S. Navy graphics
A Carbon-Z T-28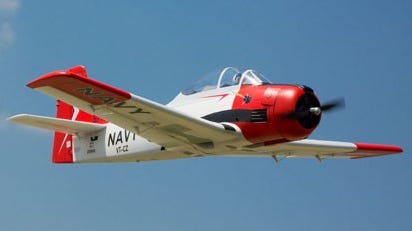 It is the large warbird that is so easy to fly! The Carbon-Z T-28 from E-Flite is an RC plane with a wide range of exciting features, as shown below:
Carbon-Z Construction
This composite construction combines Z-Foam, lightweight plywood and carbon-fibre, in addition to a specially-designed hollow-core airframe. This allows the wing to be chambered, giving the "Big Foam" T-28 the durability of a wooden model, but with a weight light enough to make it easier to handle. Not to mention, Z-Foam can be repaired just as easily, in the unlikely event of a minor accident!
The Advantages of AS3X
Included with the pre-installed six-channel Spektrum AR636A receiver is the advanced Artificial Stabilisation Three Axis (AS3X) technology. AS3X works behind the scenes to counter the effects of wind and turbulence through three-axis sensing and specially-tuned electronics and flight control software. This means that flying smoothly will require less effort on your behalf. Your performance will feel (and look) solid from the opening flight.
Pre-Installed Electric Retracts
The T-28 comes with a tricycle landing gear, featuring nose wheel steering and servo-less retracts. To add to the scale appearance, E-Flite has included split-main gear doors and strut covers.
Fully Operational Flaps
These flaps move just like the full-size version of this remote control plane. Independent servos are also used to give you the most reliable control system.
Excellent Scale Detail
This plane comes with some great scale details, including a clear canopy under which sits a pilot figure and cockpit details, such as realistic instruments. The fitted cowl also highlights a dummy radial engine. Furthermore, the T-28 showcases a scale-inspired paint scheme that also offers excellent in-flight visibility.
Strong 60-Size Motor
The plane's powerful 60-size brushless power system operates a custom two-blade propeller and can work with a wide variety of 6S LiPo packs ranging from 3500 to 5000mAh (battery sold separately).
Simple Assembly
Assembling the E-Flite T-28 is very straightforward. The main wing separates into two pieces for easy transportation and comes with a fibreglass wing joiner. Each plug-in horizontal stabiliser half attaches to the tail section with a single screw.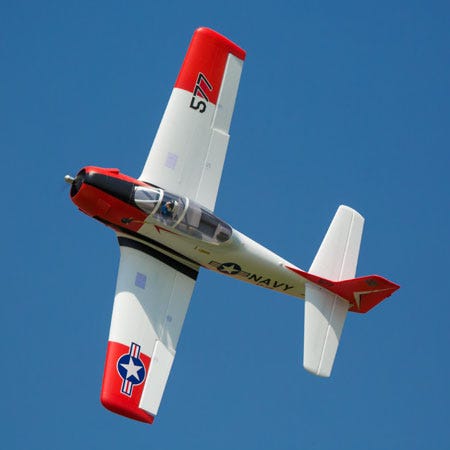 Quality Metal Gear Servos
Throughout the airframe, seven servos have been used to deliver the primary control functions. Additionally, a single micro-class servo for the nose wheel has been used to save weight while giving you accurate ground handling.
Please note that this plane comes as a Bind-N-Fly Basic model, so there are several items you will need to complete it. For more information, please refer to the "What You Need" section below. If you have always dreamed about flying a large-scale plane with ease, the E-Flite T-28 is the beginning of this marvellous adventure! Order yours now.
Wingspan

78 in (198 cm)

Overall Length

63 in (162 cm)

Wing Area

1073 sq in (70 sq dm)

Flying Weight

12.0 lbs (5.5 kg)

Engine Size

50-60 Size

Radio

DX6 (minimum)

Recommended Battery

22.2V 5000mAh 30C 6S LiPo

Flaps

Yes

Retracts

Yes

Approx. Flying Duration

8 minutes

Assembly Time

Less than 1 Hour
All product manuals are provided by the manufacturer, If you don't find the manual or information you are looking for, contact our experts for help.