E-Flite AT-6 Texan RC Plane, 1.5m BNF Basic
With well-appointed authentic detail the AT-6 Texan RC plane from E-flite is a 1.5m warbird that rewards the flyer with a fantastic scale flight experience utilising features such as retracts and functional flaps. Just take the Texan out of the box, bind it and you're away!
AS3X technology for precision and stability
Construction from lightweight, durable EPO foam
DSMX enhanced 6channel receiver from Spektrum
5 micro servos installed with 6channel control
Electric retractable landing gear and operational split flaps
Inair assistance with optional SAFE Select flight mode
Historic scale detailed graphics and trim scheme
Brushless 15-size powerful motor with 40A ESC installed
Easy battery access with large, magnetic top hatch
LiPo powered with 11.1V, 2200 – 3200mAh packs ideal
Wing servo connection system is hands free
Superb scale details include – pilot figures, cockpit instrumentation, radial engine and exhaust
E-Flite's AT-6 Texan RC replica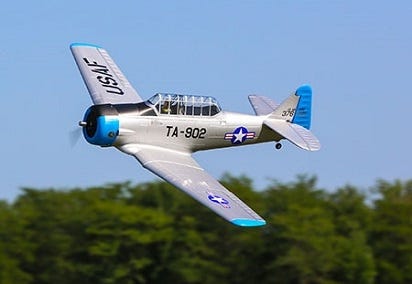 The AT-6 Texan played a pivotal role in training up student pilots in WW2. Because of the AT-6's toughness, it was the warbird of choice to help transform these novices into the well-disciplined fighter aces that the US military forces needed. As a testament to the longevity of the AT-6, you will still find thousands of them still flying today. The E-flite version of the AT-6 pays tribute to the Texan with superb scale detail but throws in a flight envelope that is obviously significantly better than the original.
Much like the original, the E-flite AT-6 Texan is built tough with lightweight components. Made of durable EPO foam that combines to give you both excellent flight performance and strength. Harnessing the unique three-panel split flaps, ailerons and sturdy electric retracts is the one-piece wing that all comes without the usual web of wires. What you get in its place are concealed servo leads that are hooked into a hands-free connection system making the assembly of your AT-6 Texan pretty simple.
Powering your AT-6 is a 15-size brushless motor that sits behind the scale detailed radial engine and exhaust that can take up to a 3200mAh, 11.1V LiPo battery. Improved battery changeover times can be expected with the magnetic canopy hatch to give you more time in the air. The power to weight thrust on the AT-6 means you'll get the look of a warbird combined with the sports performance of this super responsive 1.5m BNF RC plane.
Good looks and easy assembly
This AT-6 Texan comes with a trim scheme flown by the Mosquito squadron during the Korean War. Better known as an LT-6 at the time these aircraft conducted risky surveillance missions for the US during this conflict. Featured in the landing gear are hinged doors, scale wheels, strut covers and electric retracts. Replicating its full-scale counterpart the AT-6 features an operational split flap system arrangement.
When you get to the field the basic assembly of your AT-6 can be completed with only two screws. Featuring a hands-free servo connection system the Texan's one piece wing also gives you the security of four mounting screws and easy access to your LiPo battery through a large magnetically sealed top hatch.
SAFE flying for beginner pilots with the AS3X Receiver
Working behind the scenes to smooth out the effects of the natural elements is your AT-6 Texan's AS3X receiver. When confronted with turbulence or wind mid-flight the AS3X will kick in and provide additional precision and stability.
To help the novice flyer the AT-6 comes with the option of enabling SAFE technology which has been built into the receiver. You won't need to program this in just follow the directions in the manual and change up your binding sequence accordingly.
With SAFE Select features enabled, you get:
Pitch and Bank Angle Limits - SAFE will act on your behalf to prevent excessive dive or climb angles during takeoff/landing, and, will also keep the AT-6 from pitching or rolling upside down.
Automatic Self-Leveling - Just release the sticks and the AT-6's wings will automatically return to level.
Easy Switch Assignment - You can allocate a transmitter switch to turn your SAFE Select function on/off by following simple instructions in the manual – no programming required!
If you're confident in your flying skills you can bypass SAFE Select and just bind your receiver normally leaving you with the standard AS3X functionality.
Bind, and fly!
With all E-flite BNF models, you can be assured that your set up times will be minimal and you'll have your AT-6 Texan in the air quick smart. Pre-flight assembly is minimal and battery changeover is just as quick. There are presets available to make the transmitter programming of your Spektrum DSMX/DSM2 even easier.
Full-range, 6+ Channel DSMX®/DSM2® transmitter
2200–3200mAh 3S LiPo flight battery
3S compatible LiPo charger
Wingspan

57 inches (1450mm)

Overall Length

39.5 Inches (1003mm)

Wing Area

500 sq in (32.3 sq dm)

Flying Weight

60-62oz (1700-1757 g)

Motor Size

15 BL 950 KV

Radio

6-Channel

Servos

5

Recommended Battery

2200-3000mah 3S 11.1V 25C Li-Po (not included)

Flaps

Yes

Retracts

Yes

Experience Level

Intermediate

Recommended Environment

Outdoor
All product manuals are provided by the manufacturer, If you don't find the manual or information you are looking for, contact our experts for help.
Looking for spare parts or upgrades?