E-Flite A-10 Thunderbolt II 64mm EDF Jet, BNF Basic, EFL01150
Affectionately known as the Warthog the A-10 Thunderbolt II Twin 64mm EDF is E-flite's replica of the USAF's Close Air Support stalwart. Highest performing E-flite hog yet and easy to fly with SAFE Select technology engaged.
Looking for spare parts or upgrades?
Outstanding handling plus one of the easiest to fly A-10 twin EDF jet model yet
40mAh ESC's, separate BEC and high powered 6S compatible brushless motors
Iconic USAF Close Air Support aircraft in brilliant scale form and detail
Includes functioning operational flaps, LED navigation lights and twin rudders
Can fly up to 160kmh with twin 11-blade 64mm fans for superb vertical performance
Flight times and leading performance achieved with 6S batteries in 3200-4000mAh
Spektrum AR636 6-channel RX with 2.4GHz DSMX technology
Includes accurate scale molded-in panel lines, removable ordnance plus more
Optional use SAFE Select flight envelope protection and exclusive stability enhancing AS3X technology
Precise ball-link equipped linkages on the nine factory installed digital servos
Operates from variety of surfaces with shock absorbing struts and electric retracts
Hands free connection system with easily put together one-piece composite reinforced wing
Scale detailed cockpit and pilot figure surrounded by clear canopy with convenient top hatch
Fully moulded EPO airframe for additional toughness and durability
Comes with 'Flipper' camouflage trime scheme and finish that has been factory applied
High-performance A-10 Thunderbolt II Replica
Due to its aggressive look, the USAF's A-10 Thunderbolt II was affectionately given the nickname of the Warthog. The A-10 was the primary Close Air Support aircraft for ground forces in a number of theatres of conflict. Its ability to take fire and survive while delivering a highly accurate weapons capability quickly gained it the respect of enemy and allied alike. The painted teeth nose of the A-10 Thunderbolt II was fitted with the 30mm GAU-8 Gatling gun that could deliver 30 rounds per second of armour-piercing incendiary rounds. This iconic aircraft has been faithfully reproduced in scale form in the E-flite® A-10 Thunderbolt II Twin 64mm EDF. Delivering unlimited vertical performance and an impressive top speed the A-10 also features superb handling with both SAFE Select and AS3X technologies working with the pilot to make flying easier.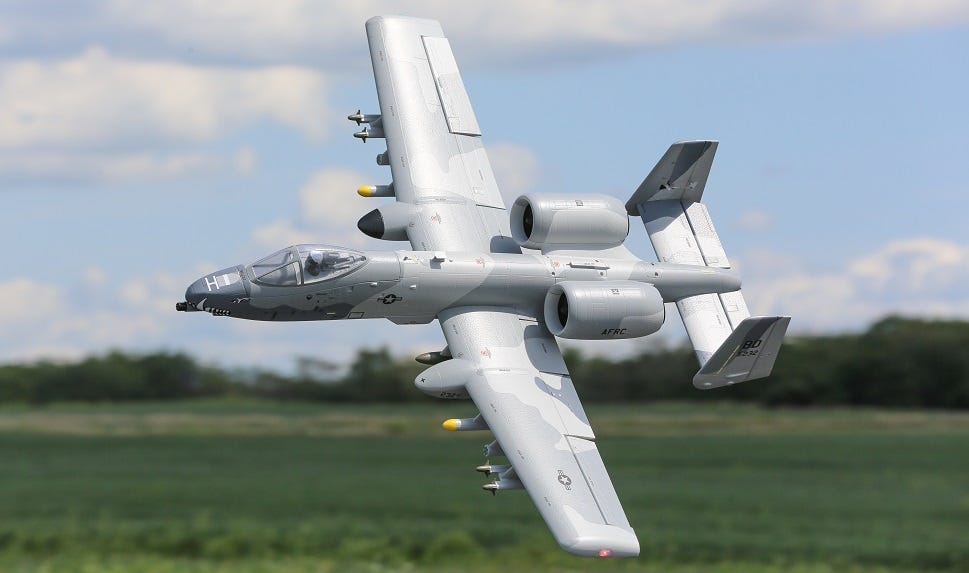 The E-flite® A-10 Thunderbolt II features an all-new design with twin 64mm 11-blade fans powered by powerful brushless motors that have been paired with 40A ESCs. These are wired to a 6S 3200-4000mAh LiPo battery and can get this RC fighter jet up to speeds of 160kmh in level flight. With near-on instant throttle response, class-leading flight times and brilliant vertical performance the E-flite® A-10 Thunderbolt II Twin 64mm EDF will not disappoint. When you have this modern-day RC warbird cranked up on a fly-by you will hear the awesome sound it produces that almost replicates that of a real turbine engine. The A-10 has ball-link equipped linkages on all nine of its factory-installed digital servos that ensure top of the line control and precision at every speed.
The fully moulded EPO fuselage construction enables E-flite to replicate a couple of things – the scale shapes and details of the Warthog's full-scale counterpart in a lightweight form. Plus it is also a nod to the A-10 Thunderbolt II's renowned ability to take punishment from ground fire. In other words, it will handle a few rough landings in its stride. The list of functional features on the E-flite® A-10 Thunderbolt II Twin 64mm EDF is extensive with operational flaps, twin rudders, LED navigation lights and electric retracts with shock-absorbing struts so you can take off and land on a variety of surfaces. Detailed scale features include moulded in panel lines, removable ordnance, detailed cockpit with a pilot figure and more. Giving you're A-10 that real battlefield look is the factory finished three-tone grey 'Flipper' camouflage trim scheme that looks fantastic in the air or on the ground. The E-flite® A-10 Thunderbolt II Twin 64mm EDF comes in a very manageable size so construction, storage and transport are that much easier.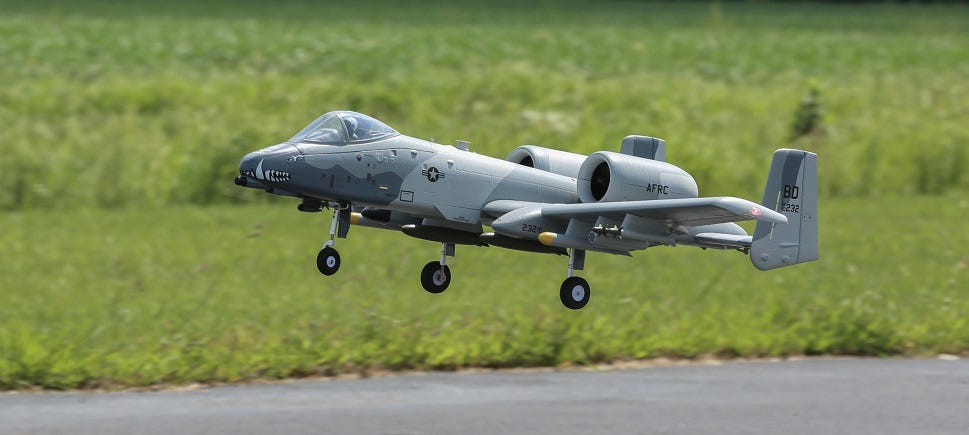 Spektrum Exclusive Technologies
For the first time ever, E-flite have equipped the A-10 Thunderbolt II Twin 64mm EDF with Spektrum SAFE Select and AS3X technologies. The Spektrum DSMX receiver fitted in the A-10 Thunderbolt features the AS3X (Artificial Stabilization 3 aXis) system that nullifies the effects of turbulence and wind by working behind the scenes to provide increased precision and stability when your RC jet experiences non-optimal flying conditions.
SAFE Select is optional technology that gives the E-flite® A-10 Thunderbolt II Twin 64mm EDF an extra margin of safety by enabling features that will ensure your flight envelope is limited to keep you out of trouble until you are a better flyer or have familiarized yourself with the controls. No programming is required to engage SAFE Select as it is built into the receiver. You just need to follow the manual directions and change up the binding sequence to switch it on.
Full-range 6-7+ channel Spektrum™ DSMX®/DSM2® compatible transmitter
6S 22.2V 3200–4000mAh 30+C LiPo with EC5™ or IC5™ connector
Compatible LiPo charger
Wingspan

45.23 in (1149 mm)

Length

41.77 in (1061 mm)

Flying Weight

80-85 oz (2268-2410 g)

Motors

(2) Brushless Outrunner (installed)

Speed Controls

(2) 40A Brushless (installed)

Servos

(9) Digital (installed)

Radio

Full-Range 6–7+ Channel DSMX®/DSM2® (sold separately)

Receiver

Spektrum™ AR636 with AS3X® and SAFE® Select Technologies (installed)

Battery

6S 22.2V 3200-4000mAh 30+C LiPo with EC5™ or IC5™ Connector (sold separately)

Retracts

Yes

Experience Level

Skill Level 2 = Some Experience Required

Rec. Environment

Outdoor

Assembly Required

Yes

Approximate Assembly Time

Less than 1 hour
All product manuals are provided by the manufacturer, If you don't find the manual or information you are looking for, contact our experts for help.