Carisma SCA-1E '86 Subaru Brat RTR, 1/10, CRS81068
The latest release from Carisma Scale Adventure is the scale version of the beloved 1986 Subaru Brat on their SCA-1E platform with a 313mm wheelbase. The 'Bi-drive Recreational All-terrain Transporter' or BRAT, as it's affectionately known, will be easily recognised by those who appreciate the timeless styling and flowing lines.  
Looking for spare parts or upgrades?
Brushed 35T crawler motor for great blend of torque and speed
C-section steel ladder chassis with Gen 2 shock towers on 313mm wheelbase
ARC-1 Own brand ESC with improved voltage protection and throttle finesse
Identically scale detailed fully licensed 86 Subaru Brat body
Enhanced crawling performance due to forward weight bias battery mount location
Steering servo is chassis mounted for enhanced scale detailing
1.9 inch True Beadlock Carisma Scale Adventure wheels
110mm soft compound All Terrain Adventure Tyres
Transmission protected by adjustable slipper clutch
2.4GHz full FHSS radio gear
Solid power transfer to axles and wheels through steel universal joint equipped driveline
1986 Subaru Brat replica with SCA-1E performance and durability
Designed as an export only vehicle, the 1986 Subaru BRAT quickly developed a global following with its rugged capability combining well with classically styled lines. Given it was designed in Japan it was a testament to its appeal that it became a cult gray import vehicle back into the land of the Rising Sun. Previously only available in 2WD kit form the 1/10th 86 Subaru BRAT RC Ute is now available through Carisma in powerful RTR glory!
When you combine the proven performance and durability of the SCA-1E platform and an array of Gen 2 hop-ups with the cult classic that is the 1/10th 86 Subaru BRAT you've got yourself an RC Ute that will take both rock crawling and trail bashing in its stride. You can keep it stock or accessorise with LED lighting, scale accessories or a working winch.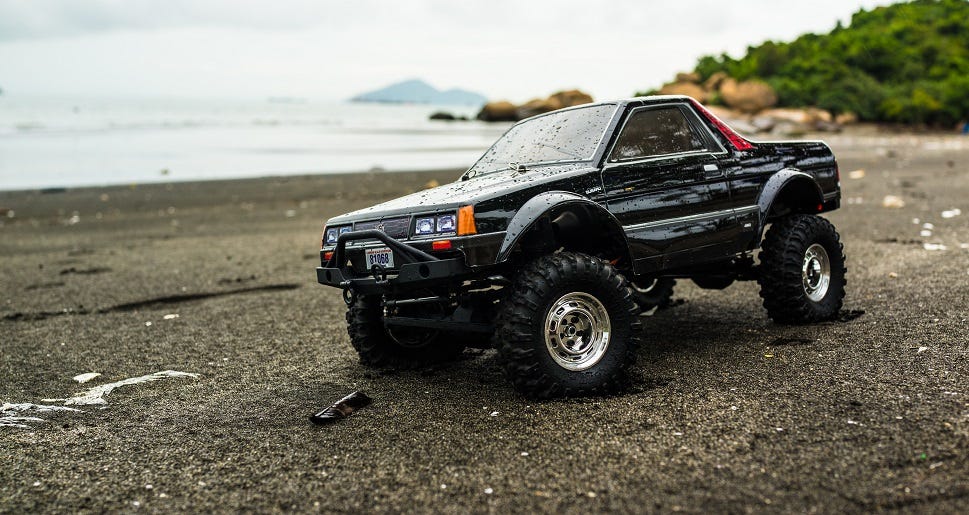 In its RTR form, the 1/10th 1986 Subaru BRAT RC Ute can handle easy to mid-range rock crawling and most trail runs. If you want to hop up your BRAT with diff covers or brass hexes then you open up more extreme options to run this 80's classic through. Whether you're an experienced RC campaigner or just new to the caper, the 1/10th 1986 Subaru BRAT RC Ute is Ready-To-Run and ready to take you just about anywhere in style!
*PLEASE NOTE: Batteries are not included with this model. Suitable options for this vehicle are either a 7.2V NiMH or a 7.4V 2S LiPo. You will also need 4 x AA batteries for the radio transmitter.
4 x AA batteries
Suitable 7.2V NiHM or 7.4V 2S LiPo battery
Compatible charger
Wheelbase

313 mm

Drivetrain

4WD

Motor

35T Crawler Brushed Motor
All product manuals are provided by the manufacturer, If you don't find the manual or information you are looking for, contact our experts for help.