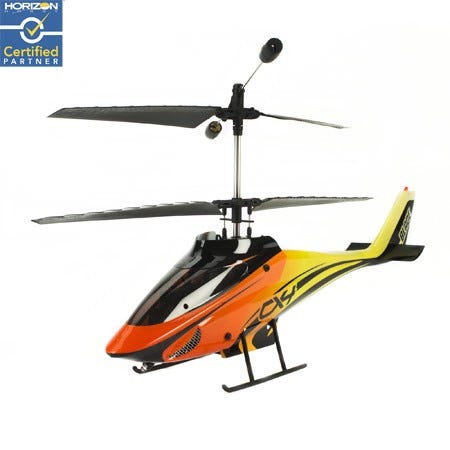 Thinking about buying your first
remote control helicopter
? These remote control models are great fun for young and old; offering hours of aerial fun both indoors and outside. At
Modelflight
, we have a great range of
beginner RC helicopters
right through to professional-level
3D helis
. Choosing the best RC helicopter for you can be a bit of a daunting task but we've taken the time to review some fantastic remote control helicopters to help you buy your first rc helicopter.
What to Look For in a Remote Control Helicopter for Beginners
When deciding what is the best beginner RC helicopter for you, there are a few things to consider. For example, a good question to ask is whether the helicopter comes ready-to-fly (often abbreviated as "
RTF
"). Some remote control helicopters require you to supply your own
transmitter
,
battery
and/or other components to complete the model; this is known as "
BNF
", or "Bind-N-fly". So, unless you already own an RC transmitter, it could be best to select an
RTF helicopter
, where everything you need to start flying is included in the box.  Another thing to consider is purchasing a helicopter with coaxial rotors. These helicopters come with two main rotors, one above the other, that turn in a contra-rotation direction. Generally speaking, these coaxial helicopters are more stable in the air compared to their single-main-rotor counterparts, making them easier for beginners to fly. Some RC helicopters also come with additional stabilisation technologies, and are particularly robust – perfect for bouncing back from bumps and bashes as you get to grips with your new helicopter. As a first time flyer, here are some important characteristics you should look for in a remote control helicopter:
Stability - a lightweight, stable helicopter is the way to go for your first heli
Robust - everyone expects crashes and bashes when flying RC helicopters, no matter how experienced they are.  Choose a helicopter that will 'bounce back' and allow you to keep flying all day long
Easy to use - charge the batteries and go!
Beginner settings - some helicopters have different 'modes' where you can switch from beginner to more advanced flying characteristic
The Best Remote Control Helicopters for Beginners
Let's have a look at 5 of the best RC helicopters for beginners at Modelflight, starting with the Graupner Fun Chinook.
Graupner Fun Chinook
The
Fun Chinook
from
Graupner
is one of the smallest and lightweight helicopters available at Modelflight. It is one of our most unique beginner RC helicopters with double the coaxial rotors.  It can be easily flown indoors and, thanks to its plastic rotor blades, it is unlikely to cause any damage inside the house.  The Chinook comes ready-to-fly with a 3-function remote control and a coaxial rotor structure to help you build confidence as well as perfecting your flying skills. If you would like more info about this remote control helicopter, check out the below review video from
Modelflight's YouTube channel
: The Chinook is a stable, coaxial beginner's RC helicopter and is an excellent choice for children.  You can see this Graupner RC helicopter in action in the video below:
Blade Scout CX
The
Scout CX RC helicopter
from
Blade
is another great model helicopter for beginners. It is lightweight and small enough to fit in the palm of your hand. Blade has added a computerised Piezo gyro to the Scout CX, giving it great directional control and stability. This is coupled with the Scout's proportional rotor head, which gives beginner pilots smooth and precise control response. Check out the below unboxing and review video on the Blade Scout CX: This ready-to-run helicopter is a perfect helicopter for flying indoors, as we demonstrate in the below video: This helicopter comes with a state of the art 3-channel 2.4GHz remote control.  The benefits of 2.4GHz remote control mean that you can fly multiple helicopters in the same space at the same time; the signals won't get confused. Moreover, what that means is you can enjoy hours of entertainment with your friends, all flying your own Scout helicopter at the same time!
Blade Red Bull BO-105
A beginner's RC helicopter with a twist, the
Blade Red Bull BO-105 CX
is modelled on the full-scale BO-105 helicopters flown by Red Bull stunt pilots. Featuring an officially-licensed Red Bull body, the BO-105 CX comes with coaxial rotors, similar to what you would find with the Blade Scout. This helicopter also features the Piezo gyro system for smooth operation. You can see more of this ready-to-fly helicopter in the below unboxing and review video: Much like the Blade Scout, the Red Bull BO-105 is easy to fly and very stable in the air. Check out the demo video we made at Modelflight HQ: It really ticks all of the boxes - ready to fly, stable, robust and most of all – fun!  The Red Bull BO-105 has 3-channel 2.4GHz remote control and it is very easy to fly.  So get your friends together and start putting this fantastic RC helicopter through its paces.
Blade mCX2
The
mCX2 remote control helicopter
from Blade is a really exciting beginner's model. It is powered by dual micro coreless motors and comes with flashing LED lights for night time flying. This beginner helicopter is the ultimate beginner friendly machine with unsurpassed stability, incredible control, and extreme durability.  It comes with 2.4GHz remote control, is perfect for flying indoors, and has that 'extra shot' of excitement and power you could be looking for in your first RC helicopter. Another key feature compared to the other aforementioned remote control helicopters is that there are two versions available for this model: a ready-to-fly version and a Bind-N-Fly (BNF) version. The
BNF mCX2
helicopter does not come with a transmitter, so you have the option of choosing your own DSM2-compatible remote control. If you have some previous RC experience and you have access to your own transmitter, the BNF option would be worth considering. Otherwise, the RTF mCX2 is a great beginner's RC helicopter. We have an unboxing and review video for the mCX2 below: Our customers have mentioned how stable the mCX2 is in the air, making it a great choice for the first-time pilot. You can see a demo of the mCX2 below:
Blade CX4
Calling all beginners with BIG ambitions!  The
that can make learning to fly rc helicopters all the more thrilling. One of the features with the CX4 that sets it apart from the mCX2 and other helicopters is its self-stabilising flight characteristics. If you encounter any troubles when you are flying this helicopter, all you have to do is let go of the control sticks on your transmitter – the CX4 will return to a hover all by itself. This model helicopter comes with powerful 360-size brushed motors and, with a 500mm length; it is larger than the other coaxial helicopters but still comes with all the smart safety features that allow you to fly with confidence. For example, the Blade CX4 comes with added shock-absorbing landing gear and rubber coated leading edges on the rotor blades. The blades are also designed to 'give' in the event of a blade strike. We'll also throw in an extra set of rotor blades so if you have a bump or two, it won't stop you getting back in the air. Check out our CX4 unboxing and review video below: The Blade CX4 beginner remote control helicopter comes with a 5-channel 2.4GHZ remote control.  Like the Blade mCX 2 it also has LED running lights for night time flying.
It's one of the best remote control helicopters to start flying with, especially if you're looking for something a little bigger.

Our Top Pick for Children:  
Blade Scout. Buy the
Blade Scout CX
now.
Our Top Micro Beginner Helicopter:
Blade mCX2.  Buy the
Blade mCX 2
now.
Our Top Pick for a larger RC Helicopter: Blade CX4. Buy the
Blade CX4
now.
We hope this blog post helps you to find the best remote control helicopter for beginners. If you have any questions about the helicopters we have covered, feel free to leave us a question in the comments box below or you can click on this link to
contact Modelflight
. For more information, visit our page dedicated to
beginner RC helicopters
. Have fun flying!