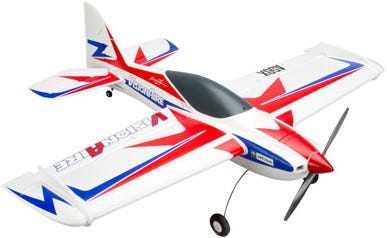 We are only a few days into 2013 and there have already been some exciting new videos on our YouTube
channel
. Our film crew hit the ground running to capture Mike reviewing the brand new
Parkzone VisionAire
.  Fortunately for us, this RC plane had only just arrived at our office, so Mike had a chance to unbox the VisionAire too.  As you will see, Mike describes on how the Quique Somenzini-designed plane gives sport flyers the chance to become 3D pilots.  This video focuses on the impressive wing and tail design of the  VisionAire that allows you to perform exciting 3D manoeuvres with ease.  Mike's review of this remote control plane  can be seen below: http://youtu.be/BmmKO4rYtbg We were also able to produce this demo video - the
Ultra-Micro P-40 Warhawk
, also from ParkZone. This video was filmed on a beautiful December day and Mike really enjoyed its smooth-flying characteristics. Again, we decided to film Mike un-boxing this
RC plane
before taking it for its maiden flight.  You will notice that time it takes to unbox the Warhawk and prepare it for flight is really short, so you will be able to enjoy this plane in no time.  We had a lot of fun putting this video together. In case you have not already seen it, the YouTube clip is embedded here: http://youtu.be/eQGwQWQXBSI While on the topic of the P-40 Warhawk,
Chuck ThrillSeeker
also put together this review which we wanted to share with you.  Chuck goes into great detail about the plane and what's included in the box when you purchase it.  Thanks once again for your great work, Chuck! http://youtu.be/Bb3z-xmDAps We regularly post new updates to our YouTube channel, so be sure to
subscribe
so you can keep up with all the new RC releases.