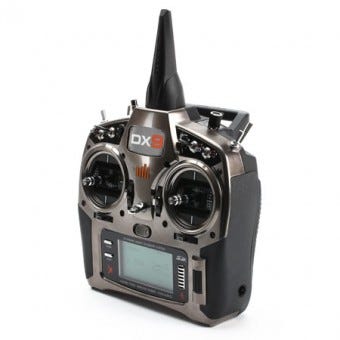 The upcoming arrival of the brand new Spektrum DX9 has generated much excitment among RC pilots and we were fortunate enough to get a sneak peek at this innovative transmitter. On Modelflight's YouTube channel, we recently launched a review and unboxing video of the DX9, which you can view below:
As you can see in the video, the DX9 transmitter has many cutting-edge features. The voice alert system in and of itself is without equal in RC radios. Irrespective of whether you want to use this functionality for telemetry updates or for flight mode changes, you will find this technology to be very useful as you maintain your focus on flying your model. You also have the option of plugging your earphones into an audio jack at the back of the DX9.
In the review video, Matt also demonstrated the wireless trainer function. This is a really handy feature if you want to "buddy box" with another Spektrum transmitter; the need for a trainer cord is eliminated. Additionally, with the DX9's ModelMatch technology, you will be able to reconnect the two transmitters without having to go through the binding procedure again.
The video also talked about Spektrum's forward programming feature, which allows you to directly program the next generation of Spektrum components through the DX9 transmitter (this will require at least Version 2.0 of Spektrum's AirWave software). You will also receive a remarkable 250 model memory with the DX9, which you will find is easy to operate.
We hope this unboxing and review video gives you a closer insight into this new RC radio. If you are looking where to buy the Spektrum DX9, these transmitters will be arriving soon at Modelflight, so visit our website today to find out more.
Click here to be notified about the arrival of the Spektrum DX9.