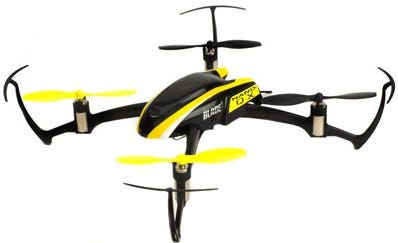 Are you looking to buy an RC quadcopter? These remote control models are very popular at Modelflight and we are often asked by customers "what is the best RC quadcopter for me?"; so we've decided to put this guide together to help you choose a new quadcopter. We have a wide range of quad copters to suit beginners, experienced pilots, and those looking to fly their quad copter indoors and/or out. This guide will review these quadcopters and help you find the one that is best for you.
What Are Quadcopters?
As the name suggests, quadcopters are in the remote control helicopter 'family', but the key difference is that they come with a set of four rotor blades instead of the traditional two. This design (generally speaking) makes RC quadcopters more stable and easier to fly than RC helicopters.
Types of Quadcopters
There are a wide variety of quadcopters available; an ideal option for beginners could be quad copters that come ready-to-fly (often abbreviated as "RTF") straight from the box.  Everything you need is included; you just charge the batteries and fly.  These rc quadcopters are usually smaller and easier to handle.  A great stepping stone for learning to fly and moving on to bigger and more advanced quads.  We also have quadcopters that are designed for pilots with more experience; these are usually in a "kit" form or require some additional items to get them in the air.  Some of these quads also have additional features, such as they can accommodate small cameras for aerial filming and/or photography. This guide will look at the best options for you as well as providing examples of the best quadcopters in our range.
Which Quadcopter is Best for Me?
Here we will provide recommendations for the best quadcopter to buy if you are a beginner pilot, if you are a pilot looking for something compact vs. a large quadcopter, quadcopters suited for pilots with some experience and the best camera quadcopters for aerial video and photography.
RC Quadcopters for Beginners
Easy to fly and no set-up required
Everything is included in the box
SAFE technology for superior stability
Even if you have never flown a remote control quadcopter before (or any RC model for that matter), there are some great options available for you. In our opinion, the best quad copter for beginners is the Nano QX from Blade. What makes the Nano QX ideal for beginners is that it comes with the brand new SAFE Technology. SAFE is an abbreviation of "Sensor-Assisted Flying Envelope". This technology is designed to maintain the Nano's stability in the air, so you can easily fly the quadcopter without the fear of losing control mid-flight. You can see how stable the Nano QX is in this demo video, which is also available on Modelflight's YouTube channel:
Because the Nano QX comes ready-to-fly, all you have to do is take it out of the box, charge up the battery and start flying! The SAFE Technology will take care of the rest.  We also have a "Bind-N-Fly" option for the Blade Nano QX.  This means, if you have your own DSM2/DSMX compatible transmitter, you can buy the nano without a radio included, and bind it to your own.
An alternative remote control quadcopter for beginners is the Ethos QX 75 from Ares.
The Ethos has a very small size and light weight, making it perfect for both indoor and outdoor flying. One of the unique features of this beginner's RC quadcopter is the "Automatic Flip Mode", which lets you perform 360° degree flips mid-air; all with the touch of a button on your radio transmitter. While the Ethos does not come with the high-tech SAFE Technology, you will find that it is still very easy to fly. This is another ready-to-fly quad copter; coming complete with a radio transmitter, batteries and a charger. If you are looking for the best remote control quadcopter for children, the Ethos QX 75 is highly recommended.
A third beginner's RC quadcopter option is the  stabilisation technology. This gives the quadcopter the ability to handle turbulence and moderate winds outside, allowing you to maintain tight control. AS3X is a great benefit when flying one of your first quadcopters. By minimising the effect of turbulence and wind, you can focus on developing your skills as a pilot, as opposed to battling the elements. The technology will make you feel like you are at the controls of a finely-tuned aircraft. To see AS3X in action, check out the video below:
Just like the Nano QX and Ethos, the mQX comes out of the box ready-to-fly, so you will be able to enjoy this fun quadcopter very quickly.  We also have a "Bind-N-Fly" or BNF option for the Blade mQX where you can bind it to your own transmitter.
Our top pick for beginners: The Blade Nano QX RTF $109.99
Best Large Quadcopters For More Advanced Pilots
Powerful quadcopters, with advanced flight characteristics
Tailor your quadcopter to your requirements
Optional parts and accessories available, like camera mounts
If you have a little more RC experience under your belt, we have a couple of fantastic quad copters that are ideally suited to more intermediate pilots.  For example, the Hornet 460 from Dualsky. This is a feature-rich quadricopter that comes in a "Plug-N-Play", or "PNP" configuration. A 'Plug-N-Play configuration means that you will need to supply your own transmitter, receiver and LiPo charger to complete the model.  This gives you flexibility to choose a set up completely tailored to your needs and requirements.  It comes 90% assembled equipped with brushless motors, ESC and a custom-designed flight control system, and it will only take you 30 minutes to finish the last few steps and get in the air. Some great additions to the Hornet 460 are the LED lights that come under its arms for night time flying, we have also thrown in a bonus Dualsky LiPo battery.  The unique design of the Hornet makes it a powerful quadcopter and certainly a stand-out in the air. If you want to see a demo of the Dualsky Hornet quadcopter, check out the video below:
An alternative to the Hornet is the Blade 350 QX. Similar to the Nano QX, the 350 QX comes with SAFE Technology. What makes the 350 QX unique is that it features three different SAFE flight modes. The first mode is known as Smart Mode. This allows you to fly the quadcopter through stick input, regardless of your orientation. For example, a forward input will always push the quadcopter away from you, even if the 350 QX is pointed towards you. The second mode is Stability Mode. As the name suggests, this gives the Blade quadcopter a self-levelling ability; avoiding shifts to unfavourable attitudes. The final mode is Agility Mode. This allows you to perform flip rolls and loops with the 350 QX, all the while maintaining smooth flying characteristics. If you would like to read more about these flight modes, check out our blog post on the Blade 350 QX. Because this is a BNF model, you will need to supply your own transmitter and battery charger.
Our Top Pick: Dualsky Hornet 460 Quadcopter w/FREE Battery $349.99
Click Here to Buy the Dualsky Hornet 460 Now
Best Quadcopters with Cameras
Quadcopters you can attach a camera to
Stable quads for precision photography and video
Long flying time and battery life
Quadcopters with cameras are becoming increasingly popular and if you love aerial photography or filmmaking (or this is something you are keen to get into), RC quadcopters are a great choice. Because of their inherent stability, you can use a quadcopter with a camera attached to capture above-ground images or footage with relative ease. One of the best quadcopters for aerial videos and photography is the Blade 350 QX. One of the great features about the 350 QX, aside from its aforementioned SAFE Technology and flight modes, is that it is a GoPro-ready quadcopter; with an anti-vibration mount for your camera of choice included. Here is a clip of some aerial photography taken by the Blade 350 QX:
Because of the SAFE Technology in the 350 QX, you will have excellent stability in the air; allowing you to capture your film or photos without having to worry about losing control mid-flight. Another very important, and stand out feature of the 350 QX is the included GPS and pressure sensors, as well as "return home" functionality.  This quadricopter comes with GPS and pressure sensors on board; ensuring that the model holds a GPS position and altitude according to your commands.  It can also return to a "home" position if the radio frequency is lost or you accidently lose orientation.
The 350 QX is a Bind-N-Fly (BNF) quadcopter, so you will need to supply your own 5 channel DSM2 or DSMX-compatible transmitter and battery charger. Alternatively, you can order one of the recommended combinations from our website, such as the Spektrum DX6i and IMAX B3 charger.
As an alternative, we also have a Dualsky Hornet combo kit that includes a camera mount and FC450 Pro Controller.  You can also purchase the camera mount for the Dualsky Hornet separately if you would like to purchase our version with free lightweight lipo battery. The Hornet is a powerful quadcopter and with a camera mount can support a range of devices,  it can accommodate a GoPro camera, mobile phone or other suitable camera. You will find that aerial photography with the Hornet is a smooth operation, given the quadcopter's stability in the air. The Hornet can also be quite agile, allowing you to capture footage from different angles.
Our Top Pick For Quadcopters With Cameras: Blade 350 QX $499.99
Click here to buy the Blade 350 QX now.
Keen to see more? Player Attack recently did a video on the RC quadcopters available at Modelflight, covering all the models reviewed in this blog post. Click here to watch their video.
Conclusion
We hope this guide helps you find the best RC quadcopter for your needs. If you have any questions, feel free to leave us a comment below, or you can contact Modelflight via our website. If you would like further information about our range of quadcopters, visit modelflight.com/quadcopters. In the meantime, stay tuned to our blog for further news on quadcopters and other RC models.