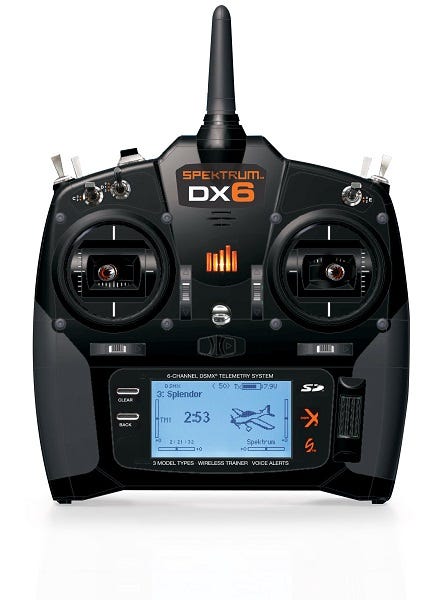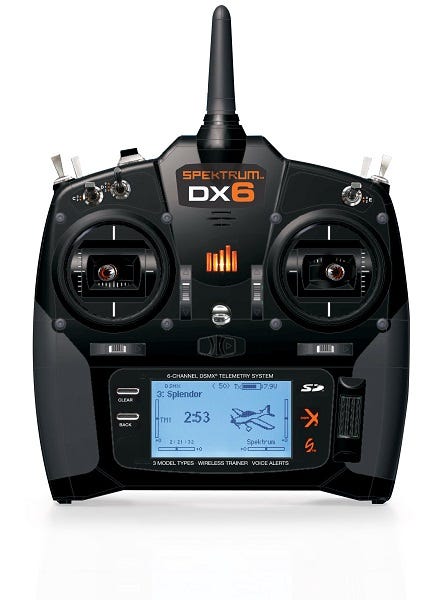 The original Spektrum DX6i RC radio has long been the popular choice among pilots and we are pleased to announce that this great transmitter is going to be upgraded. The new Spektrum DX6 has been launched and it offers many exciting features. The first one worth mentioning is customisable voice alerts. First introduced with the Spektrum DX9, these voice alerts are a groundbreaking feature for a 6-channel transmitter. The new DX6 radio will allow you to keep track of important functions without taking your eyes off your model. You can program these voice alerts to call out the flight mode you have chosen or report telemetry information on demand. If an alarm goes off while flying, you will not have to look at the transmitter to see what is wrong - the DX6 will tell you.
Another great feature of this new Spektrum transmitter is the wireless trainer link, which allows instructors to wirelessly "buddy box" with another DSMX/DSM2 radio. Once you have bound to another transmitter, you will be able to reconnect the DX6 without having to go through the binding procedure again, thanks to the radio's ModelMatch technology. You will also notice how the new DX6 has a broad range of plane, helicopter and sailplane programming features. This includes five available flight modes, 4 wing types, 3 tail types and a flap-to-elevator curve mix. All of these interfaces can be accessed easily thanks to the radio's SimpleScroll programming interface.
What is extraordinary about this RC radio is it's massive 250 model memory. Rest assured, navigating through this menu is very straightforward. Only the memory slots with model settings saved in them will appear, so you will not have to scroll through empty slots or move models around if one is deleted.
With all these great features (and more), it is no surprise that we are very excited about the arrival of the new Spektrum DX6. It will be available in Mode 1 or Mode 2 and is coming soon to Modelflight, so if you are keen to find out more, visit the link below:
Click here to learn more about the new Spektrum DX6 RC radio.