GoPro are widely known for their premium sport action cameras and highly mountable accessories but a GoPro drone? This September 19, 2016 at 9am Pacific US Time, GoPro will be releasing their very first camera drone. Good things come to those who wait but GoPro have focused on what goes around comes around, naming their first drone the GoPro Karma Drone!
So why buy the Karma Drone?
Let us shed some light on what we may see come with the release. From what we've seen, unsubstantiated, GoPro's Karma Drone will be a nimble yet smooth creature, being able to keep up with your speediest cycling mates or follow your latest holiday adventure! GoPro sport cameras are used through out many action sports and there's no doubt this drone will be designed to be an aerial addition to this. It is rumored to be modular also, with perhaps a GoPro Hero 5 being able to seamlessly clip on and off to allow silky smooth transitions from aerial to ground footage, giving it a smaller footprint at the same time! Who knows, if the recent teaser video in a library is anything to go by then maybe they are working on ground stabilisers as well for a truly complete filming solution.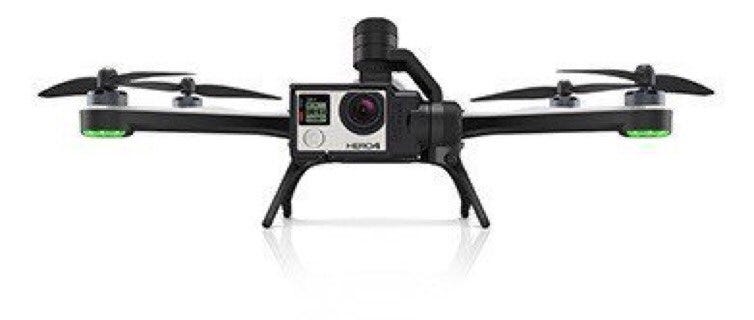 Don't know how to fly? No Problems! The GoPro Karma Drone will be voice activated via an app. Tell Karma to "hold steady" for an aerial tripod like shot or "follow forward" for a stabilised establishing scene. There may be a unique feature whilst charging with GoPro mentioning that it will be "all charged up and ready to go anytime, anywhere". Weather this is a backpack that doubles as a charging dock or an included external power supply to plug into, we wont know for sure until its release.
One thing that is for certain is that whatever we are graced with, it will have been both GoPro's and the drone industry's most longed and anticipated release to date. This is also suggested by a recent resurgence in investment on the stock market. It may suddenly mean some hefty competition for the likes of DJI.
Update: The Karma is now released!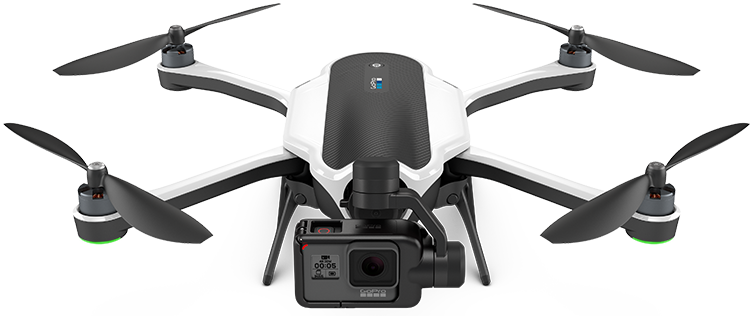 GoPro always has good karma. They always do good. Take incredibly smooth video footage up from above. Hold it or mount to your favourite gear.
Features
Lightweight & compact. It goes where you go.

Perfect for beginners, simple to fly

Grab your friends & fly together, with GoPro Passenger App

Included camera grip for steady video, handheld or mounted

Compatible with Hero 5 Black, Hero 5 Session & Hero 4 Black Silver

Control your camera in a game-flight style

Storage case included, plus a built-in shoulder mount

Easily replace any parts if you need to.
Take your GoPro Karma anywhere
GoPro don't do anything in halves. And the new Karma is a perfect example of this. More than just a drone, you can capture professional quality footage, using your favourite equipment or holding it by hand.
GoPro has always embodied adventure. It speaks to the thrill seekers. The explorers. The boundary-pushers. But with the Karma, you can take your exploring to a whole next level.
Smart storage case, made for movement
The Karma's portable, ultra compact design makes it possible to take with you wherever you go. Fold it down into a lightweight case and wear it with ease, no matter what you're doing – cycling, hiking or running. Made for adventurers as they're always on the go, the Karma case has a durable shell and in-built shoulder mount.  
It's easy to fly
If you've never tried drone flying before, don't worry. Newbies won't have any troubles with the Karma. This means kids can start their flying career early on. And with that undeniable feeling of adventure and endless possibility, there's no greater gift than the Karma. Kids will love it!
You can also team up with your friends – because the Karma is made to be enjoyed together. The GoPro Passenger App allows your buddies to see your flight and even control GoPro while you're busy flying.
Removable camera stabiliser

Prefer the handheld option? The camera stabiliser can be removed and attaches to the Karma grip for steady handheld shots. The control is all in your hands. The Karma grip boasts super smooth video. No shakes. No hassle.
And then there's the controller. It's simple to use and makes controlling your Karma like a game. Its game-style design, touch display and smart controls make everything simplified. Again, perfect for beginners.
See life, from above
With the GoPro Karma, you see life from another perspective. Helping you capture, re-live adventures that move you; that shape you. It's not just handheld, aerial, or wearable mountable, Karma brings it altogether, so you can choose which is best for today's adventure.
A complex system that's simplified for anyone to fly, the Karma is the GoPro for everyone, for everywhere. Beaches, mountains, hills and anywhere else your weekends take you. The Karma is incredibly portable, so you never have to worry about lugging around a heavy, difficult-to-carry drone. With the Karma, there's no second thought. It comes with you everywhere, because you never want to miss a moment.
Fold it up & fit it in your backpack
It's all in the one case and ready to go. The GoPro Karma comes with it all – the drone, a controller, stabiliser and harness, charger, battery, 6x propellers, grip, case, and mounting ring. It's compatible with the Hero 5 Black, Hero 5 Session and Hero 4 Black Silver.
There's no other product quite like the Karma to go pro on.
If you're interested in the GoPro Karma, you might want to have a look at the Phantom 4 or the Yuneec Typhoon H