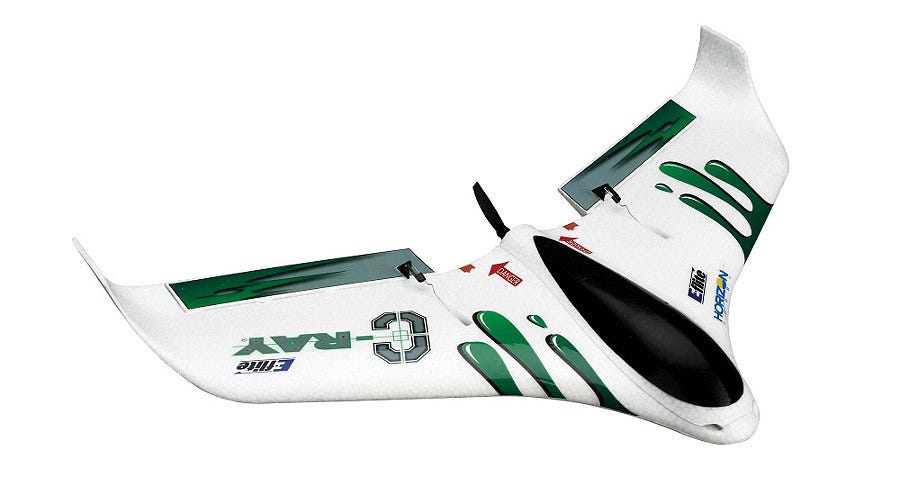 We are pleased to introduce you to the latest
park flyer
from
E-Flite
. It's the
C-Ray 180 Flying Wing
 and it comes with some great features. Because it is
PNP
, the E-flite C-Ray 180 comes with a high-output 180-size, 2500Kv brushless outrunner motor preinstalled. You also receive an 8-amp micro ESC and flush-mounted 3-gram sub-micro servos installed. All you need to do is supply your own elevon-capable transmitter, micro-receiver and 2S LiPo battery with a charger. As a guide, we would suggest the use of the
Spektrum DX6i 6-channel radio
, the
Spektrum AR6310 Nanolite Receiver
 and an
E-Flite 450mAh 2S 7.4V 30C LiPo
. The
Imax B3 AC Balance Charger
can also be used in conjunction with this battery. With its lightweight Z-Foam construction, this model plane can recover from minor
crashes without significant impact on its performance. The hand-launch grip can also serve as a protective landing skid. Its sleek lines gives you plenty of wing area for increased stability. E-Flite have also included a large magnetic hatch, giving you instant access to fit your 2-cell 430-480mAh LiPo battery. On
Modelflight's YouTube channel
, Matt has put together an un-boxing and review video for the new E-flite C-Ray 180 Flying Wing. You can check it out here:
As you can see in the video, the C-Ray 180 comes with quite an extensive decal sheet, so you can customise the appearance of this flying wing to suit your preferences. We are very excited about the release of this new E-Flite
RC plane
 and we trust it will give you many hours of enjoyment. The E-flite C-Ray 180 Flying Wing is coming soon, so visit
Modelflight
today to find out more about this great model plane.