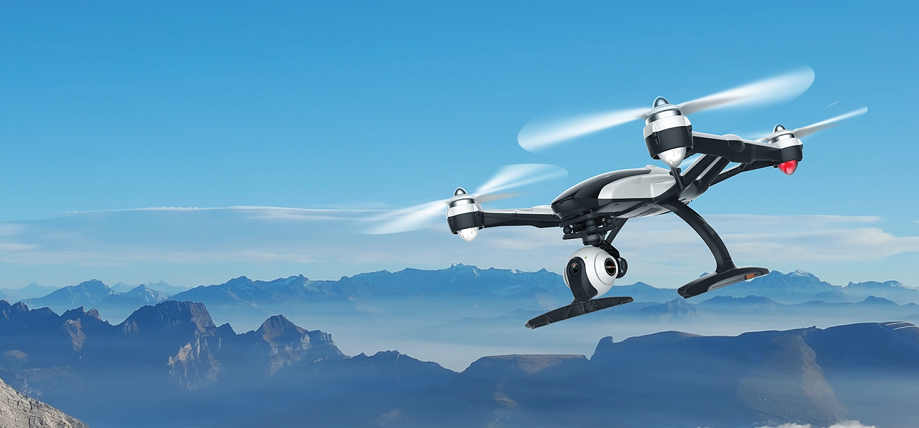 NEW Version of this guide: Drone Buyer Guide
he world of drones has changed remarkably fast since we published our first quadcopter buyer's guide in 2013. Technology has improved, a wider variety of models are available and flying quadcopters is becoming even more popular. It is only fitting that we update our buyer's guide to reflect these exciting times. Whether you are a complete beginner or an experienced drone pilot, we hope this guide will help you find the model you are looking for.
What Are Quadcopters?
Let's start with the basics. What are drones or quadcopters? As the name suggests, quadcopters are in the remote control helicopter 'family', but the key difference is that they come with a set of four rotor blades instead of the traditional two. This design (generally speaking) makes quadcopters more stable and easier to fly than remote control (RC) helicopters. Keep in mind that the names "drones" and "quadcopters" are used interchangably to refer to (in principle) the same kind of model. As such, we will also be using these names interchangably throughout this blog.
Types of Quadcopters
As we mentioned, there are a wide variety of drones available. To help you narrow down your selection, it is wise to identify your skill level. If you have never flown a drone before (or any remote control model for that matter), it would be a great idea to invest in a ready-to-fly model. As the name suggests, ready-to-fly drones (often abbreviated as "RTF") come with everything you need included in the box, allowing you to start flying almost immediately. If you have a little more RC experience (and resources), you may be interested in a Bind-N-Fly or Plug-N-Play quadcopter. Bind-N-Fly (BNF) drones come with everything you need except for a radio transmitter. This allows you to use your favourite radio with the drone. All you have to do is bind the transmitter and you are flight-ready! In a similar vein, Plug-N-Play quadcopters require you to supply your own radio, receiver and battery. Perhaps you have a reliable combination of these components from another model. In that case, you can easily take this equipment and install it onto your PNP drone to complete the model. The last category we wanted to discuss is (ironically) the latest to emerge. There are now a range of first-person-view (FPV) drones, that are real game-changers. These drones come with cameras that offer video downlink to compatible devices (such as your smartphone). As these drones fly across the sky, you will be able to watch from a cockpit perspective! It really is a whole new way to fly.
Which Drone is Best for Me?
Now that we have discussed the broad types of quadcopters available, let's have a closer look at some of the drones that are currently available. We have broken this list of models down into different categories - drones for beginners, drones for more advanced pilots and drones for aerial photography and filming. We should emphasise that some of the quadcopters we will be discussing could technically appear in more than one of these categories, so we will make note of this where applicable.
The Best Drones For Beginners
Easy to fly and no set-up required
Everything is included in the box
SAFE technology for superior stability
Even if you have never flown a remote control quadcopter before (or any RC model for that matter), there are some great options available for you. Let's start by looking at the Prime RC MQ4D.
Prime RC MQ4D The MQ4D is ideal for beginners. It comes ready-to-fly out of the box with Active Response Control, which provides great stabilisation in the air. For first-timers, children or people in both categories, the MQ4D is lots of fun!

Blade Pico QX Another great drone for children is the Blade Pico. This tiny drone can easily be flown indoors and comes with Sensor-Assisted Flight Envelope (SAFE) Technology, which helps maintain the Pico's stability if conditions are windy. The Pico is a small drone with big potential.

Parrot Rolling Spider This is one unique drone! Part quadcopter, part car, the Rolling Spider from Parrot comes comes with two removable wheels, allowing it to roll across the floor, up the wall or across the ceiling. Of course, you can still fly this drone, with or without the wheels on. Best of all, this can be done from a compatible smartphone. This is drone innovation at its finest.

Blade Nano QX The Nano QX is similar to the Pico, in the sense that it comes with the beginner-friendly SAFE Technology. You will notice, though, that it is slightly larger than the other two drones we have just discussed. Don't let that put you off though! The Nano is very easy to handle, both indoors and outside.

Dromida Ominus This is one of the most durable drones we have seen. The Ominus comes with gyro stabilisation and high-powered motors to give you a thrilling flying experience. It also has four different flight modes, so you can make the drone more maneuverable as your skills develop.

Blade Nano QX 3D A Nano QX with an aerobatic edge, the 3D version of this drone is also worth checking out. It still comes with SAFE Technology, which makes it beginner-friendly, but the key difference is the inclusion of three different flight modes. Each mode reduces the Nano's aerobatic limits, allowing it to perform more tricks as your skills progress. For the beginner with big ambitions, you can't go past the Nano QX 3D!
The Best Drones For Advanced Pilots
Able to perform more aerobatics
Strong motors and electronics
BNF and PNP models available
If you have some more remote control experience, you may be interested in these drones from Blade and JR. They are designed to be high performers and will give you the thrill you are seeking!

Blade 200 QX This sporty drone is a smaller-scale version of the 350 QX (which we will be reviewing shortly). Similar to the Nano QX 3D, this quadcopter comes with SAFE Technology and three different flight modes, which will suit various skill levels. Equipped with brushless motors and a real aerobatic edge, the 200 QX is a true performer.

JR Ninja 400MR JR are renowned for their high quality RC helicopters and you can see the same attention to detail in their first drone. The Ninja is a great choice for aerobatics, coming with brushless motors and a six-axis gyro stabilisation system. Coupled with a JR DMSS transmitter, the Ninja is one sharp performer.
Drones for Aerial Photography and Filming
One of the biggest changes we have seen over the last two years in the world of quadcopters is the ever-expanding range of camera drones for aerial photography and filming. The great thing is that there are drones in this category that will suit both beginners and advanced pilots. In this section, we want to talk about quads that will appeal to both skill levels.
Camera Drones For Beginners
Easy operation
Stable in the air
Can be flown indoors

Dromida Kodo UAV Another great drone from Dromida, the Kodo comes with a built-in camera that can capture photos and video at the push of a button. It has an advanced stabilisation system with a three-axis gyro and three accelerometers. Similar to the Ominus, this quadcopter comes with three flight modes, so you can build your skills over time.

Blade 180QX Similar to the Pico, the 180QX from Blade comes with SAFE technology. This great stability is very helpful when you capture HD video and pictures with the attached E-Flite EFC-721 camera. Switching between photography and filming is also seamless, thanks to the pre-programmed transmitter that is included with the drone.

Blade Glimpse A recent arrival in the world of drones, the Blade Glimpse comes with a built-in camera that can capture 720p HD video and take 1.0 megapixel images. What's more, you can even stream live video from the Glimpse to your iOS or Android device as you fly. Complete with SAFE Technology, the Glimpse is one feature-packed drone.

Blade Nano QX FPV Another exciting variation of the popular Nano QX, this drone comes with a Spektrum ultra-micro FPV camera. This works in conjunction with the included Fat Shark Teleporter V4 headset, giving you an immersive RC experience. You will feel like you are flying the Nano from the pilot's seat!
Camera Drones For Advanced Pilots
High quality cameras
Powerful controls
Great choice for aerial photography and filming

Parrot AR.Drone 2.0 Parrot have long been synonymous with drones and their AR.Drone 2.0 shows why. You can control this quad with your smartphone or tablet, simply by tilting the device. The AR.Drone can then capture great images and video with an in-built HD camera. This is one high tech drone!

Blade Mach 25 An exciting release from Blade, the Mach 25 comes with first-person view (FPV) functionality, allowing you to view real-time flight footage on a compatible device. Additionally, the Mach 25 is a great opportunity to get into 250-class quad-racing; coming complete with powerful 2300Kv brushless motors.

Parrot Bebop Another outstanding drone from Parrot, the Bebop comes with a 1080p HD camera. This camera can also be moved across a 180-degree angle, simply by shifting the controls on the radio. Speaking of the radio, it is designed to dock your smartphone or tablet, allowing you to use this device as an FPV monitor.

Blade 350 QX3 AP Combo The original Blade 350 QX was a pioneer in the drone category and this latest version builds upon that solid foundation. The AP Combo edition QX3 includes a Blade CGO2 camera with a three-axis gimbal, allowing you to capture brilliant imagery from the sky.  The QX3 is truly Blade's finest drone.

Yuneec Q500+ We saved the best for last! The Q500+ from Yuneec really is the ultimate package. This drone comes with the new CGO2+ camera, which is capable of capturing 16 megapixel photos and full HD video. The quadcopter also has a 5.8GHz downlink to iOS and Android devices. With it's innovative "Watch Me" function, the drone can be programmed to always keep its on-board camera pointed towards the transmitter, and therefore you! The Q500+ is a true extraordinaire.
Our Recommendations
We have covered a lot of drones in this blog post, so to point you in some suitable directions, here our our recommendations for each of the categories we have covered. If you are looking for a beginner drone,